March 29, 2019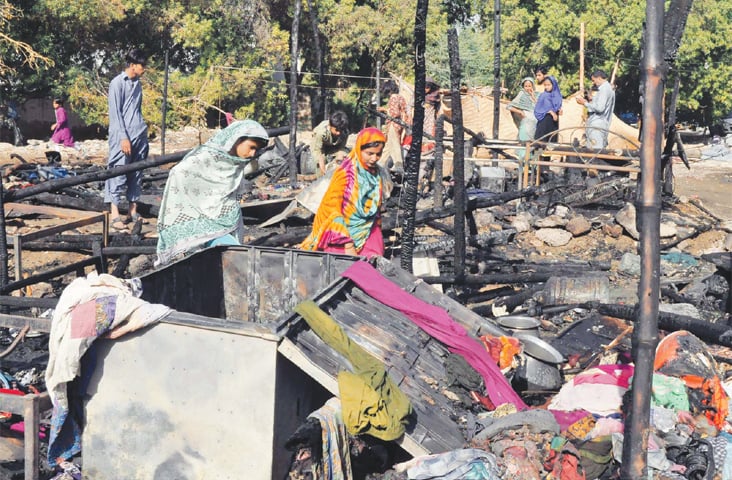 KARACHI: A minor girl burnt to death while two other children were injured when a fire broke out in huts in Gulshan-i-Iqbal on Thursday afternoon, officials said.
Gulshan police said the blaze erupted in the huts located in Block 13-C near the Nipa traffic intersection in which four-year-old Fatima Yusuf died from burns. Her body was shifted to the Jinnah Postgraduate Medical Centre to fulfil legal formalities.
A fire brigade official said that two other children also sustained minor burn injuries. He said that the fire erupted in the huts at around 2.45pm. Four fire tenders extinguished the blaze after hectic efforts of more than one hour.
The fire brigade official said that around eight huts were destroyed in the fire but they helped save about 80 others.
The cause of the fire and estimate of losses could not be made immediately.
Tableeghi Jamaat man shot dead
A man was shot dead in a suspected targeted attack in Federal B Area late on Wednesday night, Yusuf Plaza police said on Thursday.
They added that gunmen riding a motorcycle opened fire on Shahzad Qureshi, 46, near Anarkali Bazaar in FB Area and fled. He sustained a single bullet wound on his head and died on the spot. The body was taken to the Abbasi Shaheed Hospital for legal formalities. The victim was a vendor and resident of a New Karachi locality.
Yusuf Plaza SHO Anila Qadir told Dawn that it appeared to be a targeted killing incident prompted by sectarianism.
She said two years ago, the victim started sporting beard and joined the Tableeghi Jamaat. He had recently spent four months in preaching. His brother is also a follower of the same religious group.
As no other elder male member of the family was present here, the police were waiting for the deceased's brother to come back and lodge an FIR to initiate formal investigation to ascertain the possible identity and motive of the killers.
Young man gunned down
A young man was gunned down in Machhar Colony early on Thursday morning, Docks police said.
They added that Saleem, 25, was gunned down outside his home located in a congested street near Al-Habib Masjid.
Published in Dawn, March 29th, 2019