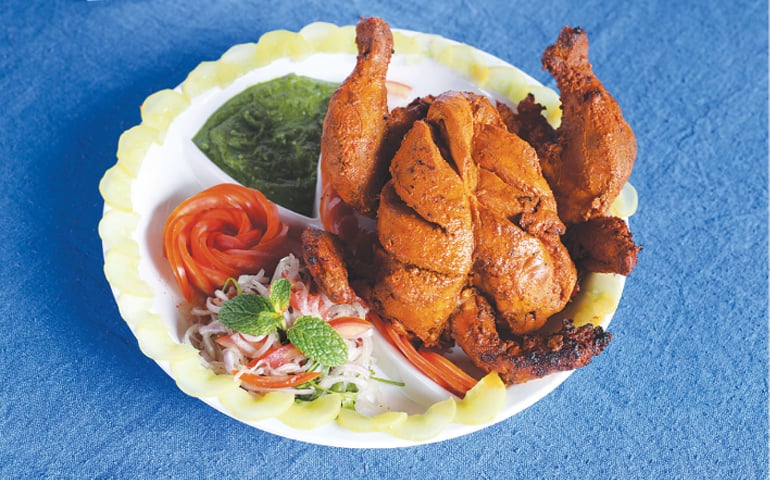 Older readers might sympathise with me over this example of memory loss: over a year ago, I bought a copy of Pakistan Heritage Cuisine: A Food Story by Sayeeda Leghari in Karachi. I took it to our beach house in Sri Lanka, fully intending to cook a few of the recipes in the book. However, the book is so large, lavishly illustrated and produced that it landed up with other coffee table publications in the sitting room.
It wasn't until a few weeks ago that I found it under a stack of other lovely books, and placed it with the cookbooks that line a shelf in my kitchen. Each time I open it, I find some new aspect of our rich culinary heritage. The section on kebabs is particularly strong, with the author listing over a score of different kinds of the grilled meat cooked across the Middle East, Turkey, Iran, Central Asia, Afghanistan and Pakistan. Now, of course, kebabs have gone global and can be found from Bradford to Boston.
However, the book is not a compilation of recipes; rather, it is a vividly mouth-watering celebration of many of our favourite street food specialities from across Pakistan. Leghari goes into the history of the dishes, and gives us the connections and influences that link the dishes we take for granted. Sadly, she only gives us the recipes for a few of the culinary treats she has illustrated. And the fact that there are no vegetable dishes included speaks volumes for our carnivore nation.
An award-winning cookbook provides insight into the incredible journey of Pakistani cuisine and the influences that make it so rich
Pakistan Heritage Cuisine would make a great present with its lovely illustrations and large format. Much of the book is given to beautiful photographs of the sites and scenery that Pakistan is fortunate to possess. Pioneers of our street food such as Bundoo Khan, Abdul Waheed of the Waheed Kebab House and several other master chefs appear on these pages — probably the first time their contribution has been recognised in a major publication.
Even the humble bun kebab gets two pages. We are reminded that Pakistan's contribution to fast food has its origins in an outlet called Super Nursery Bun Kebab in Karachi's Nursery area. I am glad to learn that the eatery is still doing roaring business. Leghari has also included a number of traditional desserts and breads. Halwa puri gets a special mention: apparently, Sadiq Sweets opened its doors in Lahore as far back as 1872, and began serving its signature breakfast speciality of halwa puri some years later. Now this has become a favourite for weekend brunch.
Fortunately, the author has included a few recipes in her wonderful compendium, and I tried out the Murgh Musallam. The method comes from Hawa Adamjee. I last had it years ago, when my mother used to have it cooked under her close supervision. You will need two whole chickens; two tablespoons of lemon juice, 1/3 teaspoon of saffron (I used a bit more), and salt to taste. Marinate the chicken in the lemon juice and saffron for at least an hour.
The masala requires two large onions, fried and ground; three teaspoons of garlic and ginger paste; 1/3 teaspoons of ground garam masala; two tablespoons of almond paste (optional); three teaspoons of red chilli powder; 1 ½ cups of yoghurt; 1 teaspoon of rose water (optional); cooking oil (I used ghee); salt to taste.
Heat the oil (or ghee) in a large pan and sautee the masala ingredients; add water and cook some more; add the two chickens, and ladle the masala mixture on top; cover and cook on a low heat until the masala is absorbed, and the chicken is cooked to melt-in-your-mouth tenderness. You can also cook the chicken in the oven after covering the casserole with foil. Serve it with a few hard-boiled eggs cut in half and a sprinkling of fresh coriander.
Published in Dawn, EOS, March 10th, 2019