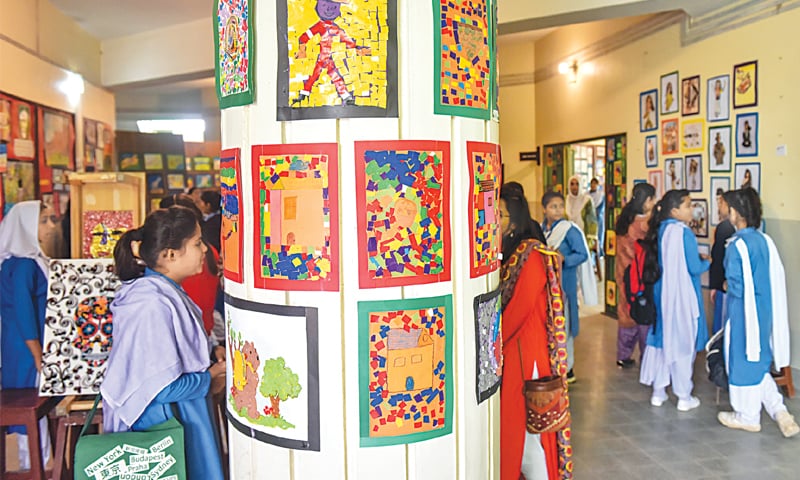 KARACHI: An exhibition titled Power of Art at the Khatoon-i-Pakistan Girls School on Thursday afternoon of artworks made by students of two government schools managed by Zindagi Trust reinforced one's belief that there is prodigious talent in Pakistan. All we need is to tap into that talent at the right time. And this appears to be the case with the students whose artworks were shown to the media on Thursday.
It was such a delight listening to young girls talk passionately about the creative process. All of them knew what their subject was, and it was evident that they had put their heart and soul into all the drawings, paintings, collages and installations that they had come up with. The two participating schools were: SMB Fatima Jinnah Girls School and Khatoon-i-Pakistan.
Khadija of class VII belongs to Khatoon-i-Pakistan. The drawings that she and her classmates made were inspired by Picasso's work. Yes, Picasso. It was a bunch of images that had collages of different things — pretty eye-catching stuff.
Picasso was not the only big name that the young girls were influenced by. There was a girl by the name of Aylaf Khalid of class X who, along with her friends, had made artworks inspired by the creative genius of Sadequain — and not just his paintings, but also his rubaiyaat. It was so heartening to hear that the young girl knew everything about Sadequain. She even used the phrase 'jamaliati husn' while describing his oeuvre and recited a rubaiyee.
Hafsa of class VII from SMB School had made mosaics. She said her team had worked on 'patterns' by using recycled material. "Man can create art by being in his limits through recycled material," she commented with a great deal of confidence.
Remarkably enough, students of class IX (Khatoon-i-Pakistan) had made drawings using pointillism. If you asked them about the ism, they would tell you in detail about its origin and the technique used by artists to produce paintings in that style. To boot, if you hadn't known that the artworks were made by a few teenagers, you'd have thought that they were done by some professionals.
That being said, all of the students, of course, are not big enough to be ultra serious about life and its intricacies. So a touch of mischievousness was also there in a group of girls from class IX. Their board where they had put up their works was called 'Wall of Secrets'. It was full of cards in which children had written their 'secrets'. One of them was, "I don't like my chemistry teacher." Isn't that lovely!
Published in Dawn, February 15th, 2019