A new volume Traces spotlights artist Ali Kazim's trajectory and current flow of thought through visuals of his recent works. The accompanying text is by Ali Madani and Naman P. Ahuja and the book includes a conversation session between the artist and Anita Dawood. It upholds the premise that there is more to art than meets the eye. Artists paint allegorical landscapes to tell fascinating stories about the culture and identity of the regions they depict, and Kazim has resorted to such symbolism to explore the ancient Harappan civilisation.
An uncanny drift towards surrealism apparent in Kazim's thesis art — 'Forbidden Fruits,' a provocative study of succulent fruit and vegetal forms — has morphed into full-blown abstraction which he articulates through literal forms and features. His expression, a mix of miniature painting and hyperrealism, remains one of the principal features of his art. Penetrating, eerily mystic portraiture of the common man, his experimental body art installations — a delicate portrayal of skin, membrane and blood vessels woven with human hair, spray and transparent filaments, and the current earth, shards and fossil paintings — affirm his gravitation towards the intangible and otherworldly with regard to the human presence. From explorations of the body's physical form and its inner being, Kazim traces the human being within the void of time and space.
In his paintings of imaginary archeological sites, speckled with shards, pebbles and rocks, Kazim constructs bleak, forsaken landscapes. Apparently without people, these landscapes are nonetheless about people. Terracotta pottery fragments are direct links to the artistic traditions and cultural histories of South Asia and, under Kazim's intense intellectual probe, these abandoned ruins open as windows into past civilisations.
Ali Kazim's landscapes are an allegory of the ancient Harappan civilisation
He began with impressions of figures and dust clouds that exist in the space between the earth and the sky, and then moved towards the land. Hailing from the Punjab hinterland / rural regions, he is familiar with the topography of the plains and the village artisan culture. Unlike rapid and radical urban modernity, the craft culture in villages retains traditional patterns; it is possible to visualise narratives pertaining to inhabitants of past civilisations from their terracotta debris and archeological remains. If Kazim's portraits focused on individuals as cultural emblems, his landscapes now speak of a collective picture of a people.
Imagining what he has never seen, these landscapes reveal Kazim's personal quest to understand a people and an environment across another period of history. His passion is evident in his endeavour to fabricate archaeological sites. Spread across immense expanses his huge, monochrome landscapes are very finely executed. Mega spreads create instant impact but the dustscapes are bland, harsh and severe in appearance; they gain eloquence when seen through his eyes.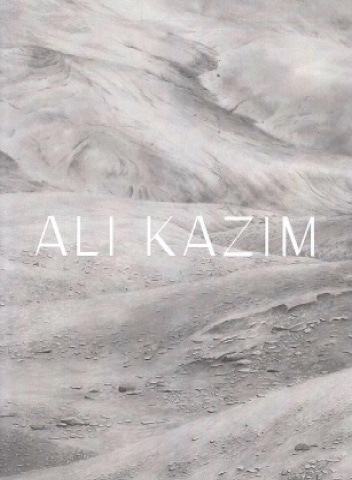 In today's touch-button digitised age, such arduous working skills are rare and need to be appreciated, but the archaic uneventful sites are monotonous. The slow sensory experience of recalling and reimagining an ancient civilisation is also somewhat muted and off-kilter in a fast-paced contemporary world. However, if we see the works as an 'ashes to ashes, dust to dust' statement, then they read as a finale every civilisation has to encounter. No matter what you achieve in life, in the end you are nothing but dust.
Essentially a quiet, solitary figure, Kazim is known for his meditative immersion in his work. With almost a dozen solo exhibitions and several prestigious group shows to his credit, his art is widely acknowledged at home and abroad for its depth and intensity.
Ali Kazim — Traces
Edited by Anita Dawood
Published by Jhaveri
Contemporary, Mumbai
ISBN: 978-1527229242
Published in Dawn, EOS, January 20th, 2019