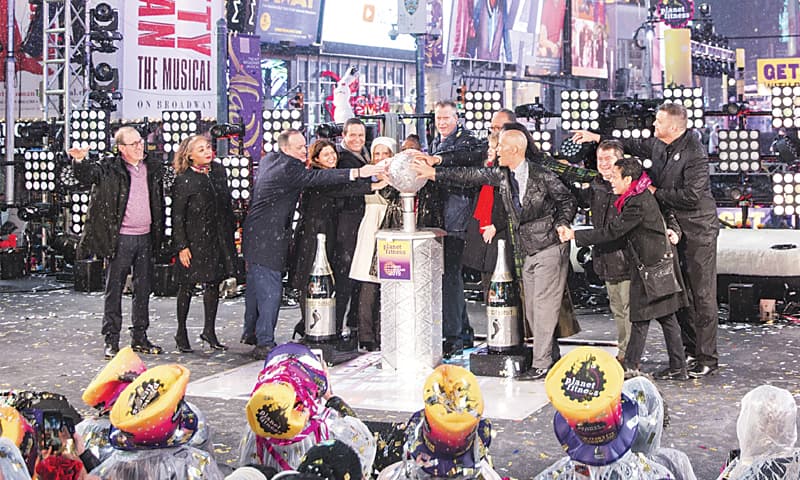 NEW York's Times Square erupted with fireworks and cheers at the stroke of midnight on Tuesday as thousands of hardy merrymakers braved pouring rain and watched the glowing New Year's Eve ball complete its midnight descent to mark the start of 2019. For the multitudes who gathered in the famed midtown Manhattan crossroads, the thrilling moment was reward for enduring hours of standing in a steady downpour during the waning hours of 2018. Helping to keep spirits high was a slate of performers including Christina Aguilera, New Kids on the Block and Sting who entertained the resilient crowd. "It was a bucket-list thing," said Daniela Ramous, a 34-year-old sales manager from McAllen, Texas. "You grow up watching it on TV, you see all the excitement. There's something magical about New York during this time of year."
Injecting a sombre note into the festivities, the Times Square Alliance, the business association that organises the event, paid a special tribute to freedom of the press, after a year in which journalists came under attack around the world, including in the United States. A minute before midnight, an invited group of journalists from ABC News, NBC News, The Washington Post, Reuters and other outlets joined Mayor Bill de Blasio in pushing the button that initiates the glittering ball's drop. The organisers chose to honour press freedom and the contribution of journalists partly because of the deadly hostility that some reporters have faced this year.
The tradition of watching a giant ball drop from a pole on top of the narrow building at the head of Times Square in midtown Manhattan began in 1907. The ball in current use — a glittering, LED-studded sphere made by Waterford Crystal and Philips Lighting — made its debut in 2008. Weighing 5,386 kg and measuring 12 feet in diameter, it sits year-round on the roof of One Times Square, the one-time headquarters of The New York Times.
Published in Dawn, January 2nd, 2019