December 30, 2018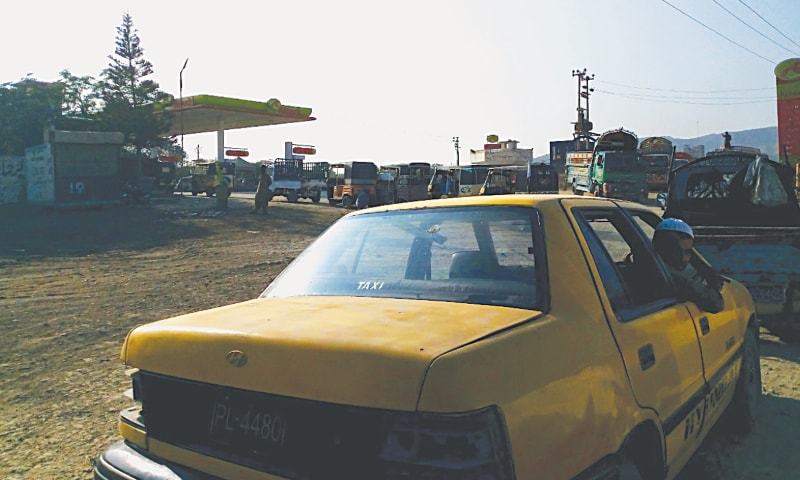 KARACHI: Recently, when Sindh experienced a serious shortfall of gas due to a technical fault at two gas fields, the Sui Southern Gas Company (SSGC) decided to do some damage control in order to ensure that their domestic and commercial consumers got uninterrupted supply of gas. Their first step was closing supply to Compressed Natural Gas (CNG) stations.
Obviously, those who had vehicles running on CNG primarily were unhappy and complaining. The CNG dealers, too, protested. But amid all this there were also some who knew a way out. All they had to do was hop over to nearby Balochistan to fill up their CNG tanks there.
That place would be Hub. Located in the Lasbela district of Balochistan, Hub is basically an industrial city and the first town one finds oneself in soon after passing through the toll gates marking the end or boundary of Sindh's capital Karachi.
"The closure notification is for Sindh only. Since there is no order as such about Balochistan, we can always come to Hub Town, which is just 45 minutes to one hour's drive from Karachi to fill CNG," said Taza Gul, who drives a yellow cab in Karachi.
There are some four dedicated CNG stations in Hub Town apart from the CNG sold at the regular pumps, which also sell petrol and diesel.
"We usually come here on the regular CNG closure days during the week such as Mondays, Wednesdays and Fridays," Mohammad Ayub, who drives a rickshaw in Karachi, added. "It's less of a hassle to come here rather than standing in unending queues since even before the sun is out in the morning of the days CNG is available."
But for a change, long queues at the CNG stations were also witnessed in Hub over the past week. "That's because it is winter and gas already is scarce during winters as people need it for burning heaters and geysers other than for just cooking food," said a private car owner with yellow Sindh licence plates.
"They close for a few hours sometimes but resume service as the pressure improves. So we are sure to get CNG sooner or later despite its availability getting slightly unpredictable due to the current crisis," he said.
Almost all the cars in this place have the Sindh licence plates and for whatever reason they might be in Balochistan they are sure to fill up CNG before returning.
One driver there said that he burnt Rs200 worth of petrol to reach there for CNG. When asked where was the logic in that, he smiled and pointed out that the running of CNG was much better than petrol. "Looking at the mileage, where my car will run 19 kilometres per one litre of petrol, it will run 280km on a full CNG tank that fills up for around Rs350 or so," he explained. "So the drive is very much worth it."
Published in Dawn, December 30th, 2018