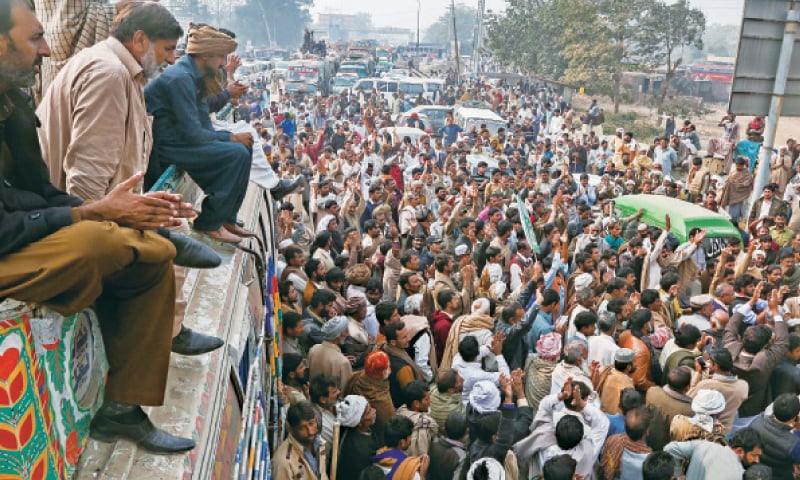 LAHORE: Farmers belonging to various Punjab districts rallied at the Thokar Niaz Beg entrance to the city on Wednesday to protest against increase in fertilisers rates during the last couple of months.
Assembled under the banner of Pakistan Kisan Ittehad-Chaudhry Anwer, registered with the Election Commission as a political party, the farmers riding tractor-trolleys and other vehicles began gathering at the site late on Tuesday night and blocked Multan Road to traffic by parking their vehicles in the middle of the road.
The sit-in at Thokar virtually blocked the busy intersection that connects Multan Road, Canal Bank and Raiwind Road as well as the link road to Chuhng motorway interchange. The closure of the main city arteries caused choking of traffic on adjoining roads, including Khayaban-i-Jinnah. Motorists complained that it would take them almost half an hour to cross just one intersection.
"Traffic wardens were there but they seemed short of strength needed for regulating the traffic," said a motorist who had to take a long diversion for reaching downtown through Ring Road.
Demand fertilisers on previous rates, quashment of cases
Traffic mess was also witnessed at Yateem Khana Chowk and Bund Road because of closure of Thokar entrance point and almost all the buses and cars coming from Multan or Islamabad were diverted towards Babu Sabu interchange of motorway.
A large number of passengers, including women and children, were seen marching on foot at Sherakot as long queues of vehicles at Babu Sabu interchange were taking hours to reach their respective terminals/destinations.
The protesting farmers were pledging to continue with their demonstration until acceptance of their demands, which included provision of urea and DAP fertilisers at old rates, setting up of a Kisan Market, consulting farmers for devising the agriculture policy and quashing the cases registered against their leaders by Burewala police.
They warned that they would try to reach Charing Cross on The Mall to demonstrate outside the Punjab Assembly building, where a session of the lawmakers is in progress these days, if the government did not accept their demands.
On the other hand, some of the protesting farmers brought drummers and started dancing to its beat.
Published in Dawn, December 6th, 2018