The most recent Islamic Art exhibition, among the several held in Europe and America every year now, opened at The Gemeentemuseum Den Haag in The Hague. Titled Splendour and Bliss –– Arts Of The Islamic World, its programme attempted to focus beyond the beauty and novelty of the exhibited objects to explore stories of culture, tradition and craft. The museum challenged 18 writers, chefs and musicians to create something inspired by objects in the exhibition. Talking to Blouin Artinfo museum director Benno Tempel said, "It's really inspiring to see these people's personal and artistic responses to our magnificent collection. They reveal it to be a collection full of bliss, and show what fabulous stories lay hidden in the artworks. This highlights a side of Muslim culture that is rarely considered in the public debate: the exuberance and the positive message of Islamic art."
Such interactive Islamic art exhibitions, encouraging creative engagement, can make culture relevant and comprehensible. This is especially important –– politically and socially –– for exhibitions of Islamic Art in Western countries where anti-Muslim sentiment is on the rise.
Islam has traditionally been multi-ethnic and multi-cultural, and Islamic art has developed from a wide variety of different sources. These include elements from Greek and early Christian art, which it combines with the great Middle Eastern cultures of Egypt, Byzantium and ancient Persia, along with the Far East and cultures of India and China. It is not the art of a particular country or a particular people because its direction was largely determined by political structures which cut across geographical and sociological boundaries.
Interactive Islamic art exhibitions can make culture relevant and comprehensible. This is especially important for Islamic art exhibited in Western countries where anti-Muslim sentiment is on the rise
Awareness of Islamic art through the ages has been primarily through the Western lens and, subject to varied degrees of understanding, centred mainly on its 'decorative' and 'ornamental' aspects only. Later, many 19th century viewers came to appreciate art from the Islamic world through the then-popular taste for the "exotic", exemplified in the Orientalist paintings of the day. Sheila Blair, Norma Jean Calderwood University Professor of Islamic and Asian Art at Boston College, writing for Islamic Arts and Architecture, says, "The idea of an Islamic art is a distinctly modern notion, developed not by the culture itself but by art historians in Europe and America trying to understand a relatively unfamiliar world and to place the arts created there into the newly developing field of art history."
She points out, "Apart from architecture, the arts produced in the Islamic lands follow a different formal hierarchy than that of Western art, where painting and sculpture are the two most important forms and are used to make religious images for worship. These forms play a relatively minor role in Islamic art where, instead, the major forms of artistic expression are the arts of the book, textiles, ceramics, woodwork, metal wares and glass."
In Western art, these are often called the "minor," "decorative" or "portable" arts, but such labels are pejorative, implying that these forms are secondary, less meaningful and less permanent than the more important, stable, and therefore "noble" arts of painting and sculpture. To use such terms is to view the world of art from the vantage point of the West, and one of the significant features of Islamic Art is that it introduces the viewer to different ways of looking at art, adds Blair.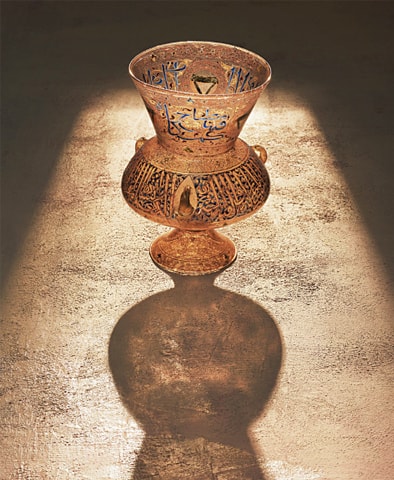 Today new insights by eminent art historians/scholars, the emergence of art institutions, contemporary studies and interpretations of Muslim arts such as calligraphy, illumination, miniature painting and textiles by Muslim artists in Islamic countries have broadened the cultural contexts and understanding of the marginalised Islamic aesthetic. Islamic arts are now being explored as living traditions that hold meaning for contemporary communities.
"Splendour and Bliss – Arts Of The Islamic World" is being exhibited at The Gemeentemuseum Den Haag in The Hague from September 8, 2018 till March 3, 2019
Published in Dawn, EOS, December 2nd, 2018