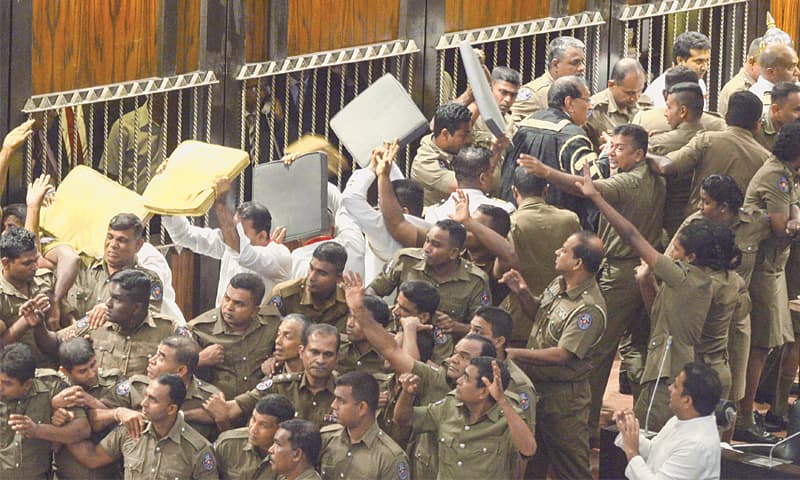 COLOMBO: Sri Lanka's political crisis escalated on Friday with the sacked prime minister demanding his job back shortly after passing another no-confidence motion against his controversial successor amid unprecedented rioting in parliament.
The Indian Ocean nation has been paralysed since October 26 when President Maithripala Sirisena sacked Ranil Wickremesinghe as premier and replaced him with former strongman Mahinda Rajapakse.
With a second no-trust vote against Rajapakse on Friday despite raucous scenes that involved his supporters throwing chilli powder at their opponents, Wickremesinghe demanded the restoration of status quo prior to October 26.
"Let the status quo come back," he told Colombo-based foreign correspondents at his Temple Trees residence where he remained holed up after refusing to accept his sacking three weeks ago. "The country needs stability. That is the main issue."
He said he was also ready to work with Sirisena despite their bitter personality clash that triggered the unprecedented constitutional crisis last month. There was no immediate comment from Sirisena.
On Friday speaker Karu Jaya­suriya was blocked from taking his chair for almost an hour by a group of legislators backing Rajapakse. Finally, Jayasuriya entered the red-carpeted chamber protected by dozens of unarmed officers and parliamentary staff.
Rioting MPs took away the ornate ceremonial chair, but staff carried in an ordinary office chair as a replacement.
However, rioters grabbed that chair too, breaking it into pieces that were then used as projectiles to attack rivals and police.
A former parliament staffer said Fri­day's scenes were never seen before. British High Commissioner James Dauris echoed international concern over violence in Sri Lanka's parliament, a legacy from British colonial rule that ended in 1948.
"Sri Lankans have again seen deplorable behaviour by some MPs, unbecoming of them and of their noble institution," Dauris said on Twitter. "No parliament can perform its role when its own members stop it from doing so."
Standing in a corner with a human shield of khaki-clad constables, the speaker, in his usual black and gold robes, used a wireless microphone to take a voice vote on a revised no-confidence motion against Rajapakse.
Rajapakse lost a similar vote on Wednesday, but refused to step down saying that the vote was not taken properly.
Published in Dawn, November 17th, 2018