KARACHI: Profit-booking was witnessed at the stock market on Thursday where investors decided to reduce their intraday positions amid several ongoing events. The KSE-100 index pulled back by 176.60 points (0.43 per cent) and closed at 41,367.38.
The two-week talks with the International Monetary Fund, which began on Wednesday, would ascertain the size of funds required by the country to avert a balance of payments crisis. Finance Minister Asad Umar had asserted that IMF would be asked for monetary assistance to the tune of $5-6bn on acceptable terms.
Meanwhile, a delegation of experts was off to Beijing to discuss modalities of China's assistance package, the size of which was still ambiguous. Other than those, investors also were not at ease over the upcoming potential decision of MSCI Emerging Market index to exclude United Bank and Lucky Cement. On the political front, the chatter over the Asia Bibi case consumed much of investors' time and interest.
Although the index opened positive, trade remained choppy throughout the session with the index moving in the range of intraday high and low by 107 and 259 points, respectively.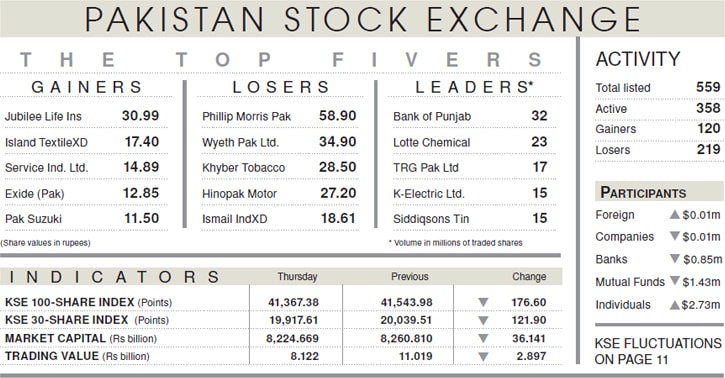 The volume declined 19pc to 225 million shares while traded value plunged 26pc to Rs8.12bn. Stocks that contributed significantly included Bank of Punjab, Lotte Chemical, TRG Pakistan, K-Electric and Siddiqsons Tin Plate, reflecting 45pc of total volume.
Banking was the worst performing sector contributing a loss of 75 points while cement sector gave away 56 points with Lucky, Maple Leaf, Cherat and Fauji Cement shedding values. Other loss makers included exploration and production, oil and gas marketing companies, pharmaceuticals and power.
Scrip-wise, major decliners United Bank, down 4.20pc, Habib Bank 1.26pc, Pakistan Petroleum 1.30pc, Pakistan State Oil 2.66pc and Lucky Cement 1.93pc, taking away 174 points. On the flip side, MCB, up 2.94pc, Hub Power 1.09pc and K-Electric 3.30pc added 76 points.
Published in Dawn, November 9th, 2018