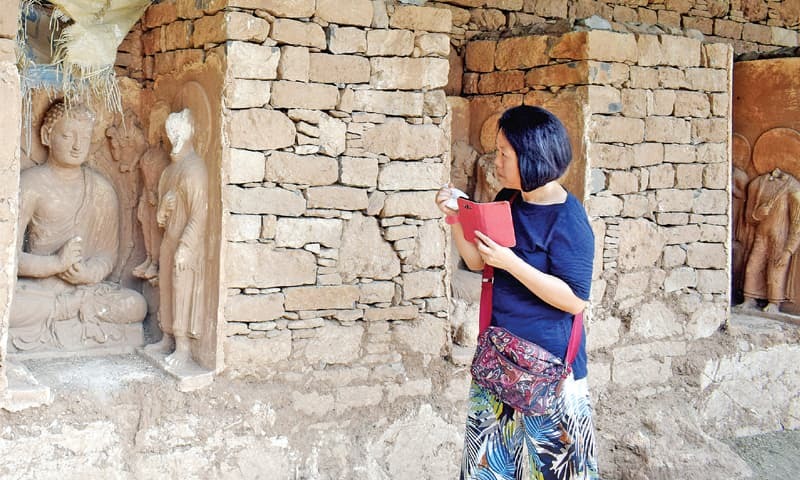 TAXILA: A Korean scholar here on Tuesday urged Pakistani authorities to showcase the rich archeological treasure of the country to promote tourism by fetching Buddhist tourists.
Dr Kyo Soon Park said the Buddhist stupa and monastery Bhamala were unique but still hidden from the world.
She was talking to newsmen after visiting the Bhamala Buddhist Archaeological Complex located 25km from Taxila Museum.
She also called for an urgent need to improve the road leading to the Buddhist complex.
Ms Park said though Pakistan and Korea were located far from each other geographically there were many similarities in the languages of both the countries,
"It is because 1,700 years ago, Buddhist monks from these areas travelled to Korea and that is why both countries have strong historicrelations."
She was of the view that better projection and showcasing of Gandhara civilisation sites may prove an encouraging factor to attract scholars and religious tourists from across the globe, especially Buddhist countries.
"Pakistan has a rich heritage, divergent cultures and has the honour of being the birthplace of ancient civilisations which it should strive to share with the world," she added.
She said tourism was one of the most rapidly growing industries in the world which accounted for 10pc of the global GDP.
"There is no security problem for foreign tourists especially religious tourists in the Buddhist sites and by offering cultural and religious activities at these places Pakistan can fetch a large number of tourists."
She also urged the government of Pakistan to promote the soft image of the country in the world by publicising its cultural, historical, archeological and religious heritage.
Published in Dawn, September 12th, 2018