The latter half of the year in Pakistan is marked by an onslaught of weddings and, inevitably, this wedding season is preceded by a slew of fashion weeks. Catwalks are spread out and a bonanza of bling, slinky fabrics and shiny matching jewellery begins streaming out in a never-ending procession. There is talk of setting new trends although, deep down, the primary motive driving forward any fashion week in this season is to milk the wedding cash cow for all that it is worth. Weddings, after all, are local fashion's most long-standing, most lucrative retail avenues. And fashion weeks, as business-centric events, endeavour to play a vital role by showcasing the latest wedding wear to a mass audience.
Some events coin these designs as 'couture'; at others, they are announced as 'winter festive' but the PFDC L'Oreal Paris Bridal Week (PLBW), which begins this week in Lahore and will be followed by many more — far too many more — fashion events, simply stays its focus on bridal wear.
"The importance of weddings in Pakistani culture can't be denied," observes Musharaf Hai, Managing Director L'Oreal Pakistan, the event's sponsor for eight years now. "There are so many professionals who have built entire careers centered around weddings, from designers to hair and make-up artists to event planners. As sponsors, we have the same vision as the Pakistan Fashion Design Council (PFDC) and try to raise the bar with a platform that is very relevant to Pakistan."
But when it comes to wedding wear, the bar isn't often raised. 'Designer' wear tends to be a generic mix of luxe fabrics in pretty colours and oodles of sparkly sequins. It's all very banal although commercially viable, exuberantly ordered by a wealthy mass audience with a penchant for the traditional. The clothes could do well in a designer's catalog but they certainly don't belong at fashion weeks, where ideally the effort should be made to introduce distinctive design.
PLBW has delivered quite a few memorable bridal fashion shows. The upcoming event, now in its eighth year, is likely to continue to keep a gimlet eye on the finer details
A single ray of hope is provided by a smattering within the fashion fraternity who are able to strike a balance between commercial viability and trendsetting wedding-wear, who tweak indigenous craft, fabric and silhouette to bring forth something new. One hopes to see some of these designers on the PLBW catwalk.
Here's who's showing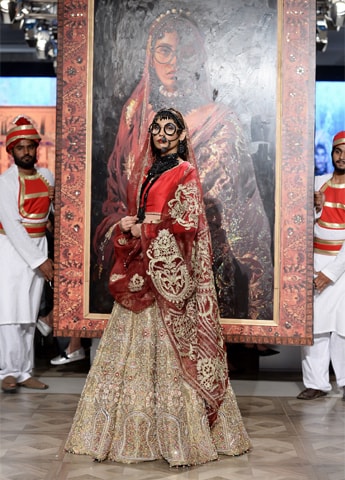 A cursory glance at this year's PLBW designer line-up hints at an interesting mix of veteran names and younger labels. There's the promise of entertainment delivered by the slew of celebrity showstoppers that now perpetually throng local catwalks, often overshadowing the fashion itself. One can also expect some good old fashioned tamasha courtesy designer Ali Xeeshan who is, for the very first time, going to be flying solo in a separate hall allocated just for him.
"The show is in collaboration with PLBW but it is going to be under my roof, with my rules," promises Ali. "I am overseeing every detail, from the décor to the music to the fashion itself." The designer has lately shown a predilection for giving out social messages with his shows and, this time, he will be focusing on the obsession to seek approval from social media. "The collection is called 'Ijaazat' and I hope to make a statement that you don't need anyone's approval or ijaazat in order to shine," says Ali. The clothes, he says, are going to be reflective of how his aesthetics have evolved but one can also hope for dramatic props and crazy head-gear waking one up from the bling-induced blindness that tends to prevail at bridal fashion shows.
Additionally, designers Faraz Manan, Nida Azwer and Saira Shakira are going to be showcasing in solo segments. Nida will be paying homage to the Mughal era once again with the 'Rani Bagh' collection while Saira Shakira, a label that is merely six-odd years old, has decided that it now has enough clout to hold its own with an individual slot at PLBW. "Earlier on, we have always shared slots with other labels but we think that we have now built a clientele that will come particularly to see our designs," says designer Saira Faisal.
The return of Faraz Manan to the PLBW catwalk is particularly interesting. Some years ago the designer had opted out of fashion weeks and had proceeded to become one of present-day fashion's biggest success stories with the help of solo shows in Lahore and the Middle East, and the occasional participation in fashion events in Karachi. What made him decide to work under the PLBW umbrella again? "I have a lot of respect for the council and given that my show is still going to be a solo, it made sense to be a part of PLBW," says the designer.
Does this intriguing mix of debutantes, young designers and bridal fashion's well-established upper crust ensure a great fashion week? One hopes so, but there's no guarantee.
"I revived the trend for solo shows some years ago and I now feel the need to once again set a benchmark. Designers can't simply rustle up small collections and call them 'shows'. My showcase for PLBW is quite extensive and I have invited my serious clientele to come see it. Ultimately, it has to make business sense for me."
Also taking part in PLBW are HSY, Misha Lakhani, Republic Menswear, Nickie Nina, Nomi Ansari and the House of Kamiar Rokni, returning to the catwalk after a two-year-long sabbatical and professing an inclination towards fusing modernity with their quintessentially traditional ethos. The early evening segment will feature the works of Ahmad Bilal, Ahmed Sultan, IVY, Sara Rohale Asghar, Tabia Khan, FAS, Mehroze Khan and menswear label Rici Melion. The latter blundered with grass on suits and stuffed lions at the last fashion week, and will have hopefully learnt from the mistakes.
The newbies
"I am very excited about the new designers that are going to be showcasing their work this time," says PFDC Chairperson Sehyr Saigol. "They all have a lot of potential and are working towards building their own signatures. The PFDC is sponsoring designer Hira Ali's show, who I feel is extremely talented."
Hira has hitherto shown a capsule line as part of the Rising Talent segment in 2016 and showcased a feminism-inspired, very well-received prêt line at the Spring/Summer PFDC Sunsilk Fashion Week earlier this year. Her PLBW show this time will mark her first foray into luxury evening wear.
Also showing in this segment are fledgling brands Zainab Salman and Rema & Shehrbano. The latter may be making its debut at fashion week for the first time but has been visible on social media for some time now and regularly hosts exhibits in cities across the country. Hussain Rehar, having proven his mettle with walking off the beaten track, will be dabbling in wedding wear for the first time. Retail brand Jeem by Hamza Bokhari is yet another relatively new player within bridal's opulent realms.
What makes the cut?
But does this intriguing mix of debutantes, young designers and bridal fashion's well-established upper crust ensure a great fashion week? One hopes so, but there's no guarantee. In the past, the early evening shows have often managed to bring down the credibility of fashion weeks. The formal wear and wedding wear shows, slotted for later in the evening, are understandably event highlights, but this does not mean that councils should allow the more retail-centric brands to showcase whatever they want.
A single garish collection can lead to countless memes on the Internet and caustic commentaries. Fashion weeks are difficult to orchestrate and unedited collections — even in the early evening — can manage to undermine some of the efforts that have been made.
There are also the usual hopes that one attaches to an event: shows that begin and end on time; statuesque, graceful models; good choreography and flawless hair and make-up by team Nabila complementing the clothes. The PLBW, now in its eighth year, has delivered quite a few memorable bridal fashion showcases and tends to keep a gimlet eye on the finer details. One is looking forward to more of the same.
Published in Dawn, ICON, September 2nd, 2018