July 29, 2018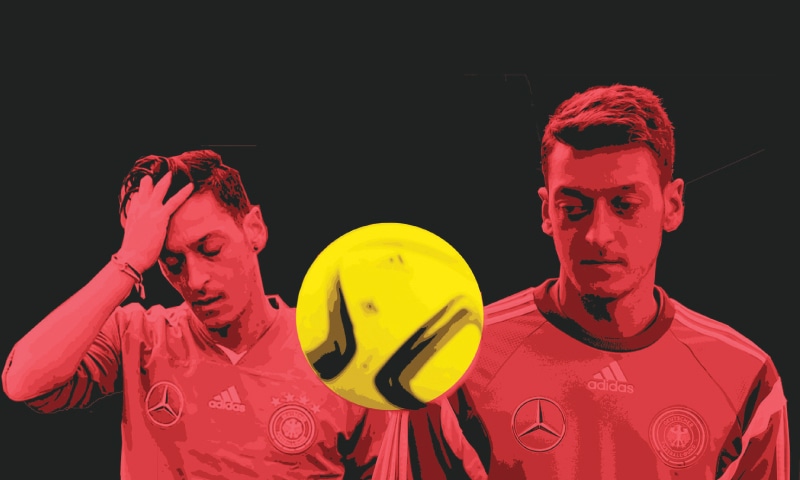 A prominent midfielder of the German football team, Mesut Özil, recently announced that he was quitting the team. Özil is a German-Turk. Weeks after the German squad made a shocking exit from this year's FIFA World Cup in Russia, Özil claimed that he had faced racial slurs in Germany for being an immigrant. In a statement, he said, "I am a German when we win, but an immigrant when we lose."
This is a classic case of scapegoating which is quite rampant in countries where sports often become entangled with certain aspects of contemporary populist politics. After shock defeats, passionate fans frequently pick out scapegoats on the basis of some underlying racial or ultra-nationalist biases. Verbal attacks and taunts targeted at the scapegoats then become an exercise in collective catharsis that has absolutely nothing to do with on-the-field facts.
Of course, those having a go at Özil for being a Turk — and thus somehow not entirely committed to Germany's football fortunes — conveniently forgot that he was part of the German squad that won the 2014 World Cup too. Also, what about the many immigrants in the French squad which lifted this year's trophy?
Sports is no different from other fields when it comes to victimising easy targets for dirty politics
Scapegoating in this context is simply about picking out a member of a defeated sporting team who belongs to a minority community and then using him or her to project one's frustration and anger on. This can include slurs against the scapegoat's race, ethnicity or even faith.
British sports journalist, Jon Spurling, in his book Death & Glory dedicates a whole chapter on the tragic fate of the once much-loved Brazilian football goalkeeper, Moacir Barbosa. Between 1940 and 1950 Barbosa was commonly hailed as being one of the world's finest goalies. He was also one of the first black Brazilian players to make it to the national side.
During the 1950 Fifa World Cup in Brazil, the home side stormed its way into the finals. Barbosa was instrumental in Brazil's rampant march. However, even though Brazil was a favourite against Uruguay in the deciding game, it lost 2-1. Brazilian fans were furious.
Spurling wrote that close to 95,000 people watched the game inside Rio de Janeiro's huge Marcana Stadium. After the defeat, most Brazilians were seen either weeping or walking in a daze on the streets. And then a scapegoat was found. It was the once celebrated Barbosa — one of the first black men to be picked to play for the national squad.
According to Spurling, the reason Brazil lost was because, after scoring the first goal, the team coach and captain decided to play defensively and guard their meagre lead. Uruguay exploited this and Brazilian defenders were never up to the task of stopping a desperate Uruguayan side which managed to run past the Brazilian defence and find Barbosa standing alone and on his own.
But the Brazilian press had no time for such analysis. It just screamed that the team had 'shamed the country's prestige'. All the shame was then laid on Barbosa's doorstep. It began with people accusing him of "making Brazil cry in shame." Then they began to ignore him. He couldn't get any employment as a player as clubs turned him away.
Some of his colleagues lashed out at the critics, telling them that the Uruguay side had four black players and still won. But nothing stopped Barbosa from being a condemned man; a "fake Brazilian", because he was black.
Yet, just eight years later, the same disgruntled fans would be hailing perhaps Brazil's greatest football player ever: Pelé, a black Brazilian who was in the Brazilian squads that thrice won the World Cup. Wonder what his fate would have been had he not been part of winning teams.
Scapegoating in sports on the basis of race, faith or ethnicity is usually the sudden explosion of biases present in a society, but repressed or discouraged by the state. The German state, or before it the Brazilian state, was not racist. But racial tensions did exist in the society that came to the surface due to sporting losses.
Interestingly, in India and Pakistan — societies wrought by ethnic, communal and sectarian tensions — these tensions have hardly come to the surface during sporting losses. For example, effigies of cricketers are often set on fire but never on the basis of their faith or ethnicity.
Maybe this is because there are so many other outlets in these countries to express communal, sectarian or ethnic prejudices. After all, politicians in India and Pakistan do excel in playing the so-called 'religious and/or ethnic card' during elections, galvanising their supporters to openly express their biases in this context.
But whereas states and governments largely discourage scapegoating on the basis of faith or race, a whole new ball game emerges when they actually support it. After losing World War I, Germany under the Nazis was convinced that the war was lost due to Jews, Communists, gypsies and Germans with non-Aryan blood. As the regime went about eliminating such scum, it also decided to use the 1936 Summer Olympics in Germany to demonstrate the prowess of "pure, white Aryan athletes."
But a gloom of sorts set over the nation as it saw a black-American sprinter, Jesse Owens, outdo the Aryan athletes in the 100- and 200-metre sprints and long jump. Then in June 1938, a black US boxer, Joe Louis, downed German boxing champion, Maz Schmeling. Nazi leader Hitler was livid. On his insistence, the state completely sidelined Schmeling for being a disgrace to the German nation. But whereas Hitler committed suicide as a defeated leader in 1945, Schmeling went on to live till 2005.
State-backed scapegoating can be far worse, as exhibited by the Nazis. In 1974 when Zaire (present-day Democratic Republic of Congo) became the first African side to qualify for the Fifa World Cup, Zaire's then dictator, Mobutu, hailed the team as the pride of African nationalism.
But after the team lost all its games at the event, the Zaire government denounced the team for humiliating African nationalism, rather Mobutu's idea of African nationalism. Many players were picked up by Mobutu's police and made to disappear, while others were driven into poverty. In this case the whole team was made the scapegoat.
This was recently related to me by a veteran Algerian journalist in DC. And as I was smiling, he asked, "What do they do to Ahmadi players in Pakistani hockey and cricket teams?" He then added: "Scapegoating them must be easy."
All I could say was, "I have never known a Pakistani cricketer or hockey player who was an Ahmadi."
He looked surprised: "They weren't any, or they remained quiet about it?"
Most probably quiet. And for good reason.
Published in Dawn, EOS, July 29th, 2018