Q. I am having a serious problem with roses in my garden in Quetta. The bush is large and looks healthy but the rose buds start to decay and wilt before they bloom, and petals fall off the buds before they have even opened. What is the problem and how to deal with it?
A. The most likely answer is a fungal infection called botrytis which, luckily, isn't very difficult to eradicate. The rose bush, flourishing as it is, is probably congested by thickly-growing leaves and these in turn reduce the necessary flow of fresh air in and around the large plant. Lack of fresh air/air circulation provides the perfect conditions for botrytis to flourish. There is nothing more this fungus likes than to latch on to the delicate rose buds as they form: the result is exactly as you describe. The solution is to hard prune the rose bush, totally cutting out overcrowded central branches, along with any dead/diseased growth. Do this hard pruning in late autumn/winter and do not be afraid to remove as much as two-thirds of the bush. After pruning, give the bush a good top dressing of old, well-rotted, preferably organic manure and come spring it will put on lots of new growth. Do not allow this new growth to become overcrowded though or, come flowering time, you will face the same problem all over again.
Q. My chikoo tree is nearly 20 years old in my garden in North Nazimabad, Karachi. Its leaves are fine but it is giving less and less fruit each year and the fruit is dry. I have been using goat waste as fertiliser plus the ashes of burnt leaves but there is no improvement. How can the tree be revived?
All your gardening queries answered
A. The tree should be reaching prime production now, not fruiting less. The fertilisers you are giving are good ones but do need to be applied once every three months. Weekly irrigation is recommended throughout the summer but not, of course, during the monsoon. Chikoo trees require plenty of sun, well-balanced soil and good drainage and are generally trouble free. Increased feeding and watering as suggested, should in time resolve the problem unless the tree is facing lots of competition from other trees planted close by.
Q. There are thin brown and thick black, immovable insects on the surface, the underneath and leaf axils of my patharchatta plant. The leaves curl, turn yellow and then drop off. Old and new growth is equally affected. On squeezing these insects I found that some are juicy and others dried out, the latter as a result of spraying the plant with neem oil and warm soapy water, I think. What are these insects and what is the best remedy?
A. Patharchatta (Bryophyllum pinnatum) is prone to attacks by scale insects which, if not stopped, merrily suck the plants dry. From your description, it is these nasty creatures causing the problem. The best remedy is to continue spraying them, both under and on top of the leaves, with one part neem oil to nine parts warm water with a little liquid soap added, at twice weekly intervals until the pests are completely wiped out.
Q. I have been trying to grow okra but after the seedlings develop a few leaves, they suddenly dry up and die. What is the reason for this?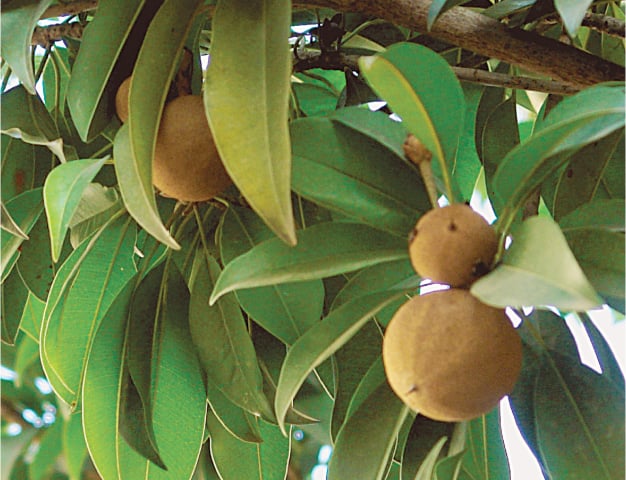 A. It is essential to prepare good quality soil, with plenty of well-rotted manure mixed in, for growing okra (ladies' fingers or bhindi) plants and equally essential to water them, thoroughly, each evening if possible or every other day at the very least. I suspect that the reason for your plants dying is one or both of the aforementioned essentials.
Q. Will earthenware pots filled with water and then covered with an earthenware lid serve as a source of humidity?
A. Yes but keeping a lid on will reduce the percentage of humidity thus created.
Q. I reside in Karachi and have a 50-year-old haar singhar tree in my front garden. It produces very aromatic flowers in season. However, time is taking its toll: one large branch died and had to be removed last year. Now I see that there is a termite tunnel going up the main trunk from the soil. A few days back, I spotted insects on some of its leaves which I immediately removed. The tree gets direct sunlight all morning and indirect sunlight for the rest of the day. How can I bring the tree back to full health?
A. More than time is, sadly, taking its toll on your haar singhar (Nyctanthes arbour-tristis) tree. Usually a very long-lived tree species, it appears that the ever-increasing atmospheric pollution of the city is having a detrimental effect. I loathe to be the bearer of bad news but, judging from your information, all I can recommend is to continue cutting out any dead/diseased branches as/when they appear, to have the termite tunnel repeatedly scrapped away and the base of the tree painted with choona, once in the autumn and again in early spring. Feed it with preferably organic manure/fertiliser each autumn and spring, too, and enjoy your tree for as long as it survives to give you pleasure. Having said this, the tree may well have other ideas and simply decide to make a flourishing come back after all.g
Please continue sending your gardening queries to zahrahnasir@hotmail.com. Remember to include your location. The writer does not respond directly by email. Emails with attachments will not be opened.
Commercial enquiries will be ignored.
Published in Dawn, EOS, June 15th, 2018