IT has become a lacuna that needs to be addressed. There may be political logic to the decision of party leaders to contest multiple seats in a general election. With the party system underdeveloped and an electorate that is perceived to respond to personalities, political leaders attempt to increase the appeal of their parties in different regions of the country by putting their names on multiple ballot papers. All major parties have resorted to the tactic at some point. However, a fracturing of the electorate and more pronounced regional politics in recent years appear to have convinced more parties and high-profile politicians to resort to the tactic of putting their name on multiple ballot papers across the country. The 2018 general election could witness an unprecedented number of such multiple-constituency candidates, though before the finalisation of ballots some political leaders may withdraw from races that they have tentatively agreed to take part in. Nevertheless, it is time for intervention.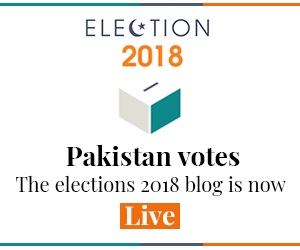 The costs of one individual contesting multiple seats are significant. If more than one seat is won by a candidate, by-polls will necessarily have to be held soon after the general election. That is a waste of the ECP's resources both during the general election and after. Elections, even by-elections, cost money, require security and divert local administrations from their core duties. Surely, there must be a justification for allocating extra election-related resources where fewer resources would suffice were it not for the political extravagance of some party leaders. Perhaps a case can be made for an individual to contest a maximum of two seats in a general election. Imran Khan, for example, may want to indicate that the PTI is a national party by standing for an election from Karachi in addition to a seat from Punjab or KP. Separately, Shahbaz Sharif or Bilawal Bhutto-Zardari may want to make their national electoral debuts by directly appealing to voters in two provinces. Such considerations are reasonable and the electoral system can accommodate them.
But there needs to be an upper limit on the number of seats an individual contests in a general election. Perhaps a two-seat rule can be considered by the next parliament and the ECP. At the National Assembly level, a candidate can be restricted to two contests, one each in two provinces of the candidate's choice. Alternatively, a candidate can be permitted to contest one MNA seat and one MPA seat. As the 2013 general election demonstrated, it is possible for different political parties and coalitions to win the election in the four provinces, and some politicians may prefer or need to return to the provincial tier of government. A maximum of two seats could strike the right balance between a political party's needs and the judicious use of election resources. A new rule is needed.
Published in Dawn, June 14th, 2018