THE WEEK THAT WAS
Suno Chanda | Hum TV, Daily through Ramazan 9.10pm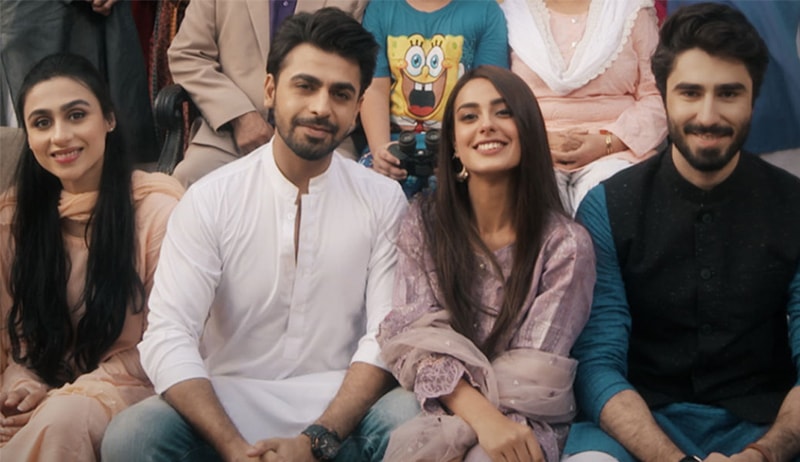 Can you really blame Ajiya (stunner Iqra Aziz) for not wanting to be married to Arsal (Farhan Saeed)? What exactly merits Farhan Saeed to play the lead opposite her in the special Ramazan serial will probably take us the whole month to figure out, because the title song (sung by Farhan), his looks and histrionics are mediocre at best.
Ajiya and Arsal are cousins whose nikaah takes place to fulfil their grandfather's dying wish, but they hate the very sight of each other. With wedding preparations in full swing, Arsal and Ajiya join forces to put an end to the marriage madness, leading to family feuds. A sizeable cast makes a dynamic household in Saima Akram Chaudhry's (Adhi Gawahi) light, lively but predictable and bordering-on-the-utterly-ridiculous story with Arsal and Ajiya's childish bickering and silly antics to end the marriage.
Mere Bewafa | A-Plus, Wednesdays 8.00pm
Spineless Azra (Sarah Khan) now stands in front of the mirror and talks to herself. First her best friend Mona (Zhalay Sarhadi) steals husband Shameer (Aagha Ali) from right under her pretty nose and marries him as his second wife. Secondly, even brother-in-law Shahnawaz (Hassan Nouman) couldn't save her from handing over her bridal jewellery to the conniving mum-in-law (Shagufta Ijaz) for younger sis-in-law's wedding expenses. When a remorseless Shameer declares that he will choose as his wife the one who bears him a child, Azra prays hard and eventually manages to get pregnant.
Meanwhile, when Shahnawaz catches his mum and sisters insulting his wife Muskaan (Madiha Rizvi) at his in-laws' place, he decides to abandon them and move in with his wife. Livid, the sisters decide to bring Mona home who settles in with Shameer while Azra is thrown out to a small room upstairs. Instead of a romantic story with sizzling chemistry between real-life fiancées Sarah Khan and Aagha Ali, writer Zanjabeel Asim Shah (Bashar Momin) gives us a warped saas-bahu saga with two pregnant women and one messed-up studmuffin, with trite direction by Sakina Sammo.
What To Watch Out For (Or Not)
Mera Khuda Janay | Geo TV, Wednesdays 8.00pm
Samina Ijaz shook us with a shocking twist in the story sooner than we thought, but Ally Khan lived up to our suspicions of pulling off yet another evil character as Shafiq, an elder cousin of Waleed (Ali Abbas), Roohi's (Hira Salman) husband. Disappointed at Roohi supporting her mum-in-law's (Nida Mumtaz) decision for him to take on a second wife for the sake of offspring, a reluctant Waleed sets off for the nikaah ceremony.
Shafiq is sent back home on an errand where he finds Roohi hysterical over her deplorable situation. She vents and asks him to give her courage for she sees him as an elder brother. More hysteria and a hug later, Shafiq appears with shirt tails untucked and sleeves undone, while Roohi lies stretched out on the bridal bed set up for Waleed's new bride. When Waleed approaches Roohi, she carries on next level-hysteria (like a caged lioness unfed for days), and fights him away in physical repulsion in what, apparently, are the after-effects of rape. Meanwhile Shafiq is tortured with guilt.
Published in Dawn, ICON, June 3rd, 2018