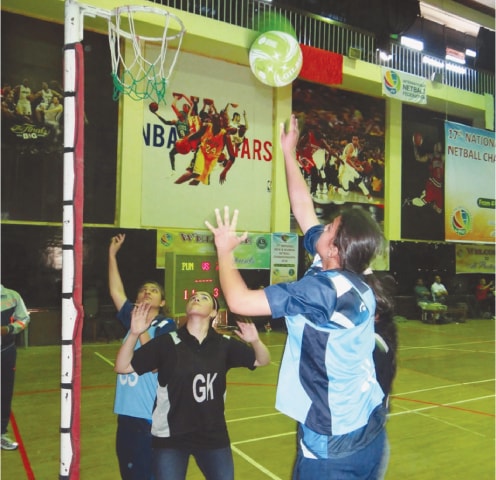 ISLAMABAD: Muhammad Akhtar and Zohair Chohan of Pakistan Air Force (PAF) guided their team to victory against Higher Education Commission (HEC) on the opening day of 17th National Netball Championship, which commenced here at Hamidi Hall of Pakistan Sports Complex on Friday.
PAF trashed HEC by 48-26 goals, as shooter Muhammad Akhtar and goal attacker Zohair Chohan played leading roles in victory of their team by performing brilliantly.
In other matches of men competitions, Wapda beat Gilgit-Baltistan by 41-9 goals, PAF outclassed Balochistan 34-11 goal, Punjab eased past KPK 31-20 goals and Wapda thrashed Islamabad by 46-6 goals.
It is relevant to note here Army was the defending champion, but this time, they are not participating in the event, which has provided a good chance for last year's runner up to lift the trophy in men's events. When asked to comment on this, President Netball Federation Mudassar Arian said: "We had requested all affiliated units to compete, but this year Army, the defending champion, didn't turn up," he said.
In the women's event, defending champion Sindh beat Elite PNF by 31-10 goals while Wapda overcame KPK by 29-3 goals and Punjab beat Islamabad by 11-3 goals while Gilgit-Baltistan defeated Balochistan 11-0 goals.
As many as 11 men and 10 women teams from all over the country are taking part in the championship.
Chairman, Pakistan Netball Federation, Capt.(Rtd) Zafar Iqbal Awan was the chief guest in the match between PAF and HEC to formally inaugurate the 4 days championship. President, Netball Federation, Mudassar Arian, Secretary General, Muhammad Riaz, Dy. Director Generals, Mansoor Ahmed and Shahid Salam, President, Islamabad Netball Association, Col (R) Ghulam Murtaz Shah and a large number of peoples were also present on the occasion.
Published in Dawn, May 5th, 2018