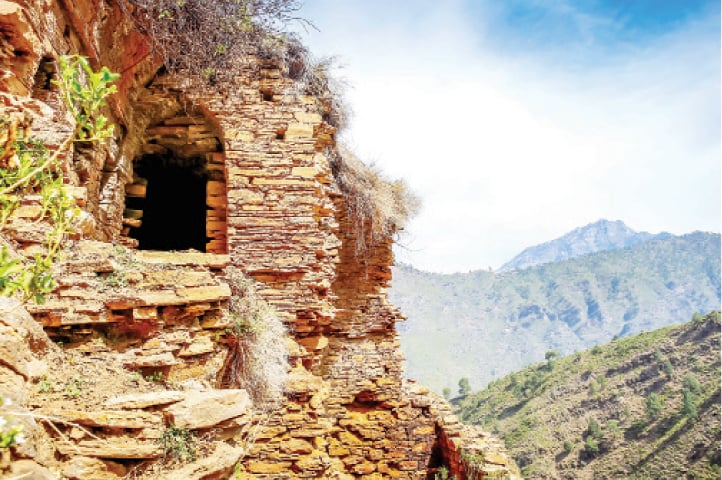 MINGORA: The cultural activists have shown concerns over the dilapidated condition of the Gandharan Buddhist architecture of monastic settlements in Tokar-dara area.
They have demanded of the government to take steps for protection and conservation of the settlements.
The monastic settlements known as Tokar-dara 2 lie just above the Tokar-dara 1 Buddhist complex to the southeast on a steep mountain in Najigram valley in Barikot tehsil.
"Actually these two and three-storey structures represent a unique feature in Gandharan Buddhist architecture. These are almost unknown except the one in Takht Bhai," said Dr Luca M Olivieri, the director of Italian Archaeological Mission in Pakistan, who first found these archeological structures in 2005.
Cultural activists concerned over dilapidated condition of Buddhist site in Tokar-dara
He said that in most cases, similar structures were destroyed or collapsed in other areas in Swat.
"These are residential units for the monks of Tokar-dara," he added.
Dr Luca said that structures like those gave a unique and extraordinary idea as how complex and majestic was a Gandharan monastery in its living times (100-600 AD).
Cultural activists and archaeology lovers, who visited the site, said that the site was amazing as they had never seen three-storey building of completely stone masonry in the archaeology of Swat.
"I came here and saw the majestic architecture of Gandara civilisation. There are huge walls, about six feet wide, some three-storey buildings and others having beautiful arches," said Azharud Din, a cultural activist and teacher in Swat University.
He showed concerns over the dilapidated condition of the buildings and said that archaeology department must take practical steps to protect and preserve the site.
The visitors said that the long halls in the three-storey building were used as stable by shepherds, who kept their animals there in the night.
The residents of Najirgam valley said that although some tourists visited Tokar-dara valley for its archaeological and historical value, yet many others visited it for its natural beauty.
"The site is located on a steep mountain in Tokar-dara valley. It is also a scenic site for tourists with lush green fields and colourful flowers," said Anwer Anjum.
He added that the valley had a huge Buddhist complex with a first-century stupa, monastic cells, halls and a barrage.
Syed Niaz Ali Shah, an official in archaeology department, said that the department was in the process of acquiring land of other archaeological sites in Swat and would begin protection work in Tokar-dara site in the next phase.
Published in Dawn, March 21st, 2018