Zeb's literary feat
Finally, Zeb Bangash is officially releasing her version of Urdu poet and columnist Ibn-i-Insha's famous poem Farz Karo. The teaser for the song that she's made under the Sandaraa banner (a band she's formed with some Brooklyn musicians) has become quite popular on the Internet. It has already been liked by countless of her fans, and to be honest the track sounds pretty awesome.
Perhaps the only thing that might get debated is the Middle-Eastern tinge to the composition. There's nothing wrong with that because Zeb B has sung the song with the right stresses and pauses, which means she understands the finer points of poetry. More!
Meera, the host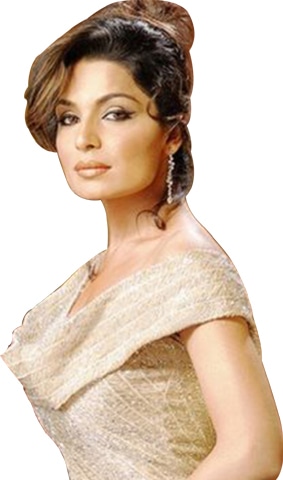 It's happening folks! Our very own Meera intends to (not that she hasn't tried before) host a TV show in which she will interview not just showbiz celebs but, if news reports are to be trusted, known social and political figures.
For that, the Lollywood diva claims, she has begun prepping. She says, one needs to know everything about the person one is interviewing; so to achieve that goal she has hired a team of people who will do the requisite research for her. Only then will she hit the airwaves. Best of luck Meera! You must bear in mind, though, that your interviewees might come well-prepared about you as well.
The white flag
It was bound to happen, because in this day and age it is difficult for bad blood to last forever. Director/producer Karan Johar, who is these days involved in a TV talent-hunt show called India's Next Superstars with filmmaker Rohit Shetty, has told a journo friend he will be glad to invite actress Kangana Ranaut on theprogramme because "our hearts are big, our home is open.".
Recall that K-Jo had a fiery verbal spat with the outspoken actress about nepotism in the film industry. Industry wallahs are construing this as a move by the director to pacify Kangana R to become friends (or at least civil acquaintances) again.
Well played, K-Jo! No, no, fickleness is something else, this is diplomacy.
Fling, ring, bling
Rumour has it that Ranveer Singh and Deepika Padukone have gotten engaged. This implies that 2018 was the year the love birds had decided to make their relationship official.
Here's how it happened: on Jan 5, the dimpled doll of Bollywood celebrated her 32nd birthday. Where? She, along with her family, first went to Sri Lanka and from there they landed in the Maldives. Ranveer S joined them in the Maldives and insiders believe the two coochie-cooers spent some quality time on the picturesque island together, and that's when he presented the ring to her. Cool!
We hope there were no 'what if you were marooned on an island' questions asked during their stay together in the Maldives. They say it's always a bad start to a relationship!
Game of kicks
One should always know the limits of one's ability to have fun. Last week, The Game of Thrones star Kit Harington — Jon Snow for the avid followers of the TV series — was at a bar in New York where he consumed a little more booze than he should have. Consequently, he collapsed on the pool table and awkwardly clutched at pool cues, creating an embarrassing scene.
The actor was gently asked to leave the place, but when he didn't listen, Kit H was kicked out of the bar. Come on George R.R. Martin, write a kick-ass episode of GOT out of this episode!
The end of the Big Bang
All good things come to an end. No different is the case with one of the most successful sitcoms of the last decade The Big Bang Theory. Says who? Well, says Johnny Galecki who plays the character of Leonard Hofstadter in the famous comedy.
According to him, the 12th season of the sitcom will be its last (currently its 11th season is on air). In Johnny G's words, "I think at this point everyone [in the cast] is very comfortable with 12 seasons being a good time to go home and see our families."
Hmm … what if the families have become accustomed to seeing them living afar, making oodles of money for them?
Published in Dawn, ICON, January 14th, 2018
For more live updates, follow Dawn.com's official news Instagram account @dawn.today