January 13, 2018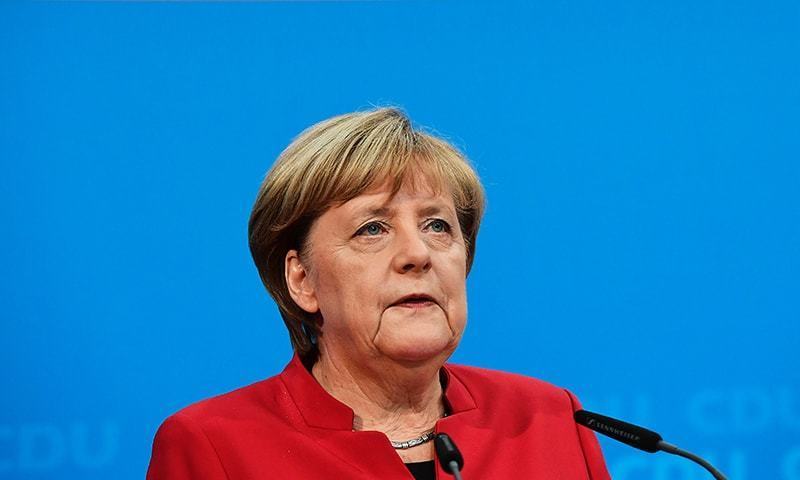 BERLIN: Chancellor Angela Merkel said her conservatives reached a breakthrough deal on Friday with Germany's second-biggest party, the Social Democrats, to build a new coalition government to give Europe a "fresh start".
After more than 24 hours of talks and months of political paralysis, red-eyed party chiefs and their negotiating teams reached an in-principle agreement that could lead to a new government for the biggest EU economy in coming months.
In the all-night negotiations in Berlin, the three sides — Merkel's Christian Democrats, Horst Seehofer of her Bavarian allies the CSU, and the Social Democrats (SPD) of Martin Schulz — hammered out a 28-page paper as the basis for the formal coalition talks ahead.
The hope was to form a new government "before Easter", which falls on April 1, said the CSU's Seehofer.
In their joint blueprint, the parties agreed on key policy outlines — to join EU partner France in a push to "strengthen and reform" the eurozone, to limit the influx of asylum seekers to Germany to around 200,000 a year, and to refrain from tax hikes given the healthy state of public coffers.
Merkel voiced relief that the trio of parties had passed a milestone, telling a press conference that "the world is not waiting for us — we need a fresh start in Europe. A fresh start for Europe is also a fresh start for Germany."
European Commission president Jean-Claude Juncker said the deal was "significant" and "positive" for the EU's future, while French President Emmanuel Macron said he was "satisfied and happy" that the deadlock was broken.
Marathon talks
Germany has been in political limbo since a Sept 24 election in which Merkel failed to win a clear majority — in part due to the rise of the far-right Alternative for Germany (AfD) which took millions of votes from all major parties.
Merkel initially turned to two smaller parties, the Free Democrats and Greens, to form a new coalition government for her fourth term. But when those talks collapsed in November, she had to once more woo a reluctant SPD for a new power pact.
Merkel, Seehofer and Schulz went into the talks Thursday warning of major obstacles ahead but also knowing that their political lives were on the line, given their poor election showings. "It would be the end for all three if this coalition does not come about," said Karl-Rudolf Korte of Duisburg-Essen University.
Published in Dawn, January 13th, 2018