KARACHI: Buyers rushed back to replenish their stocks on Thursday owing to a delay in issuance of statutory release order (SRO) against the withdrawal of duty and taxes on import of cotton.
The spinners were perplexed over the current situation wherein there is a shortage of quality cotton in the local market while the government is taking lot of time to notify removal of 4 per cent duty and 5pc sales tax on cotton imports.
However, surging world prices also influenced domestic market. The New York cotton rates jumped by 1.5 cents per lb, while Chinese and Indian markets remained steady.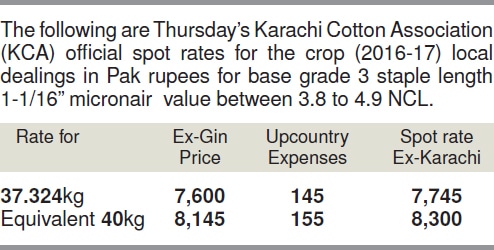 After a couple of days, local lint prices again soared to Rs8,000 per maund on renewed buying by spinners. However, short supply of quality cotton inhibited the trading volumes from expanding, brokers said.
The Karachi Cotton Association kept its spot rates steady at overnight level.
The following major deals were reported to have changed hands on the ready counter: 8,400 bales, Sadiqabad, at Rs8,000; 209 bales, Kahror Pakka, at Rs7,800; 1,000 bales, Haroonabad, at Rs7,000; 1,000 bales, Bahawal Nagar, at Rs6,700; 200 bales, Moongi Bangla, at Rs6,550; 400 bales, Chichawatni, at Rs6,700; and 400 bales, Faqirwali, at Rs6,700.
Published in Dawn, January 12th, 2018
For more live updates, follow Dawn.com's official news Instagram account @dawn.today