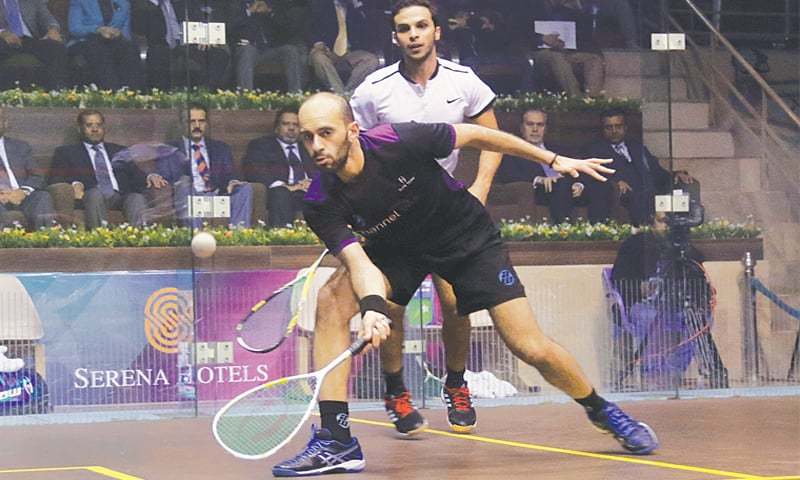 ISLAMABAD: World No.5 Marwan El Shorbagy of Egypt overcame compatriot Mohamed Abouelghar in the final of Pakistan Open Men's Squash Championship here at the Mushaf Squash Complex on Saturday.
The clash was an exciting encounter between top seed El Shorbagy and world No.11 Abouelghar which the former clinched., 11-8, 11-6.
Dominating his opponent from the very beginning, El Shorbagy took the first game 11-3 comfortably before Abouelghar came back strongly to claim the second game 11-7.
Though both players displayed superb skills in the third game, a relatively-better equipped El Shorbagy eventually pocketed it 11-8 before outclassing his opponent 11-6 in the fourth game to secure the coveted title.
Abouelghar was no match to El Shorbagy whose powerful forehand and cross strokes backed by some cleverly executed drop shots stole the limelight.
The event carrying a purse of $50,000 was organised by the Pakistan Squash Federation (PSF) after a long gap of 10 years during which the event could not be staged due to security-related issues.
Foreign players of good repute featuring in the event demonstrated that Pakistan is a safe place for holding top-level international squash contests which are highly appreciated by the sports-loving fans of the country.
Chief of the Air Staff Air Chief Marshal Sohail Aman, who is also president of the PSF was the chief guest on the occasion.
The PSF president awarded prizes to the players. Former world champions and squash icons Jahangir Khan and Qamar Zaman along with high-ranking PAF officers and a large number of fans witnessed the final.
Published in Dawn, December 24th, 2017