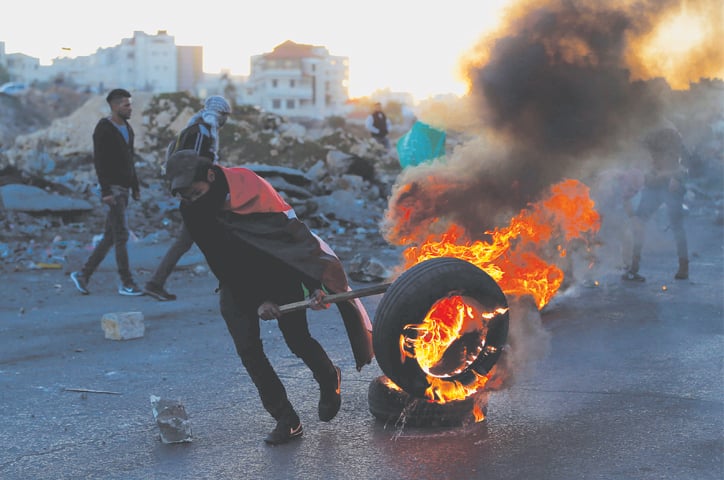 RAMALLAH: Pales­ti­nian President Mahmud Abbas's Fatah faction on Saturday called for a massive demonstration next week to protest against a visit to Jerusalem by US Vice President Mike Pence after Washington said it would recognise the holy city as Israel's capital.
The move has stirred global condemnation and sparked angry protests across Arab and Muslim countries, as well as deadly clashes in the occupied territories between Palesti­nians and Israeli forces.
It also prompted Abbas to cancel a meeting with Pence, who arrives on Wednesday in Jerusalem, and warn that Washington no longer had a role to play in the Palestinian-Israeli peace process. "We call for angry protests at the entrances to Jerusalem and in its Old City to coincide with the visit on Wednesday of US Vice President Mike Pence and to protest against Trump's decision," Fatah said in a statement.
The call to protest came as thousands of Palestinians took part in funerals for four men killed on Friday in clashes with Israeli forces during protests in the West Bank and in the Gaza Strip.
Mourners chanted anti-Trump slogans and masked men fired into the air during one of the ceremonies in the village of Beit Ula in the occupied West Bank.
Funerals were also held for the two other Palestinians killed by Israeli forces in Gaza, where the enclave's Hamas rulers had on Friday called for a "day of rage".
One of those killed was Ibrahim Abu Thurayeh, a Palestinian who lost his legs in an Israeli attack a decade ago, who, with his wheelchair, was a regular feature at protests along Gaza's border with Israel.
Hamas chief Ismail Haniya attended Abu Thurayeh's funeral in a refugee camp west of Gaza City. "With his death there is no valid excuse not to fight," Haniya said.
Friday's deaths brought to eight the number of Palestinians killed in violence or air strikes since Trump's Jerusalem move, and hundreds have been wounded.
Meanwhile, the UN Security Council is considering a draft resolution that will affirm that any change in the status of Jerusalem has no legal effect and must be rescinded.
Egypt circulated the draft text on Saturday and diplomats said the council could vote on the proposed measure as early as Monday. The draft resolution stresses that Jerusalem is an issue "to be resolved through negotiations".
Published in Dawn, December 17th, 2017