December 14, 2017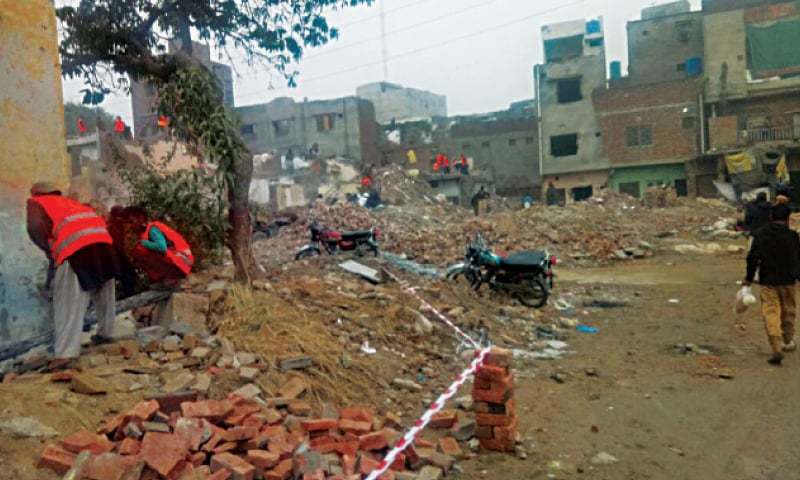 LAHORE: Contractors have resumed the demolition of residential buildings along the 11 heritage sites on the route of the Lahore Orange Line Metro Train Project after the Supreme Court green-lighted the Punjab government on the project on December 8.
The Lahore Development Authority (LDA) and contractors with Chinese companies are working day and night on different sites.
At the Jain Mandir site, some of the residents of the marked buildings complain of receiving "less compensation". A couple of women said they had refused to receive cheques for their properties in the Maharaja building near Kapoorthala House.
"I will not get Rs10 million for the property I've been residing in for decades," said Shabana Akram.
"The court decision is like a judgment day for me, as the labourers of the project executing agencies launched a massive demolition operation in the area and razed some portion of my house on Wednesday."
She said who would sell her a one-marla house in Lahore for Rs1 million.
"For God's sake Shahbaz Sharif sahib, either stop the project or give me enough compensation so that I can a one-marla house," she pleaded.
Two underground stations are also under construction there. As this portion requires lots of civil works because of underground construction, the government instantly resumed work around Jain Mandar. Hameed Bibi, an elderly woman, standing by Shabana, was also visibly worried.
"The government had promised to increase our compensation, but it faltered. I will vacate my room if the government gives me something enough to buy a house," she said.
Other residents Aftab, Shakeel, Irfan, Shahid, Ubaid and Basharat also criticised the government for paying them insufficient price of their properties.
"Those renting Evacuee Trust Property Board's and Auqaf department's quarters were paid Rs2.5 million per marla. But we are being given just Rs1 million for the property we've owned since 1947," said Aftab. He said though they did not want to leave their houses, but the government served them eviction after paying Rs1 million.
"We were threatened to better accept the compensation or face the eviction without compensation," he added.
An LDA spokesman rejected the residents' stance and said the government did its best to compensate them.
"Actually, the residents of Maharaja and Bangali buildings had no ownership documents. But the chief minister announced Rs1 million for each unit. Many people happily accepted the cash," he explained.
He said there were also some cases where residents had converted their single unit into two or even more by raising walls.
"In certain cases, courts have issued stay orders. We are ready to compensate them under the package once the litigation is over," he said.
Published in Dawn, December 14th, 2017