On past visits to Morocco, I enjoyed the cuisine without getting into the cooking in any serious way. But watching Jamie Oliver, the popular TV chef — owner of a successful restaurant chain and author of a number of bestselling cookbooks — prepare a simple lamb dish with Moroccan flavours, I decided to have a crack at it. The recipe is from his latest book 5 Ingredients, and is extremely easy.
In the book, Oliver argues convincingly that people are often put off when they see a long list of ingredients and a complicated sequence of preparatory steps. His answer is to put together (and demonstrate on TV) a number of recipes that require no more than five ingredients and the minimum of fuss.
His recipe for tender lamb shoulder calls for a two-kilo shoulder of lamb (goat or mutton would work fine), half a kilo of chick peas (chhola); two preserved lemons, one kilo of ripe tomatoes, and two heaped teaspoons of ras al hanout. This North African spice mix is the equivalent of our garam masala, and contains cumin, coriander, ground ginger, peppercorns, turmeric, cardamoms and a pinch of saffron. Housewives take pride in mixing their own blends, just as we do with our own garam masala. The flavour is warm and pungent, and ras al hanout is used to add a bit of a zing, and as a marinade.
Let Jamie Oliver make this amazingly delicious and easy Moroccan meal for you
Preserved lemons are easy to make: all you need is lemons, salt and a little water. These are sealed tightly in a jar and refrigerated for three weeks. Turn the container upside down a couple of times a day. But to be honest, I ordered both ingredients from Amazon.
Normally, chickpeas are soaked overnight before you cook them, but in this recipe, they go straight into the oven. Take a large, deep baking dish, and put the chickpeas at the bottom; next, quarter the tomatoes and place them on the chickpeas; then take two preserved lemons and cut them into small bits and scatter over the tomatoes and chickpeas; finally, drizzle a tablespoon of olive oil over the lamb before rubbing it with two heaped teaspoons of ras al hanout. Place the lamb over the chickpeas and tomatoes, season with salt and pepper to your preference, and pour a litre of water into the baking tray. Remember the chickpeas will swell, so you need enough room. Place the tray, covered in a double layer of foil, in the cold oven and set the heat at 170 degrees Celsius or 325 degrees F (gas mark 3). This is a fairly low setting, and you will slow cook the dish for six hours. After three hours, add a splash of water.
When I took the baking tray out at 1pm (having woken up at 7am to pop it in), the meat could be cut with a spoon. But as the chickpeas weren't quite done, I pulled the shoulder out and gave them a short blast of heat at the highest setting. This was some of the best lamb I had ever cooked, but though I was pleased with the result, I will soak the chickpeas next time. Also, I intend to add some garlic and a bit of chilli.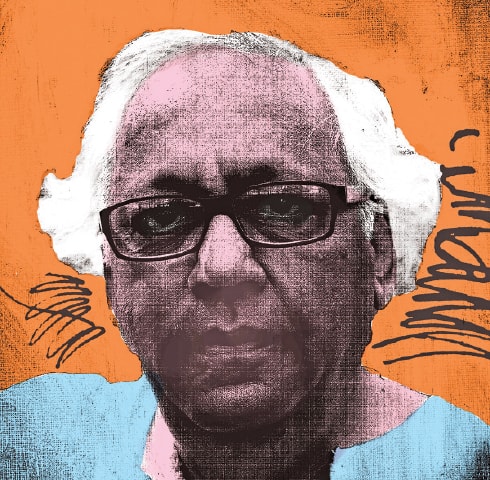 Another recipe I intend to try is Oliver's sticky mango prawns. Watching him prepare the dish on TV made my mouth water, and I'm waiting for our next trip to Sri Lanka to try it. The dish calls for large king prawns (with their heads and tails attached), six cloves of finely chopped garlic, one heaped tablespoon of mango chutney, one lime and one teaspoon of curry powder.
Crisp the garlic in olive oil until they are pale gold, and remove. Stir the curry powder in the garlicky oil, then add the prawns. Once they are cooked (about four minutes), stir in the mango chutney and cook for 30 seconds before removing from the heat. Season with sea salt and freshly ground pepper, sprinkle the fried garlic over the dish, and serve with quarters of lime. I can't wait.
Published in Dawn, EOS, October 8th, 2017