August 13, 2017
Microcosm, the latest show at Gandhara Art-Space, explores the concerns of young artists, viewing the younger generation as daring in their artistic choices, radically unconventional in their choice of mediums and socially aware, yet personally driven in their conceptual concerns. The show's curator, Adeel uz Zafar, brought together 13 artists carefully chosen for their diverse socio-economic backgrounds and choices of method and medium, giving the show an exciting range of visual experience. As a result, we have sculptures, videos, interactive video games, videos, animations, illustrations and even songs as art pieces.
One of the most exciting works is a silicon-based sculptural installation by Noman Siddiqui. It depicts a kind of deceptive realism that parallels the false dreams fed to us by a corrupt leadership and their manipulation of the media, likened by the artist to enticing lollipops meant to pacify a helplessly frustrated nation. Similarly, plump red pieces of meat, varying in size, are presented on platters of different materials, signifying class divide. The work is reminiscent of pop art, with its use of vivid colour and focus on the repetition of a single object depicted in hyper-realism to address larger issues in society.
Arsalan Nasir's arcade game is another unusual piece employing nostalgia to evoke a collective consciousness. The game has been designed and programmed by the artist based on his childhood memories of the game Pong, with certain innovations to support his narrative. It addresses the dynamics of the the inherent competition between two rival countries as each player dons the avatar of India or Pakistan to win a game where no rules apply. The real-life implications of this interactive exercise are manifold; as both sides cross physical, moral, ethical and legal boundaries in order to win, we not only finance and propagate this endless war, but actively enjoy it.
A group of young artists address concerns about societal constructs through unconventional forms of expression
Haider Ali's interests lie in the urban landscape and its various elements. He depicts the ever-changing nature of places that he has visited, through his photographs of construction sites around the city. Printed into found slabs of old stones, they have a certain archaic appeal, like an excavated remnant of a bygone civilisation. Ali seems to be interested in the city's expansion, which plays into his large-scale depiction of a claustrophobic scene of piled up traffic cramped into a constricting frame, springing from the relatable dailiy experience of traversing choked-up roads. This perfectly encapsulates this Karachi's character.
Haya Zaidi's work, on the other hand, is more personal, yet relatable on a broader level, addressing feminist and capitalistic themes. Her bizarre visuals are at once disturbing and intriguing, appropriating pristine magazine images into something grotesque to reveal their true ugly nature. The distorted and mutated female form in a way reflects her attempts to negotiate varying mindsets within her home, creating feelings of discomfort, constraint and claustrophobia that resonates with the idea of the subjugation and control of the female mind and body. She questions the treatment of women in a patriarchal society, robbed of their agency and objectified by the media for capital gains, reduced to a child-bearing mechanism, which is overtly apparent in her most striking piece, 'Mother Is At Work'.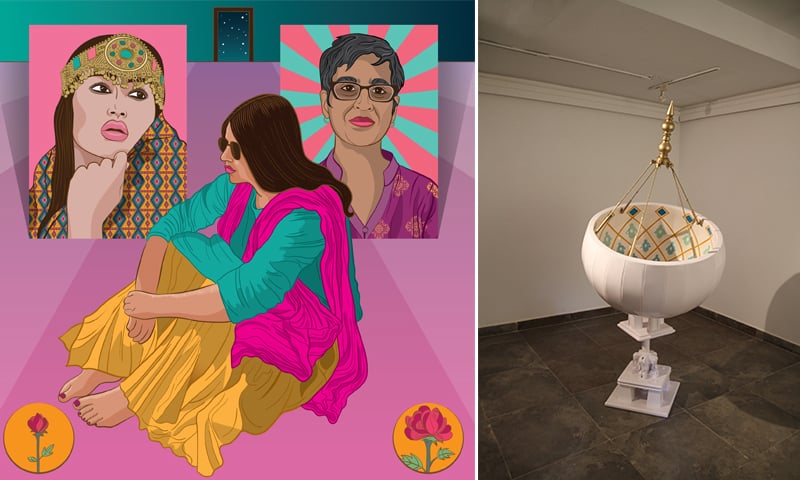 Samia Arif addresses similar themes yet in a more light-hearted and humorous tone. She talks about the experience of being a woman living in Karachi through a combination of illustrations and music. The songs were produced by the artist and each one corresponds to a brightly coloured album cover, talking about issues such as society's perception of women's sexuality, the stereotypes associated with religiousness, the expectations placed on women for marriage, and the psychological toll of the preference of sons to daughters in our society.
As each artist contextualises their personal experience within broader themes of our societal construct, they end up representing society itself, turning each work into a microcosm of our collective experience.
"Microcosm" was on display at the Gandhara Art-Space, Karachi from July 20 till August 12, 2017
Published in Dawn, EOS, August 13th, 2017