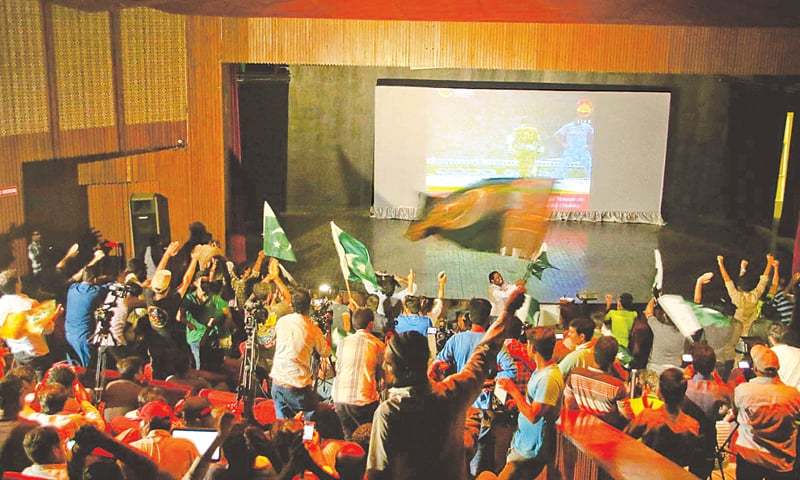 KARACHI: The city wore the look of a ghost town on a hot and sunny Sunday afternoon as fasting people preferred staying indoors, but only in the beginning of the final of the ICC Champions Trophy between traditional rivals Pakistan and India.
The usual spots at public places such as parks where there used to be big screens put up for watching important matches also didn't have any screens. But as Pakistan's openers gave the green shirts a solid start more and more people started coming out of their homes to share the joy.
They were there under the blazing sun and putting their lives on the line as they gathered on the road at Do Talwar in Clifton to watch the match on a big screen which wasn't even very clear it being daylight then.
"No, no it is viewable if you watch closely," said a traffic constable, who was also watching the game and quite understanding of people not viewing from the roundabout. "It will be dark in a couple of hours and then the glare from the screen will disappear and you can watch more clearly from the roundabout then," he added.
There was clapping every other second and even some cars already listening to the commentary on their radios slowed down to catch a glimpse of the game.
Ghulam Khan, a rickshaw driver, parked his rickshaw by the footpath after dropping off a passenger at the nearby mall. "I came all the way from Orangi Town to drop a passenger here and just happened to spot this screen on my way. Now I am not going anywhere. I will remain with my team until the end," he said.
Zain-ul-Abideen, a young resident from Zamazama, was there with his neighbour Azaan. "Both of us are fasting and it would have been comfortable to watch the final at home before the television but we just had to come out and watch with others. This is how you enjoy cricket with your brothers. We will share our happiness together with our people when Pakistan lifts the trophy today, Insha Allah," said Zain.
The big screens at Expo Centre was only switched on at 6pm and as soon as they did that there were people heading there to enjoy the closing moments of Pakistan's batting as they cheered for Mohammad Hafeez and Imad Wasim. And then they were screaming for Pakistan's bowlers to do their magic starting with Mohammad Amir who got the break for Pakistan right away.
The Arts Council of Pakistan auditorium was packed to capacity with cricket fans in green shirts waving the green star and crescent banner every now and then. Their team, too, was giving them so many chances to cheer and applaud and raise the flag. "We came to watch our win on the big screen all the way from Lea Market today," said Nubair, who was there with friends Usama and Hamza.
Abdul Rahim from Korangi was kissing the national flag as he cheered for his team. "I am not budging from here until we lift the trophy today," he said, too. And how could he be so sure? What if Pakistan ... "Don't even bring the L-word on your lips, sister," he screamed.
Published in Dawn, June 19th, 2017