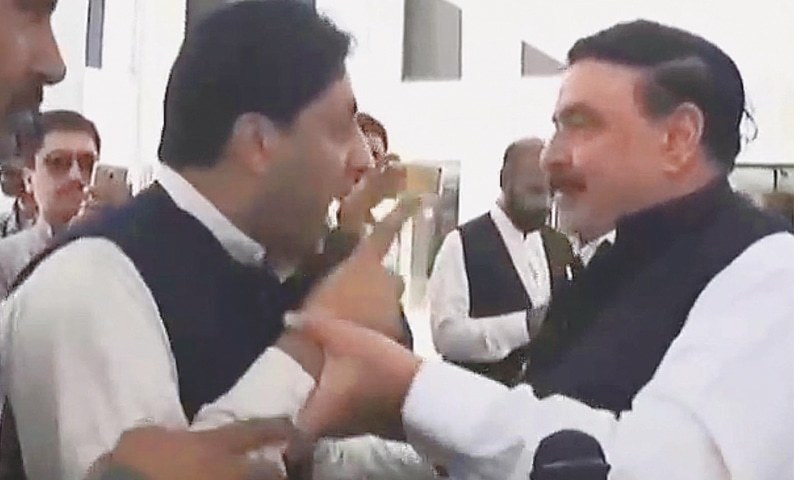 ISLAMABAD: Police on Thursday arrested an office-bearer of the ruling Pakistan Muslim League-Nawaz (PML-N) for accosting Awami Muslim League (AML) chief Sheikh Rashid Ahmed as he was exiting Parliament House after attending the National Assembly session on Thursday.
Malik Noor Awan, who is president of the PML-N's Japan chapter, claimed that he was an automobile importer and was owed Rs2.2 million by Sheikh Rashid as payment for a car the MNA had bought some time ago.
The incident took place shortly after the MNA — during discussion on the recent attack on the Iranian parliament — demanded that the security of parliament be handed over to Rangers.
"A man attacked me on the premises of parliament after levelling a false allegation against me that I owe him money," Mr Rashid informed the speaker after hurrying back into the house.
He claimed that parliament was so unsafe that anyone could enter without any security clearance.
Mr Rashid claimed that as he was leaving Parliament House, a man clad in white shalwar kameez "attacked" him in full view of the media.
At this point, Interior Minister Chaudhry Nisar Ali Khan, who was present in the house, got up and left. He later returned to the house and informed the speaker that the man had been arrested.
Mr Rashid also asked the speaker to ascertain that who had allowed the attacker to enter the parliament building.
After the session, Mr Rashid lodged a complaint at the Secretariat police station against Awan, and an FIR was also registered. In the complaint, the AML leader stated that "Prime Minister Nawaz Sharif and the Punjab chief minister will be responsible if any mishap [befalls] me".
A Secretariat Police official said the suspect was arrested on the directives of the interior minister and put behind bars pending further legal action. He will be produced in a court today (Friday).
He was booked under Section 506 of the Pakistan Penal Code for criminal intimidation, and under Section 25-D of the Telegraph Act.
During preliminary investigation, Awan told police that Sheikh Rashid had bought a vehicle worth Rs2.2million and imported it from Japan to Pakistan a few years ago.
He claimed that Mr Rashid refused to pay him and began to threaten him. Awan alleged that two intelligence officials had also come to Japan to threaten him in this regard.
"Today, I came to the parliament to meet the deputy speaker and complain about Sheikh Rashe­ed," Secretariat police quoted him as saying. "When I came to know that he will also be coming here, I waited for him outside."
Published in Dawn, June 9th, 2017