AAMINAH SPEAK THE TRUTH
Aaminah Sheikh is one of Pakistan's leading TV and film actresses. She knows how show business, in monetary terms, works. Unlike many trade insiders, Aaminah S doesn't keep her fans in the dark.
According to her, Pakistani films are not doing as well at the box office as many of her colleagues suggest. The word she used to describe their performance in terms of footfall or gate-money is kamzor (weak). That said, the actress hailed the artists and technicians of the film industry for working hard, claiming that Pakistani artists and technicians know their onions, hinting that it's only a matter of time before they make it big on the international stage.
Yep, for Aaminah the glass is half-full. But what is it full of, we don't know.
---
AD LOVE
No, AD is not a term used to denote an year in the Gregorian calendar. I'm referring to an assistant director called Charit Desai who is going out with the spunky Parineeti Chopra.
The two first met in the US where they were part of a song 'n' dance gig. They immediately hit it off and ever since have been seeing each other — a bit under the radar, though. Charit D is an employee at Karan Johar's film company, and I think K-Jo (the Nosy O'Donnell that he is) knew about it all along, and for some reason has been keeping mum.
Well, the AD might get a promotion in the near future — no, not in the film business.
---
HERO FARAH KHAN
Cricketer Shoaib Malik comes across as a seedha-sada guy. His is not. He can be pretty mischievous if and when he wants to. Here's an example.
His wife Sania Mirza, of late, has developed a close friendship with Bollywood director and choreographer Farah Khan, who recently threw a lavish party in Mumbai for Sania M. The cricketer was also there and immediately took a shine to the filmmaker. He posted a picture of the three of them on social media with the caption that if he were to make a film, he'd cast Farak K as hero in it.
Hmm … I wonder whether Farah K's husband Shirish is happy or sad to hear that?
---
ANIL KAPOOR WAXED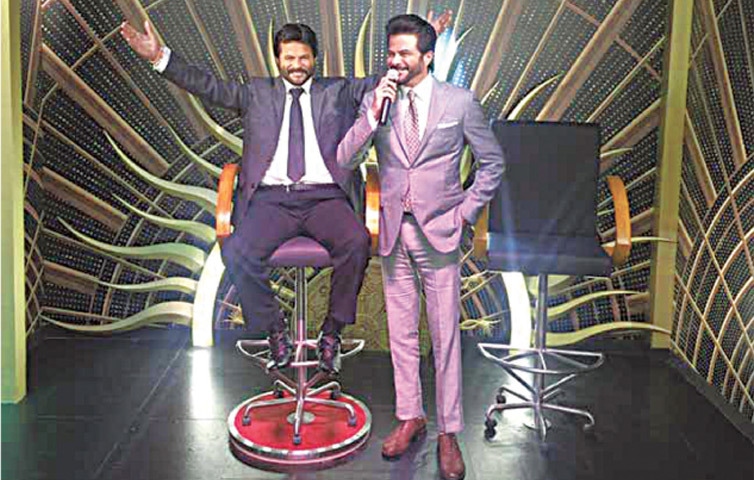 Don't misunderstand me. Anil Kapoor has not waxed or shaved off his body hair (he does have a lot of it, mind you).
The thing is that Madame Tussaud's Singapore has recently put on display a wax statue of the actor in which he's striking his famous quiz show pose from Slumdog Millionaire.
Anil K was there a few days ago and unveiled the statue himself. However, he refused to wax eloquent on the quality of the sculpture.
---
IN THE FAMILY WAY
Congratulations to the Pataudi clan. A couple of months back, actor Saif Ali Khan and his wife Kareena Kapoor were in the news for becoming parents of their first child, Taimur. Now Taimur will soon have company in his age-bracket, because Soha Ali Khan (Saif's sister) is pregnant.
Both Soha AK and her husband, actor Kunal Khemu are over the moon about it, and the father-to-be even posted a jubilant tweet to announce his wife's pregnancy.
Good for them. May you have many more, oops, I mean, congrats again!
---
ROLLING IN DOUGH
Wow! Who says the moment an actress gets married directors and producers feel reluctant to hire her? The stunning Kareena Kapoor is married and a mother of a child, but that has not taken away even an ounce of charm from her.
News is that a production house has approached her for "an author-backed role in a co-production." The details of the film are not out yet, what we do know is that she's been offered a whopping six crore rupees for the job. Six crore? A true nawabzadi.
---
SAXOPHONE IN THE AIR
Now that's what you call presence of mind, showbiz style. On April 22, musician Kenny G was flying from Tampa to Los Angeles. When the Delta plane was 30,000ft in the air, an attendant made an announcement that they were raising funds for a charity called 'Relay for Life.'
Kenny G liked the idea. He stood up and said if passengers raised $2,000, he'd walk up and down the aisle and play the saxophone. The passengers obliged and the musician did a concert (of sorts) mid-flight, happily at that.
Thank heavens it wasn't a United flight. Otherwise at least one of the travellers would've been dragged up and down the aisle to get him to cough up the money.
Published in Dawn, ICON, April 30th, 2017