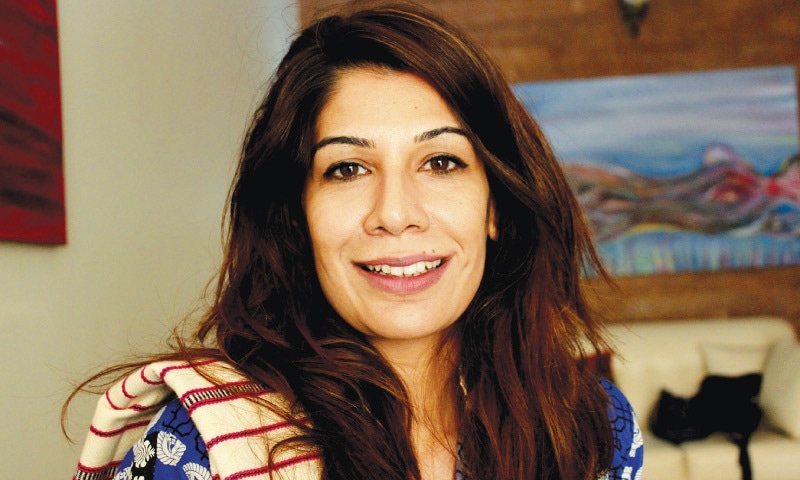 Warming her hands around a mug of hot tea, 39-year old Sabyn Javeri seems relaxed, even relieved. She should be; the "tumultuous journey" her book took to getting published is finally over.
Nobody Killed Her is just fresh off the press although it had been receiving a lot of attention for quite some time. It made it to the Huffington Post's 'List of books we can't wait to read in 2017' and is expected to create the "most controversy."
"To be included in the same list as Indian writer and activist Arundhati Roy and South Korean writer Han Kang is simply fabulous," Javeri says, adding that having her book even mentioned among the "most awaited" was elating.
---
Sabyn Javeri is the author of Nobody Killed Her, a political thriller and courtroom drama touted as one of the most anticipated reads of 2017
---
Javeri has been publishing short stories since 2005, has won the Oxonian Review's short story award and was shortlisted for the Tibor Jones South Asia Prize, so "the longer work of fiction seemed a natural progression," she says.
She began writing her novel in 2011 after her second child was born, while living in London, on leave from work. Her novel was immediately picked up by Bloomsbury and the way her manuscript found itself on the desk of the publishing house's editor was, in itself, almost "fairy-tale-ish."
"An editor read a short story of mine and contacted me via Facebook. She asked if I was working on something longer and I sent her the opening chapters of my novel." The editor responded by asking her to finish the manuscript (which Javeri did in just three weeks) and showed it to her colleagues at Bloomsbury London.
The hydra of the publishing world — heartbreaks, setbacks, even rejections — seemed a mere myth as she never experienced being knocked to the mat. In fact, they offered to buy the book.
"It seemed too good to be true, and it was," says Javeri.
Two years later she experienced the first setback. "Nearing publication, the book ran into legal troubles and couldn't be published as it was. The editor who had championed it left Bloomsbury, as did my literary agent at Alexander Atkins and the book was shelved," she says.
Or so she thought...
In 2015, after Javeri moved to Karachi, Kanishka Gupta of Writer's Side, a manuscript assessment agency, approached her through a mutual friend, author Rakhshanda Jalil.
Javeri was not very keen, but her lukewarm response failed to deter Gupta. "He literally hounded me to revise the manuscript," she says, adding that Gupta was convinced the book "should not die out." And so she began rewriting the novel. The exercise, she admits, resulted in a much "stronger storyline."
Gupta then went on to submit her work to some of the top publishing houses in India. She received offers from almost everyone and ended up choosing HarperCollins Publishers. But why not have her first novel published in Pakistan?
"That is because there were just a handful of publishing houses who published fiction in English language in Pakistan to begin with, and most have shut down," Javeri says, adding, "There is hope now with a new Karachi-based press, Mongrel, which I'm very excited about, but a year ago there wasn't much on the Pakistani publishing scene."
She wishes Pakistan had a plethora of publishing houses that published English language or regional fiction like there are in India, "because if these existed there would be more English language fiction writers, too, since there are so many stories to tell."
But even with publishers strewn across India, getting published by a reputable house is not easy, as "you have to be the best of the best to get published in India."
From a short story writer to a novelist
Married and with a two-year-old toddler in tow, Javeri did her Masters in Creative Writing from the University of Oxford and by the time she received her PhD scholarship offer from the University of Leicester, her second child, a daughter, had just turned one.
While at Oxford, she began reading the works of Urdu's iconoclastic, progressive, feminist writers of the 1930s and found to her surprise that they were writing about issues "long before the term feminism was coined and understood in the West." She then went on to do her doctoral dissertation on the pedagogy of creative writing.
"I had already done gender-based research on Muslim women in leadership roles while looking for a thesis topic for my doctorate," says Javeri and this just "snowballed the whole creative process." Later she was able to fit in the underlying themes of "women's empowerment and feminism" into her novel.
Hemingwayesque in style
Javeri finds herself inclined towards Ernest Hemingway's style of minimalistic writing. "For me, less is more. The beauty of good writing is in what is left unsaid."
It's quite different, she says, from the popular prose style usually associated with the subcontinent which is "very atmospheric and beautifully descriptive, almost lyrical in tone." She finds that sort of writing very rich. After a while one feels full. "It's like having a dozen gulab jamuns for lunch, instead of one or two for dessert."
And she does not need absolute quiet or a private nook to be able to write. "Look at giants like Saadat Hasan Manto and Ismat Chughtai; they wrote amidst the din of domestic life. Chughtai used to write on her takht (a wide, low seat) in the hallway, propped up on an elbow, enjoying paan [betel leaves] amidst the hustle and bustle of a noisy household. Manto used to write with one leg swung over a chair whilst listening to his children squabble or his editors quibble. Rashid Jahan used to write at her medical practice between seeing patients. So, no, I don't believe in Virginia Woolf's 'room of one's own' as a necessity to writing."
Before she had children, Javeri used to wait for the perfect moment, until it dawned on her that "perfection was an illusion" and she told herself to make the best use of the "here and now."
Contemporary writers address patriarchy, cultural imperialism
The challenges that Pakistani female writers of today face are quite different from the ones faced by the previous generation of their counterparts such as Jahan, Chughtai and Hijab Imtiaz, mulls Javeri when asked to compare. She finds the women writers of today are doing "an amazing job," working twice as hard to be "taken half as seriously," but quickly goes on to add that this is not just limited to the arts.
While she does not feel it is fair to compart­mentalise female writers from their male counterparts, as both face challenges of different kinds, she notes that contemporary writers have got over the "colonial hangover" and are brilliantly addressing issues of "patriarchy, cultural imperialism and, of course, the after-effects of the long-haul dictatorships."
Today if she were to choose between painting and writing, her immediate response would surprise anyone. "I would choose cooking," she says without hesitation, explaining, "Both painting and writing are creative expressions. Writing is less messy; painting is more tangible in the sense that you get instant results. Cooking is the only one where you can have your cake and eat it too."
Published in Dawn, EOS, February 26th, 2017