February 15, 2017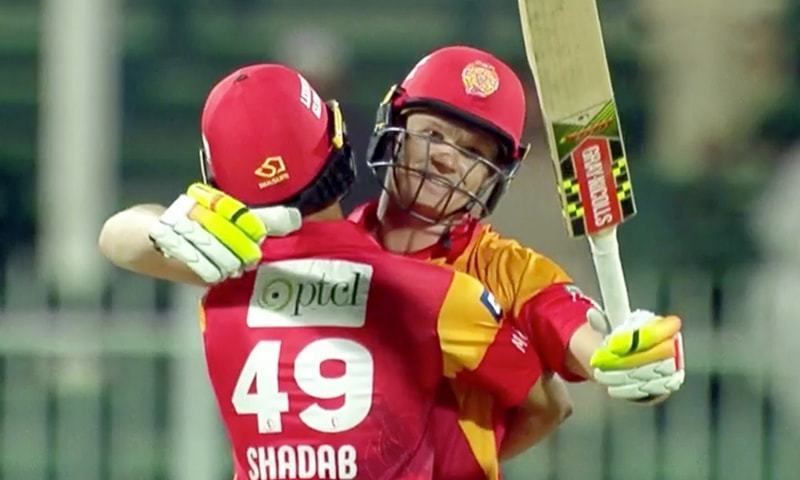 Islamabad United beat Quetta Gladiators by 5 wickets after a splendid display of batting by Watson and Billings in the Pakistan Super League.
Billings knock of 78 while being supported by Watson, who scored 36, all but assured United of their victory in the match.
United's Watson and Billings took the side closer to victory, with the side crossing the 100 run mark in the 14th over while chasing a target of 149.
Watson's out of the park sixer brought up the 100 for United, with Billings reaching his half-century soon after.
United kept the pressure on Quetta Gladiators, but had lost three wickets by the end of the 11th over for a score of 72.
Skipper Misbah was caught leg before on a ball by Hasan Khan when he tried to sweep the ball. Billings was going strong at 40 and was joined by Watson on the crease after the skipper's departure.
Islamabad United lost one wicket while chasing the target of 149 set by Quetta Gladiators, but remained steady in their innings and kept hitting periodic boundaries.
United were steady in their opening overs while chasing Gladiators target of 149.
Sam Billings and Dwayne Smith opened the innings for United.
Gladiators innings
United need 149 to win after the Quetta Gladiators innings ended. United bowlers played a fine spell and managed to restrict the Gladiators under the 150 run mark.
Perera was run out on the last ball of the Gladiators innings. Perera's low power shot was stopped by bowler Rumman Raees, who then scooped up the ball and threw towards the runner's end.
Gladiators reached the 100 run mark for the loss of five wickets with their run rate slowing down. The batsmen were struggling to perform while Islamabad United contained the score board.
Asad Shafiq contributed 45 runs before being bowled out by Watson. He looked to swing across the line but missed.
Quetta Gladiators lost two wickets in the first four overs of the match, with Islamabad United on the offensive.
Ahmad Shehzad was caught on a ball by Mohammad Sami after scoring a quick-fire 26 off 15 balls. Pietersen came to replace Shehzad on the crease, but soon returned to the pavillion after being caught leg before
Islamabad United won the toss and decided to field in their match against Quetta Gladiators in the Pakistan Super League.
Ahmed Shehzad and Asad Shafiq opened the batting for the Gladiators while Mohammad Irfan bowled the first over.
Teams:
Islamabad United
Misbah-ul-Haq (capt), Amad Butt, Asif Ali, S Badree, SW Billings, BJ Haddin, Hussain Talat, Imran Khalid, Mohammad Irfan, Mohammad Sami, Rumman Raees, Saeed Ajmal, Shadab Khan, DR Smith, SR Watson
Quetta Gladiators
Sarfaraz Ahmed (capt) , Ahmed Shehzad, Anwar Ali, Asad Shafiq, Bismillah Khan, Hasan Khan, Mahmudullah, TS Mills, Mohammad Nawaz, Noor Wali, NLTC Perera, KP Pietersen, RR Rossouw, Saad Nasim, Umar Amin, Umar Gul, LJ Wright, Zulfiqar Babar