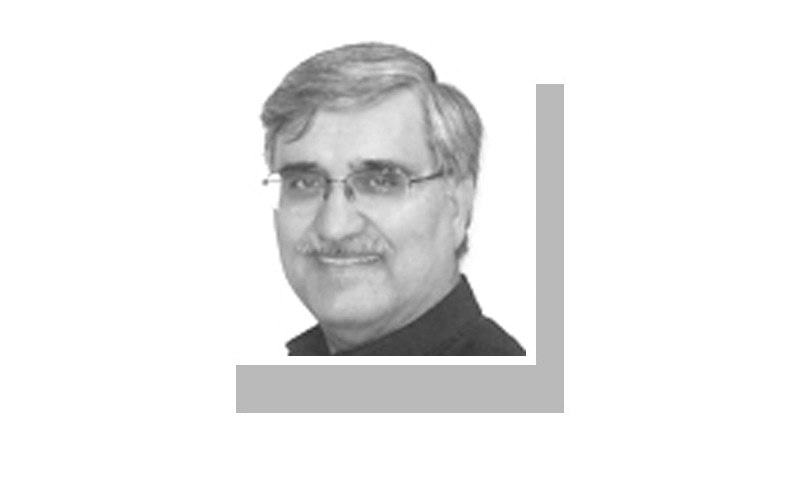 WHAT the size of a cabinet of ministers should be is a question of both public and media interest, and a subject of frequent discussions in many countries. In Pakistan, interest in it was recently rekindled when Punjab's chief minister expanded his cabinet by about 55pc, from 20 to 31 ministerial posts.
The chief minister now also has four advisers and seven special assistants. Some time ago, the Punjab government had appointed 39 parliamentary secretaries; they continue in their positions even after the expansion of the cabinet. There are several ways to look at this expansion.
The Constitution places a maximum limit on the size of the cabinets. The federal cabinet, including both ministers and ministers of state, can have a maximum size equivalent to 11pc of the membership of parliament. Since the Senate has a total membership of 104 seats and the National Assembly 342 seats, the federal cabinet can have a maximum of 49 ministers and ministers of state. In addition, the prime minister is allowed to appoint a maximum of five advisers. As of now, the federal cabinet consists of 29 ministers and ministers of state, and four advisers, and is, therefore, nowhere close to crossing the constitutional threshold. The Indian union cabinet, by comparison, consists of 76 ministers and ministers of state.
---
More cabinet posts may not mean improved governance.
---
The Constitution allows the provinces to have cabinets not exceeding 15 ministers or 11pc of the total membership of their respective provincial assembly, whichever of the two is higher. This allows the province of Punjab to have a cabinet as large as one with 40 posts. Sindh may have 18, KP and Balochistan 15 each. By this criterion, the Punjab cabinet, which stands at 31 ministers after the expansion, is well within the upper limit prescribed by the Constitution.
The Punjab government currently has 36 departments. Normally, each department is headed by a minister. Even using this yardstick, the Punjab cabinet seems to be properly sized — although one may take issue with the way departments are split up. For example, there used to be only one education department not long ago. Currently, there are four independent departments — literacy and non-formal basic education, school education, higher education and special education.
Before the expansion, Punjab's chief minister was often criticised for concentrating too many portfolios under his personal charge and failing to delegate authority. With the induction of 11 new ministers, the chief minister has, at least theoretically, blunted this criticism. If there is an effective system of accountability for ministers, with well-defined targets and a proper periodic reporting system, the recent expansion can improve the efficiency of the provincial government.
One may question whether a cabinet as large as 35 members, with 31 ministers and four advisers, can hold effective meetings and transact business smoothly. Since a parliamentary form of government is, in essence, a cabinet form of government (where cabinets should be taking decisions rather than the prime minister or chief ministers alone), it becomes all the more important to provide for a cabinet size that is conducive for in-depth deliberations. In that sense, the previous Punjab cabinet size of 20 ministers was more appropriate.
With the recent expansion, there will be increased pressure on the prime minister and Balochistan's chief minister to expand their cabinets as well, and to allow more legislators to enjoy perks and privileges as ministers. The federal cabinet has the constitutional allowance to induct 20 more ministers, and there are several hopefuls in the race. Keeping the constitutional ceiling of 15 members in view, Balochistan has three ministerial vacancies. Sindh and KP have already expanded their cabinets to the maximum capacity allowed by the Constitution.
As the election season nears, the question of political expediency will begin to assume greater significance for party leaders, and there will be a greater tendency to please influential legislators by offering them cabinet positions. Increasingly, we see even unelected politicians inducted to positions of advisers and special assistants, with equal (or almost equal) status to that of the ministers. Sindh, in this respect, tops the list with 17 special assistants compared to seven in Punjab and six in KP. All four provinces have four advisers each.
Last but not least is the question of cost-benefit. How much does each minister, adviser or special assistant cost the national exchequer, and what benefit does he or she bring to the cause of good governance? A careful appraisal of this question may lead to a wiser decision. After all, even before devolution under the 18th Amendment, federal cabinets consisted of less than 20 ministers until 1974.
The writer is president of Pildat, a public policy think tank.
Published in Dawn December 7th, 2016