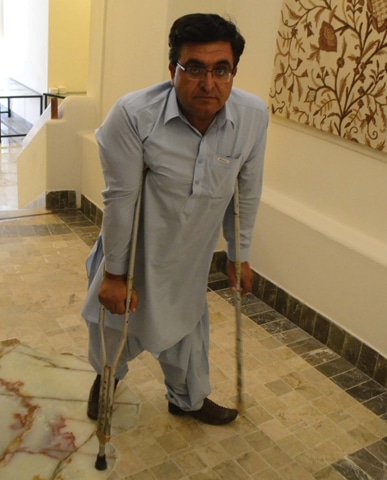 QUETTA: "Many people told me that I was a curse and burden for my family. Some even advised me to commit suicide," says Naqeebullah Ehsas, a man hit by poliovirus in his childhood and still unable to walk.
Sharing the most traumatic yet game-changing experience of his life, he says, "I used to crawl away on a two-kilometre-long rugged road in a harsh mountainous area to go to and return from the primary school in my village.
"During that journey, once I was intercepted by two elderly men who beat me blue and black, furiously punched me and kicked me as if they wanted to kill me. Why, I don't know.
"I was traumatised. But I turned my grief into my power and decided that I am not going to continue living this wretched life," a confident Ehsas says.
He was born in a poor family in Churmayun village of Balochistan's Pishin district. If not for his strength and endurance, he would have been dead or leading a miserable life.
But he is alive and strong. "I did my BA in Social Sciences and MA in Pashto literature. Will earn my Master of Philosophy (MPhil) degree in December after which I plan to go for PhD," Ehsas said.
---
Naqeebullah Ehsas who used to crawl to school now lives a successful life and wants other polio victims to follow suit
---
He told Dawn that as anchor he hosts two programmes for Radio Pashtun and PTV, is a poet and a lecturer in a government college in Quetta. Most of all, he is working to uplift the lot of special people and give them the due place they deserve in society. He runs an NGO, Physically Handicapped Welfare Association.
Ehsas says he is inspired by a quote from Confucius: "It doesn't matter how slowly you go so long as you do not stop."
It relates to his life and encourages him to keep on struggling and achieving success after success.
But all these successes hadn't come easy. He has gone through extreme adversity. The physical labour he had to endure to perform very simple routine tasks of everyday life, like walking.
But, above all, it is the social stigma he faced during his childhood which pains him most even now. "People's misunderstanding and ill treatment hurt me more than the burden of being crippled."
Like every media reporter, I am also an inquisitive self, but here I felt that I have been sort of knocked down by Ehsas.
I had no more questions to ask...
After a long pause of heavy and crushing silence, I made an uneasy move with the intention of taking leave from him. Ehsas read my mind and said smilingly, "Let me tell you a story that changed my life.
Then he narrated the episode of him being beaten by two old men when he was a small child.
"The enraged assailants took turns to thrash me, showered my legs with kicks and pounded on my back. Until, they were too tired. I thought I would die but survived by the grace of God," he paused.
"This tragic incident changed my life and helped me to withstand miseries and inspired me to succeed in life." He continued "Because I wanted to prove the old men were wrong".
Ehsas completed his elementary education in his village confronting a lot of challenges. Then he shifted to Quetta where he enrolled in a high school in special education programme. During his high school period, he worked in a clinic to earn money for his living expenses and payment of school fee. Later he worked as a junior clerk at a government organisation.
"Like the pendulum, I am still simultaneously living in two different worlds," he said.
"I am still haunted by the agonising memories of my past. The unbearable pain which marked the tender days of my childhood is still imprinted on my soul. The stain is impossible to remove. Though I have left that phase of my life far behind, and am now a happy person and a role model for others, a successful man, the irritation caused by my crutches transports me to my excruciating past."
"I wish no one suffered what I had gone through."
Ehsas sighed slightly and continued, "Whenever I read or hear that polio virus is still active in Quetta and some other parts of the country, I am shocked. I am afraid that more and more children are going to be affected by polio and destined to live a miserable life."
"Not everyone is going to make it like me. We need to stop this virus to save our coming generation," Ehsas insists.
"If we fail, the next generation would be laughing at us that we couldn't fight with a tiny virus. We couldn't eradicate polio due to our failure to educate unaware and gullible parents who buy conspiracy theories against the vaccine," he said.
It was time to leave. I had no words to say to Ehsas, but told him that he is a blessed soul and God is happy with the successes he has achieved.
Let me conclude by his wonderful phrase. "People's misunderstanding is more dangerous than the virus."
Published in Dawn October 24th, 2016