KARACHI: To celebrate the second anniversary of the Sanat Art Gallery, a group show titled What belongs to you opened on Monday.
Apart from the six participating artists whose work can be seen in the exhibition, the gallery has put on display a printed booklet of its publications, which according to the curator, Aziz Sohail, is itself an artwork.
It has to be said that Ammar Faiz's work, despite not being groundbreaking in the technical sense, instantly catches the eye. His magazine collage on film poster mounted on used cardboards give a syncretic (mainly culturally syncretic) view of life. There's an element of sarcasm in his pieces, but the underlying seriousness of the subject does not get trivialised. It all begins with 'For the real blue lady' with a combination of disparate images coming together, including the image of a famous Indian actress, making the viewer mull over the end result. But then soon the viewer realises that the end result is not the issue here; it's the journey-destination type of comment in which society as a whole becomes the artist's centre of attention.
The most striking (pun intended) exhibit by Ammar Faiz is called 'From Saleem's plastered pink wall'. The bow-and-arrow shot, as it were, hints at the fact that the artist's mind is hounded by ideas and he needs to get them out of his system.
Naira Mushtaq delves into nostalgia. It is, however, not the kind of sulking or brooding act of looking back. There's a touch of celebration to it as well, as may be witnessed in an exhibit named '11-02-1992' (found music box, LED, digital print). Two other artworks '07-03-1977' and '15-02-1986' are aesthetically nuanced and despite being fuzzy in their appearance help the viewer get the artist's drift loud and clear.
Farhat Ali concentrates on the clear line that exists between the exterior of an image and what lies behind or beneath it. The attempt is to blur that line, and in the process the viewer is teased into seeing that which is not visible. Cool stuff.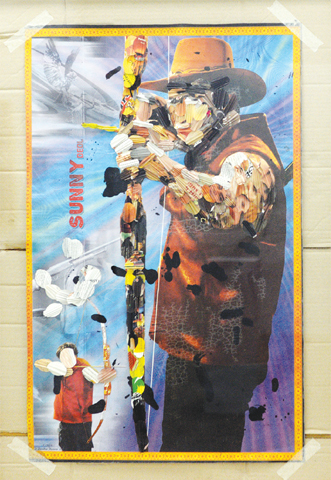 The other artists who have taken part in the show are Madyha Leghari, Zoya Siddiqui and Sajid Khan.
The exhibition will continue till July 14.
Published in Dawn, June 30th, 2016