The sixth edition of the ICC World T20 2016 could not have had a better ending. West Indies' Carlos Brathwaite smashed four consecutive sixes in the last over of the final match against England, to give his team their second World T20 title on April 3, 2016.
The tournament, held from March 8 — April 3, 2016, did not have the dynamic beginning as expected, however, during
the Super 10 stage, some matches did become the talk of the town. This article is a recap of the extravaganza that was the 2016 World T20.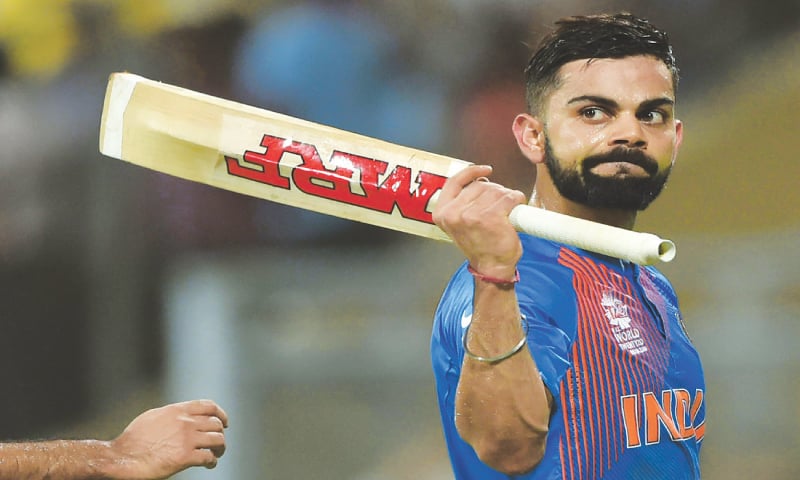 Batting
T20 matches are considered as a batsman's paradise for they get to hit towering sixes every now and then.
Bangladesh's Tamim Iqbal remained the leading run scorer in the tournament with 295 runs, which included a century and a half century. He became the first Bangladeshi batsman and the 18th batsman to score a century in a T20. His knock of 103 not out off 63 balls came against Oman during the group stages.
India's Virat Kohli was the second highest run scorer with 273 runs, which included three 50s. England's Joe Root came at the third place with 249 runs and interestingly, Afghanistan's Mohammad Shahzad was the fourth successful batsman ending his tournament with 222 runs, with 61 (39) his highest, which he scored against Scotland in the group stages.
Bowling
Interestingly, bowlers from Pakistan, India, Australia, England and the West Indies could not come on top in the tournament.
Mohammad Nabi and Rashid Khan of Afghanistan were the two most successful bowlers. They both took 12 and 11 wickets respectively, with Nabi taking four wickets in a match against Hong Kong.
New Zealand's Mitchell Santner and Ish Sodhi came at the third and fourth spots respectively as the most successful bowlers. Both took 10 wickets each, with Santner taking four wickets once in a match against India. No bowler in the tournament could have a five-wicket haul.
Rise of the minnows
Akin to previous WT20 events, the minnows did their best during the group stages to make a name for themselves and to enter the round robin stage. Oman got their first ever win a World T20 tournament by defeating Ireland by two wickets on March 9. Oman was chasing a target of 154.
Moreover, during the group stage, Scotland defeated Hong Kong by eight wickets (D/L Method), giving Scotland its first win in any ICC tournament.
Afghanistan also created history by entering the Super 10 stage of the World T20 for the first time. They did so by winning against Zimbabwe by 59 runs.
Oldest player
On March 8, Zimbabwe defeated Hong Kong by 14 runs. However, making his debut in this match was Hong Kong's Ryan Campbell, who became the oldest T20 debutant at the age of 44 years and 30 days! In 2002, Campbell had played two ODIs for Australia.
Fastest century
West Indian opener, Chris Gayle, also known as Gayle Storm for his powerful batting, created a world record on March 16 against England. The West Indies were chasing England's target of 182 when Gayle scored 100 (not out) off just 48 delivers. His blistering knock included five fours and 11 sixes.
Highest run chase
If Chris Gayle's record-making century was awe-inspiring, then what transpired during the match between South Africa and England on March 18 was unbelievable.
England won the toss and elected to field, whereby giving South Africa the chance to post a mammoth target of 229/4 in 20 overs. South Africa's openers Hashim Amla scored 58 (31) with seven fours and three sixes, while his opening partner Quinton de Kock scored 52 (24), with seven fours and three sixes, to give his team a solid foundation.
JP Duminy, playing at number five, scored 54 (28) with three fours and three sixes, which made his team score this mammoth target. However, few expected any team to chase this score and emerge winners. England's opener Jason Roy scored 43 (16) and Joe Root played a powerful knock of 83 (44) which made England reach the target in 19.4 overs!
Individual records
During the match between South Africa and the West Indies on March 25, which the West Indies won by three wickets, Samuels and Dwayne Bravo reached 1000 career runs for West Indies in T20 in 41 and 52 innings respectively. This was the second time two West Indian batsmen reached the landmark in the same T20I.
During the Super 10 stage, New Zealand and India had an interesting match. New Zealand scored 126/7 and the Indian team was all out on 79 in 18.1 overs. Emerging from this match as a successful bowler was Mitchell Santner, who as a spinner got the best figures for New Zealand. He bowled four overs, gave 11 runs and took four wickets. At an economy rate of 2.75, he conceded only one boundary and delivered 16 dot balls.
Upsets
Every cricket World Cup has an upset and the 2016 World T20 was no different. The first upset came during the Super 10 match when Afghanistan, already eliminated after losing against England, posted a total of 123/7 against the West Indies on March 27. However, with some exceptional bowling, the West Indies could only score 117/8 runs in 20 overs as Afghanistan won the match by six runs. This made Afghanistan the second team in a World T20 match to defend a low score.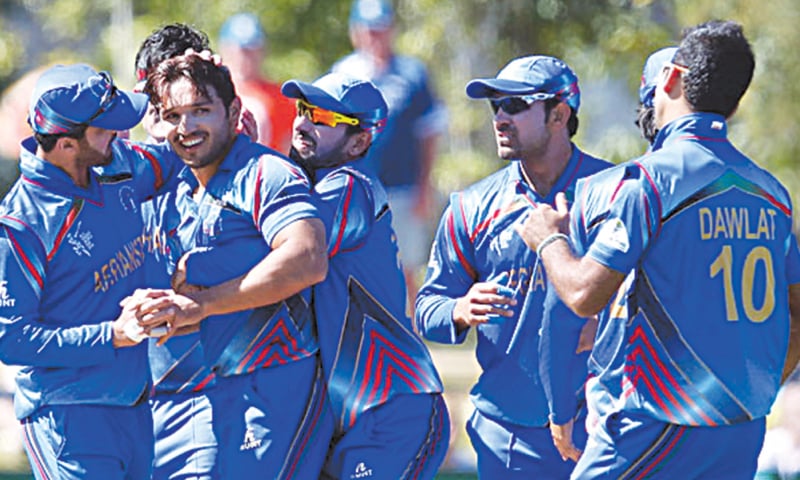 Pakistan vs India
The cricketing rivalry between Pakistan and India, as always, displayed emotions and excitement from fans of the two countries. Although rain did reduce two overs from both sides in their encounter at Edens Gardens on March 19, hence giving both teams 18 overs of play.
India won the toss, elected to field, and with the home ground advantage and a damp pitch, Pakistan could only score 118/5 in 18 overs. Shoaib Malik scored the most runs 26 (16) for Pakistan, followed by Ahmed Shehzad 25 (28) and Umar Akmal 22 (16). No Pakistani batsman was able to score a decent score.
When India came to bat, Virat Kohli's knock of 55 (37) paved way for India to win their eleventh consecutive World Cup match against Pakistan.
Close finishes
When talking about close finishes, Bangladesh was at the verge of winning against India to create an upset on March 23. India scored 146/7 in 20 overs and despite Bangladesh's opener Mohammad Mithum losing his wicket on 1 (3), the team did regained balance even after if it lost five wickets on 95 runs.
However, in the last over with Bangladesh requiring 11 runs, Mahmudullah took a single, followed by Mushfiqur Rehman hitting two consecutive boundaries on the second and third deliveries. It seemed Bangladesh would create an upset, however, three Bangladeshi wickets fell in the over's last three balls, as a result of two catches and a run out. India won the match by two runs. This was for the first time in a T20 that the chasing side lost three wickets on the last three balls of the final over.
Semi-finals
New Zealand and England played the first semi-final of the World T20 2016 which England comprehensively won by seven wickets while chasing New Zealand's target of 153. England's Jason Roy scored 78 (44) and Ben Stokes took 3/26 in four overs.
However, the big upset of the tournament materialised during the second semi-final between India and the West Indies. India scored 192/2 in 20 overs. Virat Kohli's unbeaten 89 (47) seemed to have seal the deal for India to play the final. The West Indies did lose their three wickets on 116, however, Lendl Simmons 82 (51) and Andre Russell 43 (20) did not let India enter the finals.
Kohli was given the ball to deliver the last over. He had already taken the wicket of Johnson Charles in his previous over, which was the 13th over of the match and was confident to make India win.
However, with eight runs required off the last six balls, Simmons took an easy single followed by a four and a massive six, which Russell smashed, hence creating an unbelievable upset by beating favourites and hosts, India.
Final
The West Indies and England, both being former World T20 Champions were eyeing a record setting second title win.
With England playing first and losing three wickets on 23, they did recover as Joe Root scored 54 (36) and Jos Buttler scored 36 (22). England posted a total of 155 runs.
The West Indies had a poor start as openers Johnson Charles and Chris Gayle could only score 1 (7) and 4 (2) respectively. At one point the West Indies were 107/6, however, Marlon Samuels, playing at the one down position and remaining unbeaten until the end of the match, scored 85 (66). The man of the moment was Carlos Brathwaite who not only scored 34 (10) but did the unthinkable.
As Brathwaite waited for Ben Stokes to deliver the final over, the West Indies required 19 off it. However, in a dramatic finish, Brathwaite hit four consecutive sixes to give the West Indies the World T20 title for the second time. This was also the first time when a batsman hit four consecutive sixes in the last over of a World T20 final. The West Indies won the World T20 2016 because of their dedication, perseverance and teamwork.
Australia will now host the seventh edition of World T20 in 2020, making the 2016 World T20 event the last to be held after two years.
Published in Dawn, Young World, April 9th, 2015