The latest Karawood release scheduled around Valentine's Day is Bachaana starring Sanam Saeed, Mohib Mirza and Adeel Hashmi. Shot in Mauritius, the movie has been directed by Nasir Khan and produced by Rizwan Saeed under the banner of Big Films.
Here, Images on Sunday learns more about this exciting new venture from its cast.
Sanam Saeed
Tell us about Bachaana.
Bachaana has been written by a college pal, Saad Azhar. We had done a sit-com together, so it is a coincidence that my first commercial film with me in the lead role is also with the same people I made my small-screen debut with. It was a very comfortable film for me, surrounded by friends and absolutely no issues whatsoever.
How was Mohib cast opposite you?
We were working together on Firaaq when the subject of casting for the film came up. I got him and Nasir in touch and it just worked out brilliantly.
---
A first-time dad doing comedy for the very first time, a leading lady who has 'brake' trouble while running and another who nearly got lost and drowned at sea; this comedy-action flick winds up production and will soon see the light of day
---
Rom-com or thriller: which category do you think Bachaana actually falls under?
I think it is a comedy with action. It's light-hearted and the thrills and suspense are not-so-serious. The film is really just about two people; their relationship and dialogues that are light-hearted and comical, with one-liner jokes interspersed with adventure.
Your roles have all been of a serious nature so it must have been quite a challenge.
I started my theatrical career with comedy. On TV I have been avoiding comedy because I feel it's not done well. It was difficult to break out of the stern mould for this film, especially as this role came at the heels of a very serious play. It was great to do some fun stuff and relax for a change.
Would you like to do more such roles now?
I think Pakistan is now in the mood to just watch light-hearted stuff. It would be nice to do more family-oriented films but with quirky, interesting characters — basically out-of-the-box flicks but within the same genre.
Any incident during shooting that you can recall for us?
There was a lot of running in the film, and I got hurt a lot during filming as I don't know how to break speed. I kept ramming into walls till there was a human wall in front of me to keep me from crashing into concrete!
Sometimes Mohib and I would be holding hands and running and when Mohib would suddenly stop it would be like I was on a leash being pulled back. Running in khussas, especially when it rained a few times, meant a whole lot of aches and pains, later.
Otherwise, it was a very precise shoot — all of 28 days, with a small team. My make-up artist Madiha Kaiser and I would wake up at 3am to get the hair and make-up done so we could leave by five, shoot all day and be in bed by seven. It was a very tight schedule, lots of work and very little fun or games. We couldn't get to enjoy the beautiful locations but saw them while we were shooting and running against time.
How was it acting opposite Mohib?
He is very good. In fact, all the male actors I have had the privilege of working with have been fantastic and they have each brought something to the table. But, I think with Mohib it has worked better than with others as for once I felt like a girl.
I am tall, big-boned, with a wheatish complexion, whereas the heroes I have worked with have been just an inch or so taller than me, very fair, and slim and trim. I have never felt very girly when around them. I think Mohib and I complemented each other and made a handsome couple.
---
"There was a lot of running in the film, and I got hurt a lot during filming as I don't know how to break speed. I kept ramming into walls till there was a human wall in front of me to keep me from crashing into concrete!" — Sanam Saeed
---
Were there any other challenges that you faced?
It was a challenge to be funny. Comedy is all about timing and either you have it or you don't. It's hard to get the rhythm of comedy, and to match the speech rhythm and timing of your co-actor.
The USP for this film is that it is not very complicated or gimmicky. It is easy to follow with a digestible script.
Adeel Hashmi
Your role in the film. Is it comic as well?
I have been specifically instructed not to speak too much about my role, as the producer and director want to keep it a surprise. Suffice it to say that I have never played this kind of role before. In fact, when I was offered it around two years ago, I asked them 'why me' and they said it was precisely why they wanted me to do it, because I had never done such a role before.
It was slightly tough for me and I saw several movies for references to see how I could perform. I recall sitting with Nasir discussing it, and being told there is no this way or that way of doing this character, so I would get up in the middle of the night worrying about how to perform. But it became fun later on.
It is also your first time on the big screen.
Yes, it is. On TV you can get away with murder. No one remembers your performance once it ends; with a film, once it gets made, it stays that way. People can keep coming back to it. It's also physically very demanding when you are working for a movie, regardless of whether you are a technician or an actor.
My role was not as big as that of the others but still it took its toll. When you are doing a serial you are working simultaneously on a number of plays, but here your entire concentration is on just that one movie for the entire duration of two to four weeks, or whatever time it takes. It's like you are married to an idea or a project for a certain period of time, and unless you are able to do that, you won't be able to deliver.
I think the main reason why we have not been able to make good movies in abundance is because we don't realise that once we are part of a film, everything else has to be on the back-burner. It's difficult to do, but it's also fun, because when you look back you see you've enjoyed being part of a process where you've been focused on just one thing. It's also quite humbling.
The fact that it was shot at a place where nothing else was 'happening' must have helped a lot?
Absolutely. I remember thinking years ago that if I ever take part in a Pakistani film in any capacity, I would make sure it doesn't happen in Pakistan. That's how you form teams and bonds.
Are you planning on taking up acting and non-comic roles?
Believe it or not, I am not at all fond of acting! I like being part of a good team, and don't mind the acting if I like the role and team and director is good, but I am not looking to make a career in acting. I like to do a lot of things in life and that excites me.
Any incident during shooting?
I had two or three days before the shooting began. Now I am not a water sports kind of guy, but I still went off on a kayak on the sea as it looked simple enough. Before I knew it, the weather suddenly changed and I felt the kayak being pulled deeper and deeper into the sea. It became windy and cloudy and the waves became larger and larger. I nearly drowned that day and felt my life flashing before my eyes. Quite fortunately, I was spotted by a tourist boat and it came to my assistance.
Mohib Mirza
You've recently become a dad. How did it feel leaving home for a whole month for shooting?
It's awful to be away from home for so long, especially when my daughter is learning new things every day. Now, I appreciate my parents more and understand why they would tell me I would only understand how they feel when I become a parent myself. So true!
You were cast in this film without even the director meeting you.
Sanam and I were in Panama City working together in Firaaq and was also in talks with Nasir about this movie. She suggested my name and Nasir spoke to me that he had a script and was wondering if I would be interested. I asked to see it, discussed aspects I wasn't comfortable with and it materialised.
Which has been your most fulfilling role so far?
I think I have enjoyed Bachana the most. I love acting in one go, which is why I have mostly done tele-films as opposed to series or serials. The other films I have worked in have all had me in serious roles, so doing a light-hearted story was something new for me and very entertaining and enjoyable.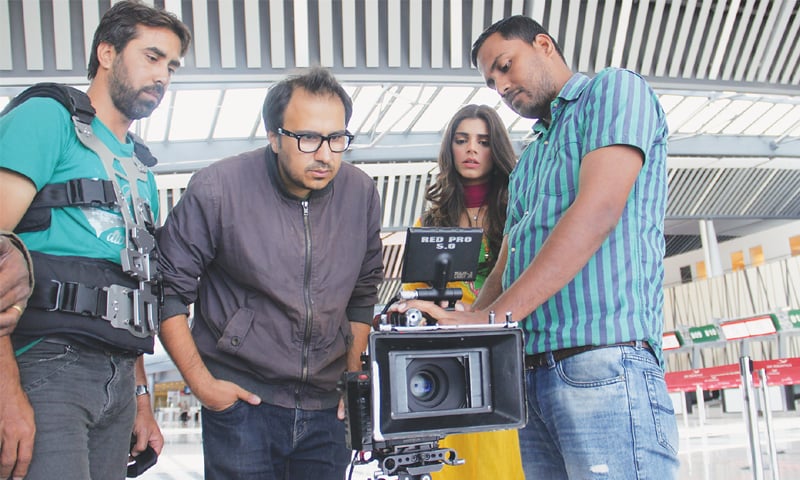 They say it is more difficult to do a comedy than a tragedy. Did you find your role challenging?
No, not at all. Of course, you have to interpret whether the situation or joke you are cracking will have the desired impact or not and whether your punch line will draw you the laughs you are looking for; and this does tend to weigh on your mind and is challenging. But once you are in it, and you keep an eye on the reactions you are getting from the crew and other performers off the sets, you get instant feedback, much like theatre.
Sanam had a lot of accidents during the shooting. Did you face any problems?
Yes, Sanam had major breaking issues, which we discovered in the first shot when both of us had to run together. There was a ramp on which we had to run, and we thought she would be able to stop, but she kept running. So, after that every time we had to run, the minute I would see the camera looming before me, I would plan how I was going to stop her. There was a lot of running, about 12 to 16 takes a day, and I had to go through rigorous training before the shoot. But in spite of that, there was a bus action sequence in which I felt my thighs would burst. With 10 to 14 hours of work a day, there used to be eight to 10 hours of running daily, which was really exhausting.
Any parting words?
I am glad that films are being made, no matter how they are. I love films; they captivate your attention, and there is nothing like it. These are very exciting times, and I am very optimistic for the industry. Low budget or high, it doesn't matter as long as films are being made, and with simultaneous releases abroad as well, it is now our responsibility to bring improvement within ourselves.
Nasir Khan and Rizwan Saeed
The reason you chose Sanam and Mohib as protagonists?
We wanted the heroine to be innocent and honest-looking so that you feel for the character and Sanam was naturally the right choice. The thing about Mohib is that we hadn't even met him when we cast him, but once work started it was as if the script had been written for him.
Is it true that some of the cast and crew were Indians?
The cast was from Pakistan and Mauritius but the camera crew was from all three countries as you don't require a visa for Mauritius if you are Indian. We called for casting when we reached Mauritius and hired around 25 actors for supporting characters. There are two ex-Miss Mauritius in the cast as well.
Why shoot in Mauritius?
We figured that everyone has seen locales like Malaysia and Thailand on the big screen. Watching Mauritius on the silver screen would be a visual treat for the audience. Also, films shot in Thailand on different locations like beaches, jungles, cities have to be flown to, but Mauritius is so small that you can reach from one corner to the other in maximum one to one-and-a-half hours. So it proved more feasible that way.
It was an expensive destination as charges were steep and we had to take quite a bit of equipment with us and crew, and hiring equipment and crew from Mauritius was expensive. But we felt that at the end of the day if the film is good and the location is new, it's worth it. Also, Mauritius is integral to our script — there is a reason why our protagonists go there.
Any reason why both of you focus more on comedy?
More than comedy, we believe that the product should be entertaining. We feel that when viewer pay good money to see something, it should be engaging and entertaining. So we prefer our movies to be light-hearted. It is a bit more difficult to do than tragedy, but more satisfying when you see people coming out laughing. As for Bachaana, we hope people will get more than just laughs from it.
Considering it's your first movie, was it really wrapped up within a month?
It took us 35 days of shooting although both of us were in Mauritius two weeks before that. We did a week of rehearsals in Mauritius with the cast prior to the shoot.
Published in Dawn, Sunday Magazine, January 10th, 2016