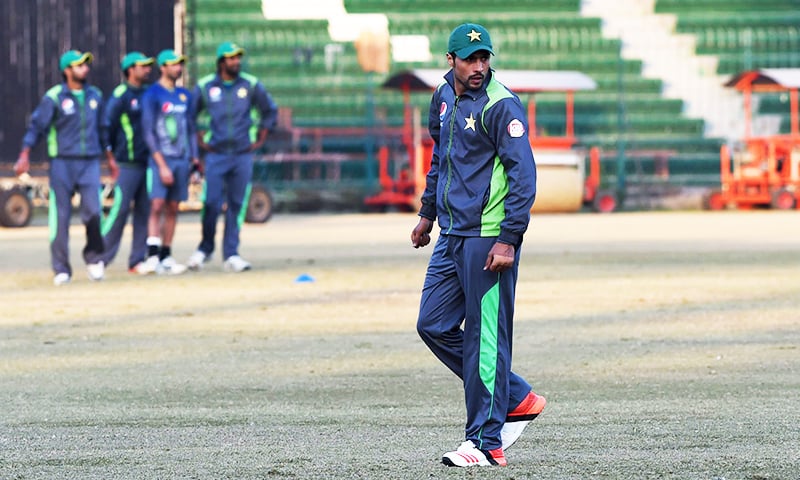 He is an exceptional talent.
Mohammad Amir, hailed as a prodigy right from his nascent years in cricket nearly six and a half years ago, is ready to don Pakistan colours once again.
After what he has achieved during his few outings in domestic cricket, and in a more competitive environment at the Bangladesh Premier League, he has made enough impact to make his many critics nod in admiration as he promises to single-handedly revitalise a rather lackluster Pakistan line-up, especially in the ODI and T20 formats.
But having said that, his second innings in the game after the five-year ban he served for the infamous spot-fixing scam in England in 2010, is not going to be as simple and, certainly not as pleasant, as he would like it to be.
Amir may have gained a few calories of late owing to some astonishing but well-orchestrated support for him by the Pakistan Cricket Board, he is still faced with the thorny issue of sharing the dressing room once again with at least half a dozen of his teammates from that ill-fated tour of England five years ago, a majority of whom to this day squirm while recalling that planned betrayal at Lord's by Amir and his two senior colleagues – skipper Salman Butt and pacer Mohammad Asif.
Azhar Ali, Mohammad Hafeez, Wahab Riaz, Shahid Afridi, Asad Shafiq, Shoaib Malik, Umar Gul and a few others surely felt the heat then, for no fault of their own, and walked with their heads bowed in shame for weeks and months while trying to dissociate themselves from the deplorable actions of their three 'rogue' teammates.
It is only natural if they still ruminate over the nightmarish saga that earned the ire of the entire cricketing nations and brought the team the unwanted tag of the 'Pariahs of Cricket.'
Amid all the hype and hoopla surrounding Amir's probable comeback to the national team, the cognoscenti are quick to point out that Amir – like his other two accomplices in the nasty scandal – refused to plead guilty initially after the scandal broke out and vowed to contest the charges.
It was only after serving his jail term in Dorset, England that he agreed to cooperate with the game's anti-corruption authorities and was subsequently drafted in as an approver in the case.
---
Related coverage
---
Surely, he is back in the groove today and bowling beautifully. But that doesn't absolve him of his immoral deeds and the unbecoming conduct at Lord's. At least not just yet. It would be best if he is allowed to go through the rigours of one full season in domestic cricket in 2016 that will possibly make him wiser and will more befittingly 'earn' him a comeback to the national side.
The fact cannot be denied that the tide has been turning in his favour since the ICC allowed him a 'formal' comeback to decent level cricket early this year. However, the PCB and a few dim-witted lobbyists seem hell bent on rushing his reintegration into the side which has had an adverse impact. The left-arm pacer is still some four months short of his 24th birthday, so why the rush?
Amir's so-called 'rehabilitation' that the PCB cites among the many eligibility factors for the young fast bowler to make an immediate return to international cricket does not hold water in view of the frequent reports of his clashes with umpires and teammates over the past few weeks.
It is also a pity that none of the 'wise' men in the PCB have had the brainwave of taking the Pakistan players into confidence about the Board's future plans on Amir, which would have settled the issue either way - once and for all.
Some of Amir's born-again advocates, including chief selector Haroon Rasheed and head coach Waqar Younis, have recently argued about how the teachings of Islam too grant forgiveness to those who beg for mercy after serving their punishment for the crime committed. But their arguments ring hollow in Amir's case who connived with the bookies and his two teammates to bring the game into disrepute and malign the country and its people back in 2010.
If a doctor's license could be cancelled for indulgence in foul practices or a judge could be debarred for life for compromising on his integrity in exchange of hefty bribes, why should a cricketer attempting to sell his country be pardoned in any way?
Five years on, Pakistan cricket has successfully managed to resurrect its image as a leading cricketing nation with a near perfect bunch of cricket ambassadors in its ranks, thanks to the unblemished leadership of Misbah-ul-Haq.
It is indeed to the credit of the unassuming yet forthright skipper that Pakistan cricket team has been able to redeem some of its lost reputation in recent years.
Even his worst critics hand it to Misbah that he has been a sort of a messiah to Pakistan cricket who along with his teammates has moved a mountain to put in shade the devastation caused by the nasty spot-fixing scandal.
Today, Misbah's charges are not just well-spoken of, more often than not they strive to uphold the values, the rules and regulations and the spirit of the gentleman's game that cricket really is.
A tainted Mohammad Amir could walk in and make a mockery of it all.