LAHORE: Indian premier Narendra Modi returned to New Delhi after a surprise visit to Lahore where he was received by Prime Minister Nawaz Sharif, Punjab Chief Minister Shahbaz Sharif and other Pakistani officials.
Modi and Nawaz also held a brief meeting at the latter's Raiwind residence. This was the first time an Indian premier visited Pakistan in more than a decade.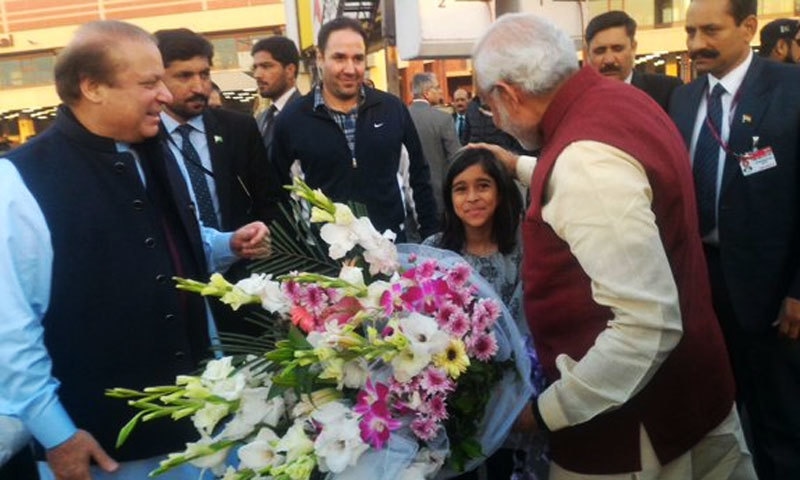 Both leaders flew to Raiwind from Lahore airport in a chopper, where Modi briefly attended PM Nawaz's grand daughter's wedding ceremony and then held a brief meeting with his Pakistani counterpart.
A goodwill visit
Foreign secretary Aizaz Chaudhry while briefing media about Indian PM's visit said that Mr Modi telephoned PM Nawaz and expressed his desire to visit Pakistan on his way back from Kabul.
"It was a goodwill visit and the two sides decided to understand each other's reservations and restart the comprehensive dialogue in a positive manner," said Chaudhry.
The foreign secretary revealed that during the brief meeting, the two PMs decided that as a part of the comprehensive dialogue, the foreign secretaries of the two countries will meet in mid-January.
Answering a question, Chauhdry said that the PM's adviser on foreign affairs Sartaj Aziz and National security adviser Nasir Janjua too would have attended the meeting between the two PMs if the Indian PM had informed about his visit earlier.
He added that the two sides decided to collectively work towards the common goal of fighting poverty and increase people to people contact in order to open new avenues for peace and mutual cooperation between the two neighbouring countries.
Modi's account
Upon returning to New Delhi, the Indian PM said that he was deeply touched by Prime Minister Nawaz Sahrif's gesture of welcoming him and accompanying him at Lahore airport when he left.
In a series of tweets, Modi said that his meeting with Sharif family at their family home became a 'double celebration' due to the Pakistani PM's birthday and his granddaughter's marriage.
A groundbreaking tweet
The visit itself was announced in a novel way – on Twitter.
Modi said he would stop over in Lahore on his way to New Delhi from Afghanistan.
Indian Foreign Minister Sushma Swaraj, responding to Modi's announcement, said on Twitter: "That's like a statesman. Such should be the relationship between neighbours."
Congress questions visit
India's major opposition party, Congress, questioned Modi's visit to Pakistan, saying serious information like this should not have been revealed through Twitter, reported Times of India.
"It is unfortunate that we get to know about prime minister's visit through a tweet... India and Pakistan relations are not so good as yet that he stops over there on his way back from another country," Congress spokesperson Ajoy Kumar told IANS.
Congress leader Manish Tewari called it an "adventure" by the Indian prime minister.
Modi arrived in Kabul on Friday, where he inaugurated the country's new parliament building, a project initiated by the Indian government in 2007 as a mark of friendship and cooperation to help rebuild war-torn Afghanistan.
The last meeting between Modi and Nawaz took place in November on the sidelines of the 21st UN Climate Change Conference in Paris, where the two premiers exchanged pleasantries and had a friendly chat.
Know more: Nawaz, Modi meet on sidelines of Paris climate summit
In a breakthrough, Pakistan and India earlier this month agreed to reinitiate a comprehensive dialogue process during Indian External Affairs Minister Sushma Swaraj's visit to Islamabad for the 'Heart of Asia' conference.
Since Modi's ascent to power, tensions between the two countries have remained high, with foreign secretary-level talks cancelled last year and security advisers' dialogue abandoned in August this year.
But the relationship thawed after Modi and Sharif resumed high-level contacts with a brief conversation at a climate change summit in Paris last month and their national security advisers met in Bangkok earlier this month.
Related: Pakistan, India agree to restart 'comprehensive' dialogue process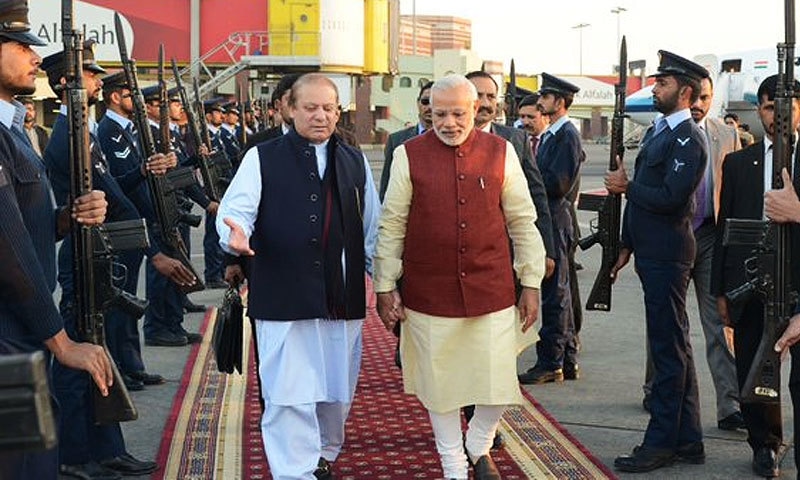 The brief and unannounced meeting between the two security advisers in Bangkok and a joint statement they issued showed New Delhi rowing back from its recent position and agreeing to discuss Jammu and Kashmir in the otherwise familiar mix of issues.
Meanwhile, Prime Minister's Adviser on Foreign Affairs Sartaj Aziz told the National Assembly that the foreign secretaries of Pakistan and India will meet soon to discuss modalities regarding the bilateral dialogue which will include matters related to peace and security, Jammu and Kashmir, Siachen, Sir Creek, Wullar Barrage, Tulbul Navigation Project, economic and commercial cooperation, counter-terrorism, narcotics control and humanitarian issues, people to people exchanges and religious tourism.
Swaraj told the Indian parliament last week that war is not an option and dialogue is the way forward with Pakistan to fight the 'shadow of terror'.
Modi's visit in Pictures