The old routine was based on senses and feelings. Today, we have become slaves to wall clocks and wristwatches.
It was Galileo Galilei's research on pendulum motion that spurred the dawn of the industrial age in modern Europe. Accurate time-keeping was a crucial need that lay at the heart of this transition and growth. It allowed Europe's maritime network to supply raw materials and ship finished products to overseas markets.
It gave its industrialists the fodder required for setting up a consistent, predictable and scheduled workforce to run factories. Once steam-powered locomotives entered the foray, it set the impetus for the final transition of time from a flexible and natural rhythm of events to an abstract and regulated grid called routine.
To create this grid, clock towers became an everyday landmark in Europe and her colonised countries. These clock towers kept people abreast of scheduled time. When India was finally colonised and absorbed into the British crown, the English administration set out to build similar towers all over India to alter the local perception of time.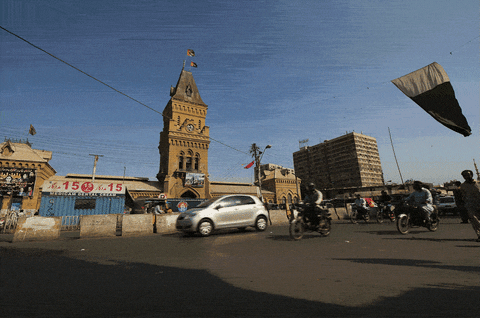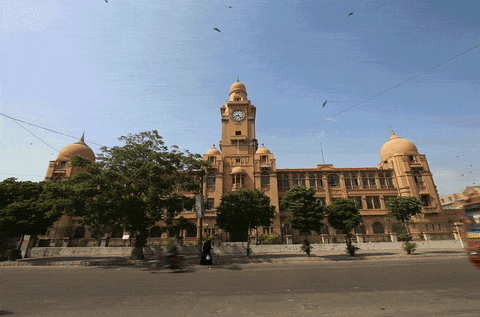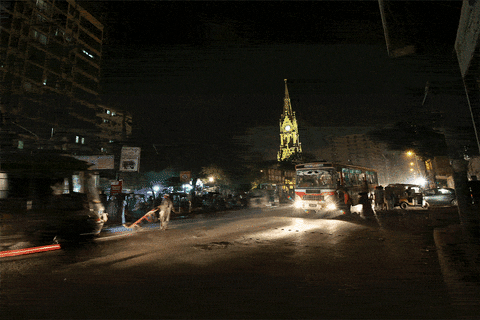 The navigators through time
I held talks with five fishermen — Haji Ismail Kadhani, Yousuf Kadhani, Anwar, Ghafoor and Ilyas Kadhani. Together they shared what they remember as their perception and their relationship with time prior to the advent of these clock towers in Karachi.
"A fisherman's life would begin at sunrise. There were two kinds of fishermen; those who had small boats and those with larger ones. The smaller ones made shorter excursions into the sea while the larger ones went on longer fishing expeditions for three to four days to a week; sometimes even ten days. The smaller boats would be back before sunset and would use the shade of the boat to judge the time of the day."
Take a look: A Karachi fisherman's tale — In search of lobsters and livelihood
Haji Ismail and Yousuf, two senior fishermen from the group, explained further: "On land, the general time of day would be tracked via the shadow created by a tree or the rise and fall of the tides which was based on an age-old system using the phases of the moon. Locally, this system is known as baang and jawaar. Baang is the faster rise and fall of the tide and correspondingly jawaar is the slower rise and fall. In a month, there are two rounds of each of these interactions of the sea with the land."
"And how did they keep track of time and the days for longer fishing journeys?" I asked Yousuf.
"Every boat is manned by the captain or na-khuda as we call them in Urdu. In those days, they were the navigators of the sea who learnt and developed a sense of mapping the skies, the motion of the sea waves and the direction of the winds. They also knew which fish could be found at certain points. Using the information collected from these sources, the na-khuda were able to create a mind map."
This map, he said, enabled them to tell the approximate position out at sea and time. "For example; at night, the rise of the subh ka sitara or the morning star would tell us that the sun will rise in a few hours. Similarly the character of the sea waves would tell us which side of the coast we were on. The waves near Karachi are different from the waves along the Balochistan coastline."
"This is knowledge that was passed to us through the generations. Today we have more accurate methods to know where we are located. There are GPS machines that give you that information in an instant."
I asked him if he thought these machines have changed how they relate to the practice of sailing and fishing the waters and time in general.
"Yes, we no longer look up at the sky, sea or the direction of the wind; we now look down on the dashboard to know our location. This technology has also changed the economics. GPS machines are available for anyone to use without having to know or learn our traditional knowledge. So now anyone with a boat, a GPS device and a fish finder can enter this profession. It has converted this relationship between the fishermen, sea and sky to a functional one rather than something which has intrinsic value. This is one of the factors that has given rise to the serious problem of overfishing."
I explained the modern concept of time to them and how it has evolved to govern a fixed regimented system of living. I also put forth a question and asked how it might have impacted their lives.
Yousuf gave a very simple explanation. "Time for us back then was fluid and adaptable with no fixed habits. We ate when we felt hungry and slept when we felt sleepy. These were only regulated by the approximations we would deduce about the time from the shadow of a tree or the position of the tides. If two people wanted to meet, they would say, 'dopehar ke waqt milain ge', (we will meet in the afternoon) which could be anytime from 12 noon to 4pm. There was no hurry."
This impact was also seen in how the community began to associate punctuality and time at wedding ceremonies where the expansive association transformed into a compressed and hurried connection.
"People would write, 'waqt ka khiyaal rakhein' and now people say, 'time ka khiyaal rakhein'."
The man who sold time
Back in the city, time-keeping was mostly done through public clock towers, pendulum clocks and pocket watches. The world saw the advent of wristlets during the First World War. These were used as tactical tools in the coordination of the armies to reach strategic points. It was after the war when wristlets and later wristwatches were popularised as fashion accessories for both men and women.
I met Fazal-e-Azim, a salesman at the International Watch Company, on Karachi's busy Zaibunisa Street. He was a middle-aged man with a white, bushy but well-maintained beard, and a father-like presence. He gave me a walkthrough to explain the kinds of watches that have evolved over the years ever since they became a fashion accessory.
First were the hand-wound watches followed by automatic versions and finally the quartz. The need for accuracy in time-keeping can be noted from the upgrade in design and technology in each type. The quartz crystal watch won the battle for its precision.
Apart from the technology, each type of wristwatch witnessed a progression in aesthetic value and design as well as in functional characteristics, such as watches with leather straps, the shape of the dial face and case, the position of the crown, a shockproof and water resistant wristwatch to the addition of more sophisticated features such as lunar phases, stopwatches, a calendar and so on.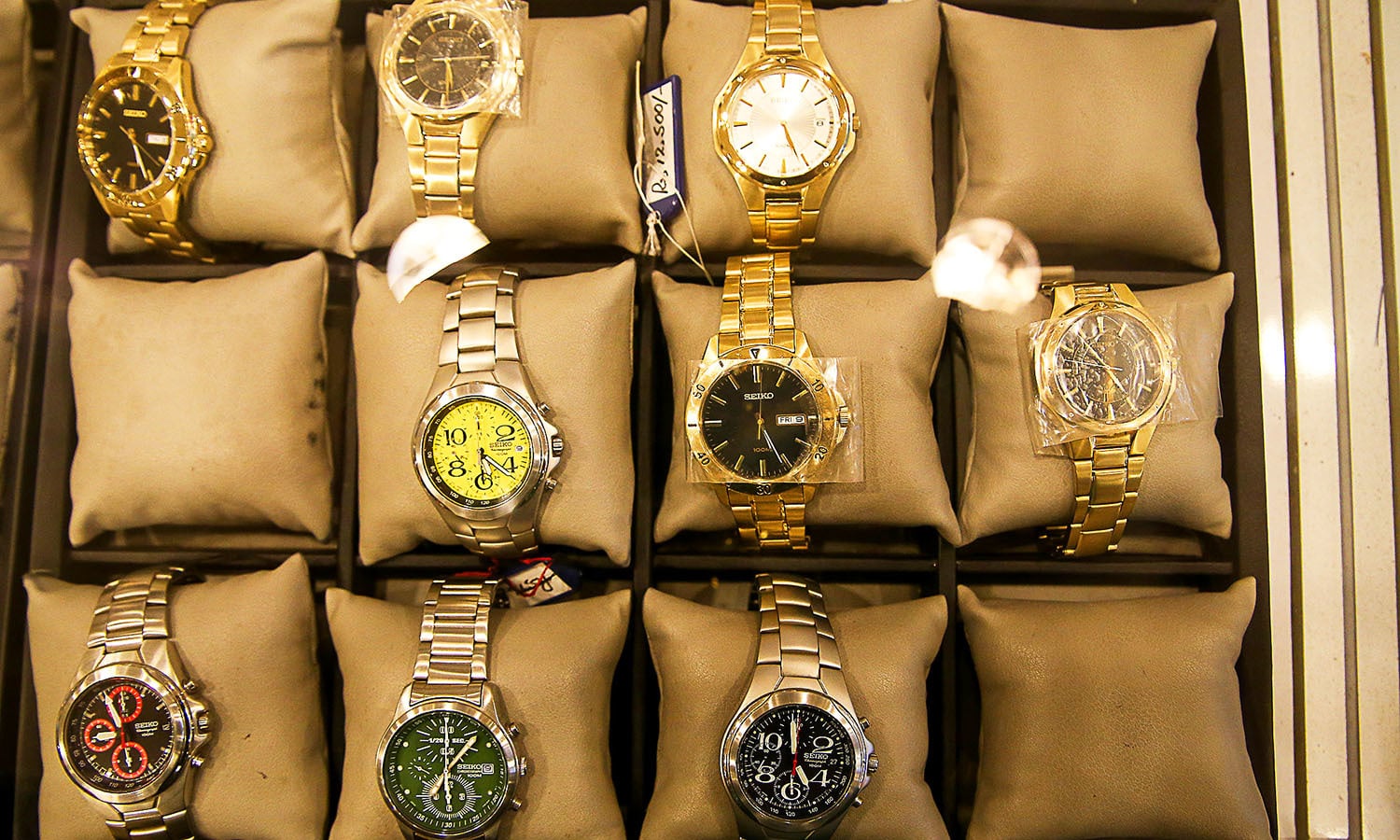 Commenting on the buying patterns, Fazal said, "The market was popular for the Swiss and German brands followed by the Japanese and Chinese varieties. Gents buy more than ladies and your average middle-class man would buy these wristwatches based on their buying power. They would purchase it for their personal use, a bribe or as a gift primarily for weddings. People from the working class would purchase too but they would go for cheaper versions until mobile phones came in."
Examine: Love, labour and laundry: The remarkable stories of Karachi's dhobis
Two women entered the shop and Fazal excused himself. It was a mother with her daughter. Fazal ushered them to where the "lady looking" wristwatches were kept. But the daughter gestured to the standard "masculine" kind.
After asking the price, they exited. "The demand for high-end wristwatches is decreasing," said Fazal. "One of the main reasons is due to the flooding of cheap Chinese copies of the top brands."
I briefly explained to Fazal the modern concept of time and the one the fishermen lived in.
"Have we become slaves to these humble and innocent inventions? From what you have explained to me, I see the development of the wristwatch itself as mankind's incessant drive to get a grip and control on time in terms of accuracy and precision."
"Yes, we have become slaving machines or robots. The old routine was based on senses and feelings. Today, we have become slaves to wall clocks and wristwatches so much so that we do not have time to say the five prayers. This 'time on the wall and wrist' has become part of our list of attachments," he replied.
The surgeon of time
The desire to gift and receive wristwatches created a source of income for watchmen who learned the craft to repair broken ones. A famous watchman in this craft is Shahid at the Karim centre at Bolton market. His tight schedule did not allow him time to answer my curious questions about his trade but he was kind enough to accommodate me one cloudy afternoon.
Read: Spoonful of history
His workshop is a small space. In the front is a desk that is stacked with wristwatches that need treatment and surgery. Some of them are assembled. Some have their internal parts spilled out onto the desk and others are dipped in a cleaning solution.
Behind the desk sits Shahid with a forceps in his right hand and the case of a wristwatch in his left. His left eye holds an eye loupe. Beside him is Mazhar, his co-worker, and behind them are stacks of boxes placed on two shelves with compartments.
I asked him when he started working as a watchmaker, and where he learned the trade.
Engrossed in fixing the watch, he takes a few minutes to reply. "I began at the age of ten and I learned this skill from a teacher named Mohammad Nishar Ahmad. He was a very cooperative man who had the patience to teach. Today you will not find many people like him."
"Has it become easier or more difficult to fix watches?" I ask.
"It is difficult now," he replies.
"Why?"
"The complexity in design and the technology is making it tricky to repair watches," said Shahid.
While we were talking, a customer comes down the narrow lane of the market with a watch that needs to be repaired. Shahid took a look at it and told him to return in an hour to collect it. The customer then left.
"What is the most frustrating part of your job?" I asked him.
He replied, "It's not frustrating. I just have to concentrate carefully because this work needs one to have very steady hands."
I could see that too; you had to pull him back to reality in order to interact with him.
Shahid delicately removed the tiny gears of the wristwatch he was working on.
"Why did you stick to it? Did you have another choice?" I questioned.
He replied, "At that time, it was the only skill I knew which I turned into a full-time profession. I had other choices too. I knew how to work on electronic products but I didn't take it up because of the dishonesty it entails in fixing fake problems. I like the work I do. My hands and feet stay clean."
I asked him to tell me about his family. Shahid replied while working on another broken wristwatch. "I married in 2001. I have five children with my wife. Three daughters and two sons."
"Do you plan to teach this skill to any of your kids?"
"No. There is no future in it."
"On any given day, how many watches do you work on and is it enough to support your family and other expenses?"
"On average, I work on seven to ten watches a day and yes, the work is enough to sustain me and my family."
At this point, he looked behind and reached for one of the stacked boxes, removed one and placed it on his lap. He was looking for a part that would replace the defected one in the wristwatch.
"Have you ever had any good or bad customers?" I asked.
"I don't see customers as good or bad. They are just customers to me and I treat them as such."
I explained the modern concept of time to him too. After a while, he looked at me and replied back with certainty. "Well that is how civilisation and people progressed. All the technology that you see today is because of this 'modern time'."
My time with Shahid was over for the day. Two days later, I went back to photograph him and Mazhar. He had met Shahid three years ago, and found employment at the workshop. Mazhar's work basically involved recycling functioning parts from old wristwatches and small repair jobs such as fixing a broken strap or replacing a cracked glass face.
I met Shahid's son too. His school was off for the day and his father brought him to the shop. At five years of age, he couldn't sit still. He incessantly pestered his father with questions about the different parts of the watch, while I photographed Shahid who was disassembling another piece. In the process, his son photobombed one of the pictures before his father admonished him.
I thanked Mazhar and Shahid for their time and made my way through the maze-like space inside the Karim Centre to find the exit. Its shops are dotted with clocks of all shapes and sizes with their hour and minute hands precisely placed on these two combinations: a "10 and a 2" or an "11 and a 1" which forms a 'V'. The same combination pervades a majority of the ads for wristwatches and clocks.
Was it to signify the victory of man over time or the victory of the abstract grid of routine on mankind?
— Photos by author