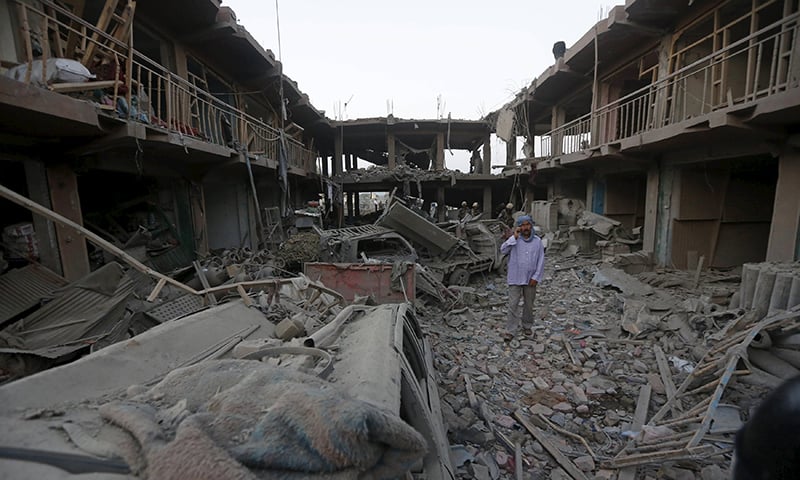 KABUL: The death toll from the huge truck bomb attack in Kabul jumped to 15 on Friday, the Afghan government said.
"The death toll from the early Friday attack... has risen to 15," deputy presidential spokesman Sayed Zafar Hashemi told AFP, increasing the earlier figure of eight dead.
Police chief Abdul Rahman Rahimi said the pre-dawn blast was near a Defence Ministry compound, but that all of the victims were civilians, including women and children.
Health Ministry spokesman Wahidullha Mayar said about 400 people were hurt, mostly after being hit by flying glass.
Rahimi said the target of the blast, which blew out windows in nearby homes, was not known.
Police do not allow trucks to enter in Kabul during the daytime, but they can enter from 9pm until 5am.
The blast comes after the United Nations said Wednesday that a growing number of women and children are getting hurt or killed in Afghanistan's war against the Taliban and other insurgents.
The total number of casualties in the almost 14-year conflict was up 1 per cent in the first half of this year, compared to the same period last year, a new UN report said.
However, the number of women casualties rose by 23pc and children 13pc.
Pakistan condemns attack
Pakistan strongly condemned the suicide attack in Kabul on Friday morning.
"We convey our heartfelt condolences to the bereaved families and pray to Almighty Allah to give them fortitude to bear this irreparable loss. We also wish to convey our best wishes for the speedy recovery of the injured," a Foreign Office statement said.
The statement said Pakistan reaffirms its resolve to fight terrorism in close coordination with the government of Afghanistan and that "we stand with our Afghan brothers in our common struggle against terrorism."
Also read: Afghan Mi-17 crash kills 17 service members