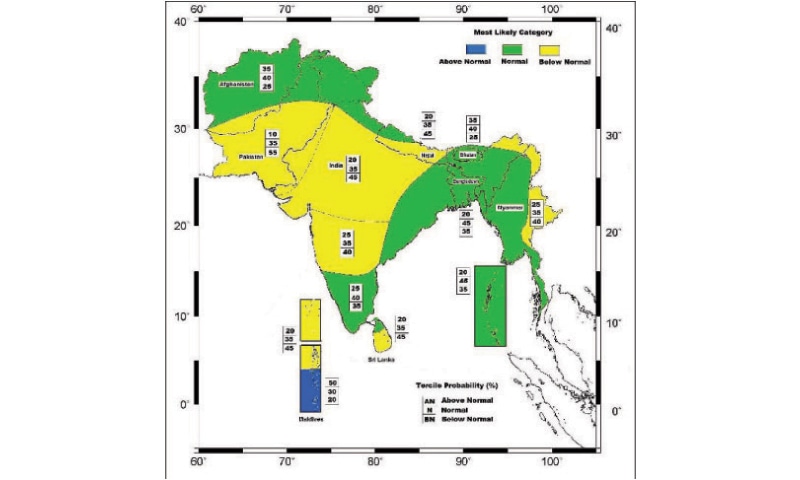 ISLAMABAD: International weather experts predict that Pakistan may face harsher drought conditions than last year.
Their prediction, reported by the South Asian Climate Forum (SASCOF) after its yearly study of the altering climate in the region, has experts at home worrying.
"We expect lesser rains in the southern half of the country, which is already in the grip of drought-like conditions," chief of the Pakistan Meteorological Department, Dr Ghulam Rasul, told Dawn.
"The situation in Cholistan, Tharparkar and parts of Balochistan is likely to worsen," he said, partly agreeing with the study.
A sub-regional arm of the World Meteorological Organisation (WMO), the SASCOF is dedicated to monsoon-specific predictions and monitoring the climate outlook needs of South Asian countries. It has warned that the deficient summer monsoon could affect agriculture-based economies in the region.
"Below normal rainfall is likely over broad areas of western, central and southwestern parts of South Asia," said the seasonal outlook sketched by the climate experts, drought managers and flood forecasters of the forum members who met in April.
"We, in Pakistan, are looking at very less rain - about 20 to 25mm. That may sound relief in severe drought conditions but the relief will not be sustainable due to the high evaporation rate of 10mm per day," said the Met chief.
Though the study suggests "normal" showers in the northern parts of the country, it brings no relief to the worrying environmentalists. They say heavy precipitation in Kashmir and upper Punjab and Khyber Pakhtunkhwa are likely to cause flash flooding as experienced last year.
Hopes, in fact, lay in flawed forecasts.
"It is not possible to make 100 percent seasonal predictions. It is still a very big challenge, made more so by the fast changing climate patterns around the world," said one expert.
"Which is why the amounts of precipitation might look different later in the season. Only medium range forecast of seven to ten days has attained sufficient accuracy," the expert added.
Indeed, Dr Rasul recalled that last year the month of September saw heavier than normal rains, although the forum had predicted drier spells.
Nonetheless, the Met chief sent out a warning to the farming community, especially to rice growers.
Experts would soon meet to analyse data collected from the eight weather centres around the country "to finalise" seasonal forecast for Pakistan.
"Meanwhile, we are also concerned about rice zones such as Sheikhupura, Gujranwala and Sialkot because these areas will receive less rain. Farmers will have to irrigate their fields, a challenging task," said Dr Rasul.
Pakistan saw 30 to 60 percent less monsoon rains last year, and has experienced 11 such episodes in the past.
A deficient monsoon this year could significantly impact agriculture and life pattern, particularly in Sindh which is also deficient in irrigation system.
Some of the worst drought events recorded by the Pakistan Meteorological Department occurred in 1969 and 2002 when rainfalls decreased more than 90 percent. In 1987 and 1991, 75 percent less rain fell.
Published in Dawn, June 15th, 2015
On a mobile phone? Get the Dawn Mobile App: Apple Store | Google Play