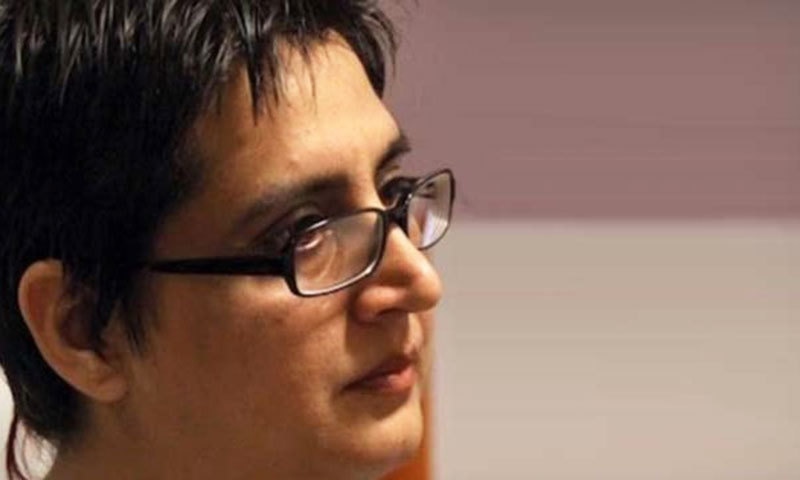 Originally meant to feature Sheheryar Fazli in conversation with Mohammad Hanif, the session at the Islamabad Literature Festival was changed to pay a tribute to The Second Floor (T2F) Director Sabeen Mahmud who was shot dead a day earlier in Karachi.
Take a look: Rights activist shot dead after seminar on Baloch issue
The session, titled 'Tribute to Sabeen Mahmud', included moderator Asif Farrukhi and panelists — Shandana Minhas, Framji Minwala, Oxford University Press (OUP) Managing Director Ameena Saiyid and Zehra Nigah.
Opening the session, Farrukhi said that instead of honouring Sabeen with a minute of silence, the panelists would speak for an hour as the rights activist was known for her vocal stand on issues.
Taking the floor, Saiyid said that it was important to continue the legacy that Sabeen had left behind as that would be the best gift.
Praising T2F — a space that has single-handedly fostered a creative community — popular Urdu poet Zehra Nigah said, "Karachi is replete with terrorism, but T2F provided an alternative platform for arts and other cultural activities to thrive."
"Whenever I met Sabeen, she was full of energy, never cared about her security and how she would run T2F because they were short of funds. She was so excited that nothing stopped her from doing what she believed in."
Examine: At peace: Sabeen Mahmud laid to rest in Karachi
Farrukhi mentioned Sabeen's conversation with him last week when the former T2F director told him that she had received a bullet attached to a letter.
"But she was so brave that she only mentioned it for a second, and then changed the topic."
Framji said he had interacted with Sabeen a few years ago after his return to Karachi. He said she was the bravest Karachiite he had ever met.
"Sabeen has been working on reclaiming the public space for the past 10 years," he said.
Explore: Idealism didn't kill Sabeen, bullets did
He narrated how T2F recently carried out a perception survey whose results showed that 30 per cent of the organisation's staffers come from households earning less than Rs40,000.
"The survey was conducted to dispel the notion that T2F is an elitist place, and to make known that it accommodates everyone as per their needs."
"She was successful in creating a place which was not only for the elite, but where everyone could come and interact."
Farrukhi said that sacrifices of people like Parveen Rehman and Sabeen shouldn't be allowed to go to waste.
"We need to keep talking about things which make us uncomfortable as a nation...Sabeen and the voices of others who died cannot be silenced."
Read: Sabeen, the one who never backed down
A member in the audience, who went with Sabeen to Kinniard College in 1992, narrated an anecdote of how they had a group photo featuring the rights activist and three other friends.
"A hole marked Sabeen's forehead in the picture and she commented saying, 'wouldn't it be ironic if I died with a bullet in my head,'" she narrated.
Social activist Naeem Mirza said Parveen Rahman was killed in Karachi for speaking out against land mafia; Rashid Rehman, who was the lawyer of blasphemy accused Junaid Hafeez, was killed in Multan for advocating blasphemy; while Sabeen, who arranged a talk on Balochistan, challenged the status quo and was also subsequently killed.
Farrukhi suggested her killing could not be solely attributed to the fact she hosted a session on Balochistan shortly before her death. He divulged that she had been receiving death threats for the past few years, especially from religious extremists.
A lady in the audience said it was good that the panelists had discussed Sabeen, her work for the civil community and the role of T2F in promoting culture, but it could not be ruled out that she was killed in the aftermath of a talk on "Unsilencing Balochistan".
Audience members also wistfully noted how Sabeen's work was not limited to Karachi but spread all across Pakistan, especially the work she did with citizen platform Aman Ittehad.