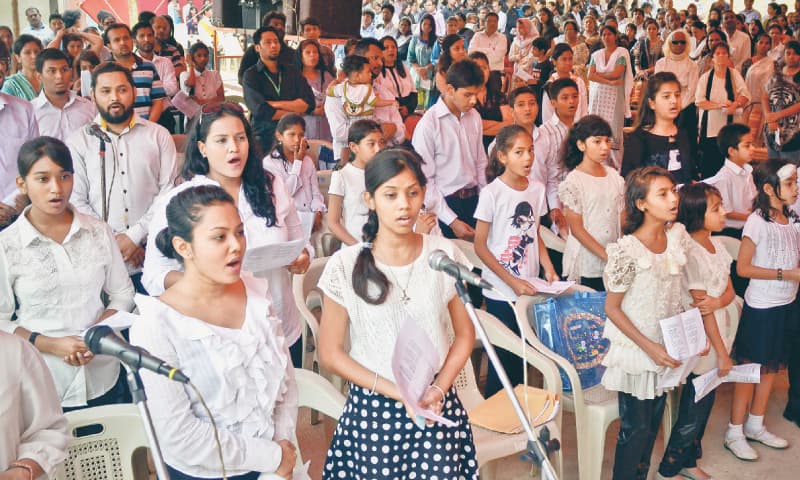 KARACHI: Churches across the city held special Good Friday services with prayers for the entire humanity as the day associated with the crucifixion of Jesus Christ was observed here on Friday afternoon.
Traditionally, the solemn occasion is divided into three parts — the Word of God, Veneration of the Cross and Communion.
At the St Patrick's Cathedral the two services in the afternoon, in English and Urdu, saw the reading of relevant passages from the Bible for spreading the Word of God. The sermons reminded the people of the sacrifice of Jesus.
Know more: India's concerned Christians pray for peace after attacks
The crosses during the last two weeks of Lent each year are covered to be unveiled on the day. Later, the cross draped in purple, associated with mourning, was carried in and unveiled by parish priests. For the Veneration they along with ushers stood at 15 different points or stations in the celebration area where the folk could go to their nearest point to touch or kiss the feet of Jesus as the parish choir sang solemn hymns such as 'Behold, behold the wood of the cross' and 'Cause me to come to Thy river O Lord'.
Finally, it was time for the Communion where all lined up for a sip of water and a piece of bread in memory of the Last Supper.
Good Friday services have no church bells, no lit candles and everyone wears simple neutral colours like black, white, grey or brown. Meanwhile, the priests and altar boys wore white with crimson cloaks as the colour red is associated with martyrs.
The English service was followed by an Urdu one. Both services saw the holding of special prayers for peace and unity and for the sick and the needy belonging to all faiths.
Churches security
Meanwhile, the police and Rangers provided security outside the churches while the inside duty fell on the shoulders of the Peace Enforcers Catholic Archdiocese of Karachi clad in blue and black uniforms along with St Patrick's own staff providing security in black and white uniforms.
"We were so busy doing our duty checking the people coming in, etc, that we missed the Veneration of the Cross," said one of them, Samantha Rodrigues. "But we made it in time for the Communion," she said and added that "for the veneration we'll come back during the Urdu service."
Published in Dawn, April 4th, 2015
On a mobile phone? Get the Dawn Mobile App: Apple Store | Google Play