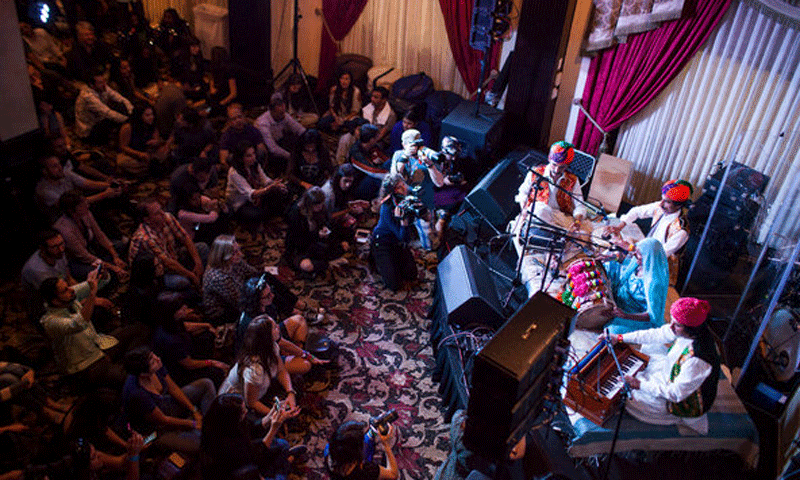 As Austin, Texas switched gears last week from its small and local ethos to make way for the globally headlining SXSW festival, I prepared to relinquish control of the city I've called home for the last few years.
As the downtown landscape transformed into a melting pot of ideas and creative energy, I was thrilled to learn about the festival's first-ever Pakistani music showcase.
Now in it's 29th year, the globally renowned SXSW music festival features performances from over 2,200 regional, national and international artists over 5 days of programming. This, coupled with Austin's innate music culture makes the festival an incredible platform for musicians.
Meekal Hassan Band at SXSW. —Photo courtesy: Meekal Hassan Band's Official Facebook page.
Arriving at the Driskill Hotel in the heart of Austin's music and nightlife district, I felt a swell of pride as the Sain Tanveer Brothers' hypnotic drums filled the lobby. Outside the Victoria Room, a venue that is booked solid for showcases throughout the festival, other musicians from the line up interacted with the dynamic atmosphere of the festival.
Inside, a growing crowd made up of young Pakistani community members, students and general festivalgoers mingled intensely as Mai Dhai and her ensemble began to prep on stage.
Musicians Mohram and Mai Dai performs onstage at the Pakistan Music showcase during the 2015 SXSW Music, Film + Interactive Festival at The Driskill Hotel —Photo courtesy: SXSW Official Facebook page
The fairly intimate space was conducive to cross-cultural dialogue and general exchanges, and snatches of conversation about the impending Pak-Australia cricket match could be heard.
Mai Dhai's no-nonsense, almost stoic commitment to the sound seemed to dispel chatter, however, and the crowd exuded a kind of hushed reverence as the performance began and she fiercely bellowed her strong, relentless vocals, continuing from one number to the next with minimum banter and discussion.
Members in the audience sat comfortably on the ground, swaying to the percussive rhythm. Apart from festive community members showing their support, serious music-lovers could be spotted silently paying homage to the band's commanding performance.
The audience listened, enchanted by Mai Dhai. —Photo courtesy: artsbeat.blogs.nytimes.com
Sitting ramrod straight at her brightly adorned dhol, her tireless vocals and driving, powerful drumming was accompanied by the three other members of her band on the harmonium and two other dhols. A traditional Manganiyar singer from Tharparker in Interior Sindh, she and her band were introduced as the "the real ambassadors of Pakistani music."
Indeed, a rarely seen and distinct sound in the festival, Mai Dhai is one of many diverse voices brought together in this showcase. As a Pakistani, it was incredibly gratifying to see a global audience treated to Urdu, English, Pashto and Sindhi, as well as varying traditional, fusion and contemporary sounds in one night.
The complete line up featured the folk ensemble Sain Tanveer Brothers, Mai Dhai and her traditional Manganiyar singing and dhol, Khumeriyaan from Peshawar and their blended instrumental fusion sound, the Sufi-rock Meekal Hasan Band, pop-singer Haroon and lyric heavy indie group Poor Rich Boy.
Poor Rich Boy performed at the Russian House. —Photo courtesy: Poor Rich Boy Official Facebook page.
Attired in black shalwar kameez, traditional waistcoats and hats, Khumeriyaan came onto stage with traditional instruments, acoustic guitars, and a little bit of swagger.
`
Their first number enchanted the audience with an incredibly pretty, beguiling sound that highlighted repeating strains of the traditional drum (zerbaghali) and strings (Pushtoon sitar) complimented by the acoustic guitars.
After winning over the audience, the band had a little fun and ventured to teach everyone a few traditional dance moves. The rest of their set was equally hypnotic but faster paced, and the audience fully participated by moving to the frenzied rhythm.
—Photo courtesy: Mariam Aziz
Overall, the quality and diversity of the evening's musical talents was as close to a representation of Pakistani music that one could hope to achieve in one night. As Meekal Hasan commented when sharing his thoughts on the evening, "Right now we're at a crossroads where it is difficult to put your finger on what it really means to be Pakistani. This music precedes Pakistan's creation, and it's something that we all own."
The mesh of distinct, strong musical voices, experienced through the focused lens of this festival was indeed a refreshing reminder of the power of our voice, and I felt lucky to be privy to such an evening.