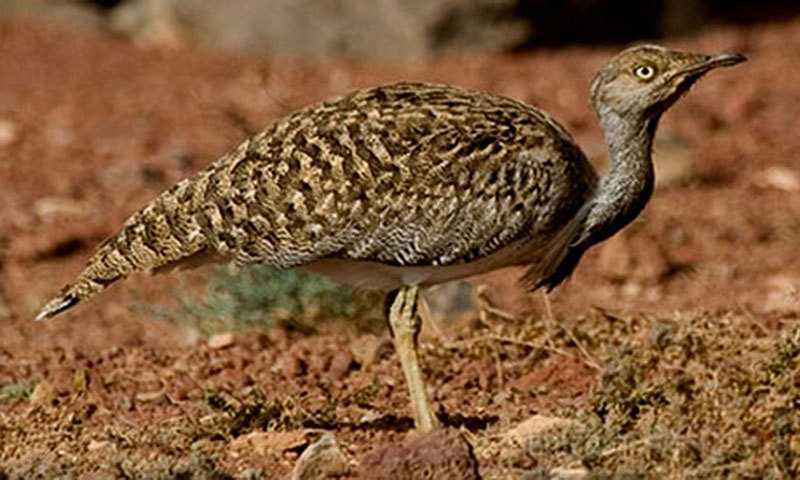 With the recent news of Pakistan yet again issuing hunting permits for the protected houbara bustard for the winter season, it is clear that the Pakistani government has paid no heed to the Pakistani public's demands.
For decades, this vulnerable bird has been continuously and mercilessly hunted by Arab dignitaries in Pakistan for its meat, which is said to have aphrodisiac qualities.
Editorial: Houbara bustard butchery
Most recently, government officials and royalty from Saudi Arabia, Abu Dhabi, Dubai, Qatar, and Bahrain have been offered the opportunity to come butcher these birds as they migrate through Pakistan, this time without even the 100-bird quota that was put into place by the government upon the last Arab-led hunt in Pakistan.
The issuing of at least 29 new special permits directly contradicts the fact that Pakistan has agreed time and time again to help conserve these birds.
On the last hunt, despite the quota imposed on Saudi Prince Fahd bin Sultan bin Abdul Aziz Al Saud and his entourage, the prince and his associates killed 2,100 of the birds during a 21-day hunt in Chagai, Balochistan, bringing in their own falcons to conduct the hunts.
The hunting party was also said to have ventured out of the areas allotted to them.
Also read: A eulogy for 2,100 bustards
While the number of houbara bustards that exist in the world today is disputed, official numbers usually place the population at around 50,000 - 100,000 birds.
And while our friendly Saudi prince may never face any retribution for his gross violations, I would love to ask him how it feels to have been directly at fault for the death of about 3 per cent of the entire surviving population of a species classified by the IUCN as vulnerable.
Oddly enough, what we Pakistanis know as the houbara bustard actually internationally is no longer known as such. Previously thought to be a subspecies of the true houbara bustard (Chlamydotis undulate), which resides in northern Africa, the species that is being driven to extinction in Pakistan is actually the MacQueen's bustard (Chlamydotis macqueenii).
Named after a British collector and army officer, this omnivorous bird is the provincial bird of Balochistan, ironic considering the province's recent fate.
The Arabs are not stupid. They understand the extent of danger that these bustards are facing and are making efforts for conservation in their own homes. In these protected areas, hunting is of course completely restricted.
At the same time, royalty from these countries have no trouble coming to Pakistan annually and butchering the birds.
There is something even more infuriating about the recurring murder of this species, beyond what is immediately visible: the selling of ideals.
The provincial bird of Balochistan is offered up to Arabs for their hunting pleasures, despite all international and local attempts to stop these annual massacres. For a country that is so proud of its heritage and ethos, Pakistan seems more than willing to give up it's distinguishing qualities.
Some of the oldest known civilizations from all over the world can be found in Pakistan, yet they are often neglected and ignored for the sake of modernity and 'progress'.
Or, take for example, an event in the "Sindh Festival" earlier this year which not only was technically illegal as per the Antiquities Act 1975, but ironically is said to have possibly endangered the historical site where it was held.
Many Pakistanis escape their homeland first chance they get, giving up on a country that requires these people's thoughts and ideas to escape from the deep chasm it has fallen into.
Most countries defend their heritage and wildlife furiously, while Pakistan seems all too happy to hand them over to the highest bidder.
The Arab states have long viewed Pakistan as a country filled with disposable lives.
We see the gross contrast between the exorbitant lifestyle of the sheikhs alongside the horrific living and working conditions experienced by South Asian migrant workers, Pakistanis included.
Also read: A murder in Makkah
They entice the poor of our nation to leave their homes and families to live and work as virtual slaves for employers who care nothing for their fate. These Pakistanis go seeking a brighter future and money to send back home to their families, only to find mistreatment and broken promises.
The Gulf States have shown how much regard they have for Pakistanis. Why then, are we so happy to bend over backward for them?
The Pakistani government allows their country's pride to be destroyed to appease these princes and government officials.
How long until our government begins issuing licenses to these VIPs to hunt the impoverished people of Pakistan? With a set and strictly enforced quota, of course.