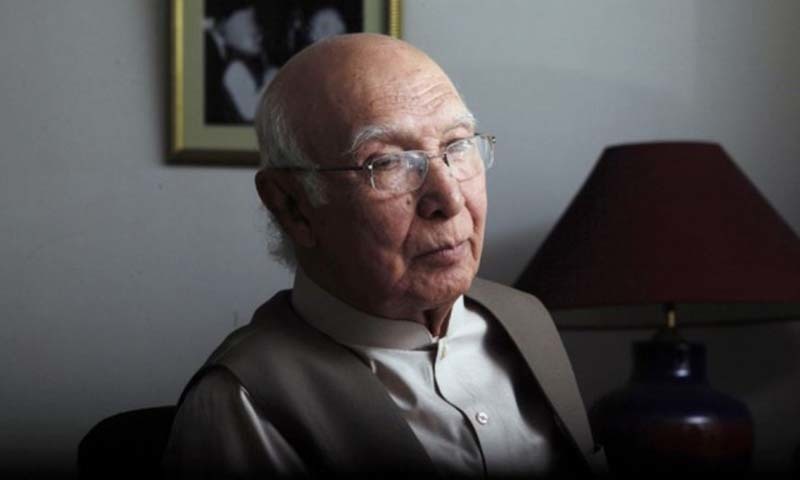 ISLAMABAD: The controversial interview of Advisor on National Security and Foreign Affairs Sartaj Aziz with BBC is continuously under criticism by his political opponent and opposition in the upper House of the Parliament, which has sought an explanation through a calling attention notice on Wednesday.
Aziz had told BBC Urdu that Pakistan was not going to target militant groups that do not "pose a threat to the state".
The statement received harsh criticism by political rivals and on social media. The country's premier spy agency has long been accused of harbouring the "good" and "bad" Taliban narrative.
Pakistan's Foreign Office (FO), however, tried to clarify that the statement was reported out of context. "The advisor made the statement in a historical context," FO spokesperson Tasneem Aslam said in a statement on Tuesday.
The calling attention notice was moved in the Senate today by Pakistan Peoples Party (PPP) leader Farhatullah Babar.
"Attention is drawn to a matter of sufficient public importance namely the Advisor's interview to the BBC on Nov 17, 2014 admitting the selective nature of operation against militant groups, taking on some while leaving others," said the notice.
The statement by the Advisor Foreign Affairs is a reversal of the stated policy of across the board action against all militants reiterated recently also by the security establishment, the calling attention notice added.
"A disturbing distinction has been made between militants challenging the state of Pakistan and those, using Pakistan's soil, launch violent operations against other states in the region. It exposes Pakistan to the charge that it is running with the hare and hunting with the hound in the fight against militants."
"This highly disturbing admission at the highest level of policy formulation of turning a blind eye to non-state actors bent upon destabilising foreign states through violent means is a matter of sufficient public importance and calls for urgent attention," it said.