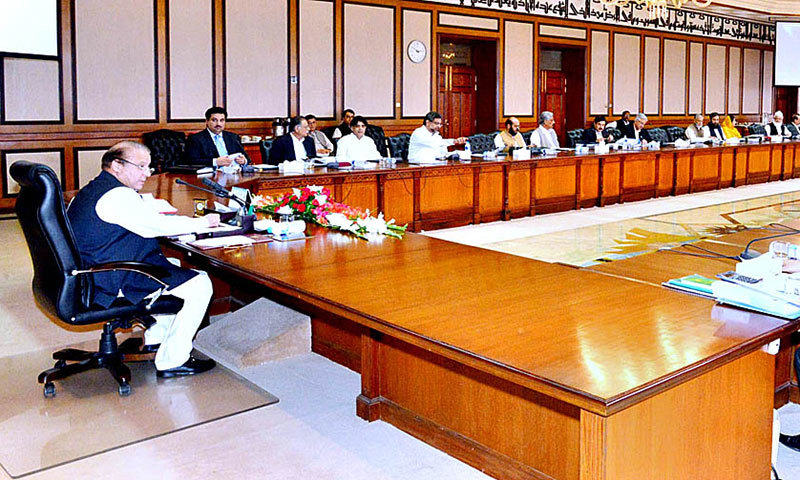 ISLAMABAD: Prime Minister Nawaz Sharif, reiterating the government's firm commitment and belief to dialogue process for resolving all issues, on Friday said the unconstitutional and illegal demands of the protesting parties could not be accepted.
"All constitutional and legal demands of the Pakistan Tehreek-i-Insaf (PTI) and Pakistan Awami Tehreek (PAT) have been discussed and the government is ready to pay heed to such demands but the unconstitutional and illegal demands cannot be accepted," he said while presiding over the Federal Cabinet meeting here.
The prime minister expressed these views as the Cabinet was briefed on the law and order situation by Secretary Interior Shahid Khan.
Federal ministers updated the Cabinet on the dialogue process with PAT chief Dr Tahirul Qadri and PTI Chairman Imran Khan.
The premier said that the government was firmly committed to the dialogue process and believed that all issues could be resolved through talks.
Khan and Qadri have been protesting in front of the parliament to force resignation of Prime Minister Sharif over alleged rigging in the 2013 general elections won by his PML-N party and Chief Minister Punjab Shahbaz Sharif over the Model Town incident.
Several rounds of talks have failed to resolve the over three-week-long crisis as protesters want nothing less than Sharif's ouster and fresh polls.
The government has ruled out prime minister's resignation and proposed a judicial commission to probe into the alleged rigging while Sharif has shown willingness to resign if the charges against him are proven.
---
'No need for more talks with govt'
---
Meanwhile, PTI Vice Chairman Shah Mehmood Qureshi said that the dialogue process with the government has been concluded and there was no need for anymore sessions.
Speaking to media representatives in Karachi, he said the ball was in government's court now as both the sides have shared their respective views on the prevailing impasse, adding that he also has conveyed this message to Finance Minister Ishaq Dar.
Qureshi was in Karachi to offer condolences on deaths of son of Allama Abbas Kumaili, son-in-law of Mufti Naeem and Parveen Saeed Haroon.
Commenting on law and order situation of the port city, he said a peaceful Karachi will ensure economic prosperity in the country.
"A conspiracy is being hatched to pit brothers against brothers … insecurity is prevailing among the citizens."
---
Imran appeals CJ to allow 'peaceful protests'
---
PTI Chairman Imran Khan urged Chief Justice Nasirul Mulk to stop what he termed 'state terrorism' and appealed that his party be allowed 'peaceful protests' in the federal capital.
"Chief Justice sahib this is the time to take a suo motu notice," he said while speaking to participants of Azadi sit-in at D-Chowk. He added that the public will fight for their rights if the chief justice would not help them.
Lashing out at the government, Khan said the dictatorship of Gen (retd) Pervez Musharraf was better than Nawaz Sharif's democracy.
Expressing his annoyance over arrests of the party workers including DJ Butt, the PTI chairman said the government was scared of his 'one nation day' call for Saturday. He directed his party's activists not to arrive alone but in groups of at least 100 people in tomorrow's 'grand show' at D-Chowk.
Imran Khan urged students to participate in Saturday's rally, that would mark one month of anti-government protests, for their brighter future. He asked them not to copy the West.
"By painting stripes, a donkey cannot become a zebra," he commented.