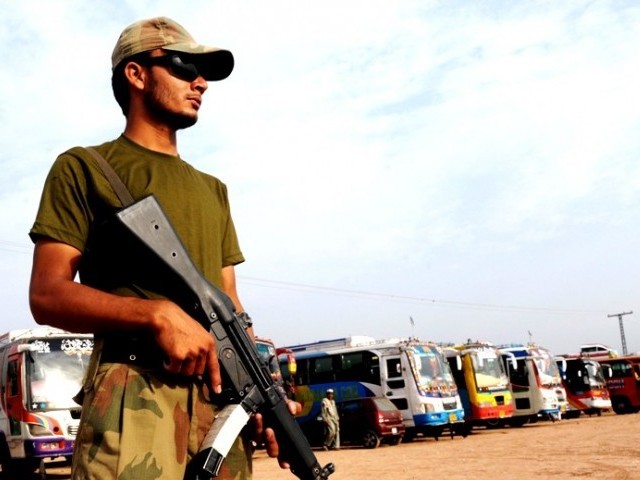 LAHORE: Police authorities on Wednesday devised a comprehensive security plan for the Pakistan Tehreek-i-Insaf's (PTI) 'Azadi March' and a separate one to restrict the Pakistan Awami Tehreek (PAT) from holding its 'Inqilab March', and issued necessary orders to the force.
Two security plans with opposite strategies were finalised by the police on orders of the PML-N government. The district coordination officer also imposed Section 144 in the entire divisions of Model Town and Saddar. There were reports mobile phone services in and around Model Town would remain suspended from Wednesday night.
According to the plan for PTI, police will provide two Elite Police Force vehicles to escort Imran Khan's car and six Elite vehicles and eight motorcycles to escort the PTI procession from Zaman Park to Imamia Colony, Shahdara via The Mall and Lower Mall.
Also read: LHC prohibits PTI, PAT from 'unconstitutional' march and sit-in
A divisional SP, two DSPs, five SHOs and dozens of their subordinates would perform escort and deployment duties.
A letter written by the DIG (operations) to the PTI chief also recommended that he should travel in his bulletproof car instead of a truck carrying a container, which according to police was not bulletproof.
The letter also urged Imran not to get off his vehicle due to security threats and that two police vehicles would escort his car to his final destination. The letter also informed the PTI leadership that police would use jammers to secure the procession up to Shahdara.
Another letter written to the provincial government by Lahore police about PAT put focus on negotiations rather than confrontation with activists, including women and children.
The letter stated miscreants could create a law and order situation especially when up to 10,000 PAT activists present outside the Minhajul Quran Secretariat were ready to confront police.
A police source told Dawn up to 10,000 policemen, including anti-riot police, were deployed to restrain PAT from leaving Model Town. He said police feared violence and bloodshed in case of confrontation with PAT activists who were armed with clubs.
The source said over 200 police reserves (4,000, including policewomen) equipped with gas masks, goggles and safety jackets were solely deployed in and around Model Town in shifts, and the number of containers, barriers and barbed wires had been increased to block all roads and arteries leading to Dr Tahirul Qadri's house and secretariat.
The source further said although police had clear orders (albeit verbal) from the government to restrict the PAT chief and his supporters within Model Town even if it was by force, the law enforcers had conveyed to the government as well as the inspector general to issue written orders for using force to avoid blame in case another violent incident took place similar to that of June 17.
He said police on their part would avoid using arms and weapons as a precautionary measure in case of a clash with PAT activists.
Moreover, all divisional SPs attended a meeting presided over by DIG (Operations) Dr Haider Ashraf late on Wednesday and were strictly forbidden from using weapons to confront PAT activists.
The DIG categorically made it clear to the SPs to use only teargas to disperse protesters and rubber bullets as a last resort. He further said police would make detentions on the spot in case clashes erupted.
Meanwhile, all entry and exit points of the city remained open for traffic and vehicular movement on the national highway between Lahore and Gujrat also went smooth until the filing of this report.
A police official from Gujranwala district said policemen in large numbers were present on the highway to cope with any law and order situation, but containers and barriers had been placed along the road until further orders from the government.
In Lahore, traffic police closed Canal Road between bridges on The Mall and Dharampura for two-way traffic and underpasses.
Published in Dawn, August 14th, 2014