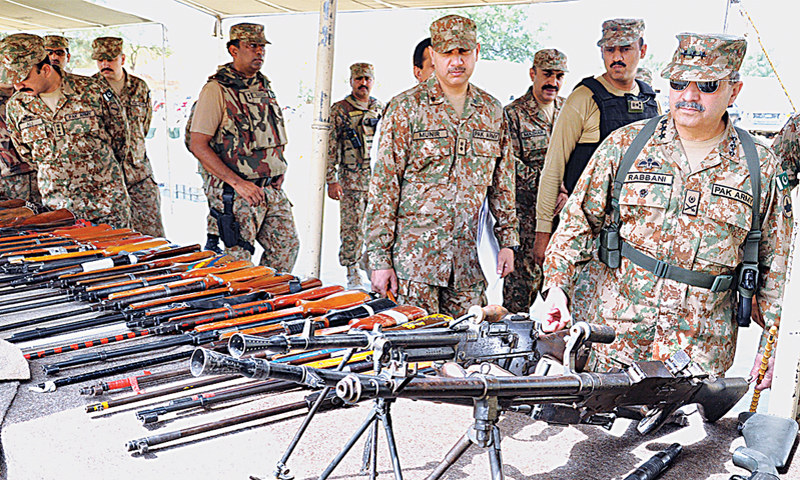 PESHAWAR: The army said on Saturday that it had begun consolidating its control of Boya and Degan after clearing the two villages in North Waziristan of local and foreign militants.
The Inter Services Public Relations said in a statement that "consolidation of Boya and Degan is in progress".
Boya and Degan, once militant redoubts, lie 30km to the west of Miramshah, North Waziristan's headquarters.
Corps Commander Lt Gen Khalid Rabbani visited Mirali, Boya and Degan on Saturday and met troops busy in the operation, the ISPR said.
The visit coincided with a US drone strike in Dattakhel, 45km west of Miramshah, that killed 15 militants, a number of them said to be Punjabi Taliban.
---
Control of Boya, Degan being consolidated
---
Locals said the drone fired four missiles into a compound in Ismailkhel village in Macha Madakhel at 2am, killing 15 militants, 10 of them from Punjab, while five were Uzbeks affiliated with the Islamic Movement of Uzbekistan. The area is just three kilometres from the Pak-Afghan border.
But a security official said that six missiles were fired at the compound, which also hit two vehicle-borne IEDs. Most of those killed were Punjabi Taliban, he added.
'REAL CHALLENGE'
According to locals, the "real challenge" for the ground offensive would begin beyond the militant-infested Dattakhel, which has seen four drone strikes since the launch of Operation Zarb-i-Azb on June 15, including the one on Saturday.
Locals said most of the militants had fled to the thickly-forested, mountainous Shawal Valley before the military operation. "Some of them might still be hiding here and there, but most have melted away," one resident said.
After consolidation, the military plans to move towards Dattakhel. The area cleared so far was under the control of militant commander Hafiz Gul Bahadur, who once had a peace agreement with the government. No one knows where he is now, but some security officials say he has taken refuge in Ghariom, on the boundary with South Waziristan.
It is after Dattakhel, local residents warn, when the real challenge to the military would come from militants holding out in Madakhel, Alwara Mandi and all the way up to Shawal Valley. "It's not going to be easy," one villager cautioned. So far the military has been relying on F-16s to knock out hideouts in Shawal.
The military said soldiers were carrying out house-to-house search in Mussaki, Hurmaz and Mirali bazaar in what once was a militant hotbed. "Terrorists holed up inside Mirali and surrounding areas have been carrying out attacks by firing rockets, mortars and heavy machineguns," it said.
It claimed to have killed four militants in exchange of fire in Mirali on Friday night and having neutralised 12 improvised explosive devices (IEDs) and discovered a bomb-manufacturing factory, huge cache of arms and ammunition and foreign currency.
Published in Dawn, July 20th , 2014