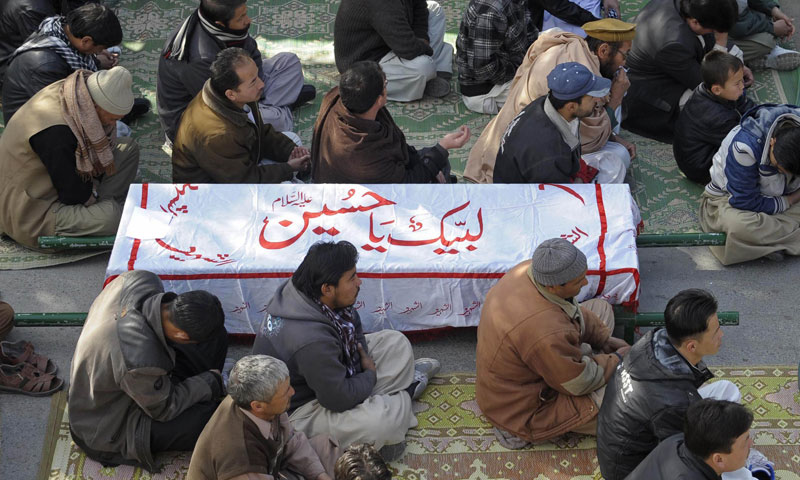 QUETTA: The protests against the killing of Shia pilgrims in a bombing in Balochistan's Mastung district were observed across the nation on Thursday including Karachi, Quetta, Lahore, Islamabad, and Hyderabad, DawnNews reported.
The Majlis Wahdatul Muslimeen (MWM) staged protests in-front of the Governor House in Lahore and in Faizabad area of Islamabad.
Moreover, members of civil society staged a vigil outside the Press Club in the federal capital city earlier on Wednesday night.
Shia organisations also arranged protests at several locations of Karachi whereas the flow of traffic was blocked in Ancholi, Malir, Shah Faisal, Qayyumabad, Hino Chowk Flyover and Numaish Chowrangi areas.
Karachi's chairman of the Private Schools Management Association, Sharaf uz Zaman, said that schools would remain closed today in those areas where roads were blocked.
Alamdar road protests
Despite freezing temperatures, thousands of members of the Hazara Shia community staged an ongoing sit-in in Quetta to protest against the killing of Shia pilgrims in a bombing in Balochistan's Mastung district.
The demonstrators gathered Wednesday morning at Alamdar road, vowing to continue their protests until authorities arrested the perpetrators of the attack.
A large number of women and children were also part of the demonstration.
The mourners have brought 26 dead bodies along with them and kept them on the road to press the authorities to launch a crackdown against the perpetrators of attack on Shia pilgrims in Balochistan's Mastung district.
"We will continue our protest until perpetrators of the blast are brought to book," said Syed Ahmed Raza, a member of the Balochistan Assembly and leader of the Hazara Community.
He lamented that the killing of members of the Hazara community had become the 'order of the day' and that the Balochistan government had completely failed to protect the Shia pilgrims coming from Iran to Pakistan.
The banned militant organisation Lashkar-e-Jhangvi (LeJ) claimed responsibility for Tuesday's attack, which it described as a suicide bombing, and warned of more such attacks.
Officials said Wednesday that three more injured succumbed to their wounds from Tuesday's blast on the bus bringing Shia pilgrims from Iran to Quetta. The deaths have raised the toll from 26 to 29.
An official at the Combined Military Hospital (CMH), requesting not to be named, said 26 bodies had been identified while one corpse was yet to be identified. He said 35 injured were under treatment at the CMH in Quetta. "The condition of seven injured is serious," he said.
It was the second attack on Shia pilgrims in this part of Balochistan over the past three weeks; the first attack took place near Quetta on the eve of New Year.
Last year, thousands of mourners staged a three-day sit-in from January 10 to 13 in the aftermath of twin-bombings that had left over 100 people dead.
The minority community's protest had prompted the former Pakistan Peoples' Party-led government to remove Chief Minister Nawab Aslam Raisani and impose governor's rule in Balochistan.
Meanwhile, Chief Minister Balochistan, Dr. Abdul Malik Baloch visited Alamdar Road on Wednesday and expressed his concern over the Mastung incident. He held a long meeting with members of the community to end their protest.
"We are all victims of terrorism and I stand by you in this hour of grief," Baloch told the grief-stricken mourners.
Speaking to reporters, the chief minister pointed towards the presence of foreign militants in Balochistan. "The killing of Uzbek militants in Mastung shows that foreign militants have reached Balochistan," he said.
Baloch claimed that his government was determined to wipe out terrorism despite all odds. Speaker Balochistan Assembly, Jan Muhammad Jamali, provincial ministers Dr. Hamid Khan Achakzai, Abdul Rahim Ziaratwal and others accompanied the chief minister.
But despite the assurances, the protesters appeared to be in no mood to leave the Shuhada Chowk till late at night. They had set up camps and collected firewood to brave the chilling Siberian winds.
But they removed the coffins from the road and kept them in Imambargah Nachari.
The provincial government has beefed up security on and around Alamdar Road and deployed there hundreds of policemen and personnel of Anti-Terrorism Force and Frontier Corps.
Roads leading to the Shuhada Chowk had been blocked. No-one was allowed to enter the area without permission of security officials. Hundreds of volunteers of Hazara community were also providing security cover to the area.
CM demands ferry service for pilgrims
Meanwhile speaking to a private TV channel, the Balochistan CM called upon the federal government to provide ferry service for pilgrims from Karachi to Chabahar in Iran.
Dr Baloch said that ferry service would be safe and economical.
The buses of pilgrims returning from Iran to Pakistan are constantly under threat and have been attacked twice this month, he said.
MWM leader's threat to paralyse the whole country on Thursday
Earlier on Wednesday, addressing a sit-in in Islamabad, central leader of Majlis Wahdatul Muslimeen (MWM) Allama Amin Shaheedi vowed to prolong the sit-in till realisation of all their demands.
Besides demanding a military operation against Taliban militants, he threatened to paralyse the whole country on Thursday if their demands were not meet.